Original URL: https://www.theregister.co.uk/2007/06/06/data_robotics_drobo/
Storage 'robot' guards loads of data
RAID for dummies
Posted in The Channel, 6th June 2007 00:30 GMT
Drobo is not much of a robot per se, but the little black box from California-based startup company Data Robotics does offer an interesting solution to external data storage.
Data Robotics has opened up its RAID alternative today, targeting non-technical users awash in a sea of data. Conspicuously dubbed a "storage robot," the Drobo is a four HDD-slot appliance which uses its own secret sauce of hardware and storage virtualization software to provide data redundancy while avoiding many of the finicky and complicated aspects of RAID. Users can swap out different-sized drives on the fly, while Drobo behind the scenes switches between disk parity, striping and mirroring for backup, depending on available disk space.
Marketing director Jim Schaff showed us Drobo's stuff by pulling out and replacing drives in the unit while an attached computer played a Spider-Man 3 trailer stored on the Drobo. The preview played without a stutter — even when all the original drives were replaced with fresh ones. Replacing drives is as easy as putting a floppy into a computer (if you can remember such a thing).
Robots aren't cheap, however, and Drobo is no exception. The unit goes on sale today at $499 from Data Robotics' website and various online resellers.
The device holds four 3.5" SATA I or SATA II hard disk drives, full or half-height, without special carriers required. Drives can be up to 1 terabyte each. The unit comes without any disk drives in the box.
LED status lights indicate the health of the enclosed drives; green, yellow and red showing whether your drive is in good shape or has passed to the beige box in the sky. The unit self-monitors where each block of data is stored on a disk, managing the information as a large pool of data.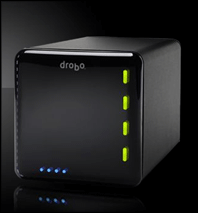 Drobo is a plug-and-play, self contained unit. A computer recognizes the device as a USB mass storage device, with no host software required. Unfortunately, the unit only supports direct-attached USB 2.0 — which is a bit of a head scratcher considering Drobo's hefty price tag. The company has said that future version of Drobo will support Firewire or speedier connections.
While Drobo offers data redundancy to protect from hardware failure, the box has no true backup options available. It's still up to the user to make copies of their drives in case of catastrophic disaster or theft.
The device offers some intriguing technology, but Data Robotics needs to find a sweet spot in the market between the tech-savy crowd who can construct their own drive array on the cheap and users who need a simple device but require vast amounts of storage. The company claims Drobo has gotten a warm reception from photo editors, podcasters, and videophiles, and has ramped up production to meet the initial demand.
Drobo works with PCs and Macs. Data Robotics said Linux support is in the cards further down the line. ®
Bootnote
Data Robotics receives Iron Heart of Robotic Responsibility
The Register recognizes Data Robotics for the responsible construction of a robot that is unlikely to take part in the war between machine and man.
The unit receives this honor for its thoughtful lack of pinching claws, iron mandibles, gears that sunder the flesh and circuits boiling with the hatred of all biology. The unit has been found compliant with the publication's robotic standards of lacking weaponry, including but not exclusive to; chainswords, vibroblades, lightning claws, psycannons, inferno cannons, plasma bolt guns and cyclone dreadlord missile launchers.
Drobo's technology is not housed in a chassis that resembles a 50-foot Tyranasauras Rex, arachnid, flying eyeball or similar mechanical horror that may threaten life should a state of self-awareness be reached.