Original URL: https://www.theregister.co.uk/2007/06/05/cool_earth/
El Reg 'buys' acre of Brazilian rainforest
Helping Cool Earth 'keep carbon where it belongs'
Posted in Science, 5th June 2007 10:28 GMT
A new online initiative has come up with a cunningly simple plan to save the world's rainforests - offer them by the acre to concerned netizens whose "purchase" allows swathes of threatened land to be preserved for future generations.
UK charity Cool Earth rolled out some high-profile backers for its launch this week. Sir David Attenborough tells today's Sun: "The idea behind Cool Earth is that if we each help pay to conserve an acre, or part of an acre, then we can make a real difference – perhaps the biggest difference we will make in our whole lives. Of course, it is not easy for any of us as individuals to buy areas of rainforest.
"But Cool Earth, with its local partners in Brazil and elsewhere, have a system set up, right now, working together with experienced conservation group Fauna & Flora International, of which I am proud to be vice president, with Her Majesty the Queen as its patron."
Admitting to a rather less noble motivation for lending their support, comedienne Ruby Wax and TV director Ed Bye explain on Cool Earth's website: "We have always wanted to become friends with Sting and Trudie Styler and we reckon this might improve our chances. That's why we joined Cool Earth."
It's simple enough. You "buy" half an acre or an acre - the latter going out at between £70 and £100 - and the 260 tonnes of carbon therein are permantly locked away.
Today's Sun has a field report from a hack and a snapper the paper dispatched to Brazil* to see Cool Earth's plan in action.
Suitably impressed, El Reg chipped in for an acre close to the Madeira river, and soon got a username and password which enabled us to log in and have a shufti at our new holding on Google Maps: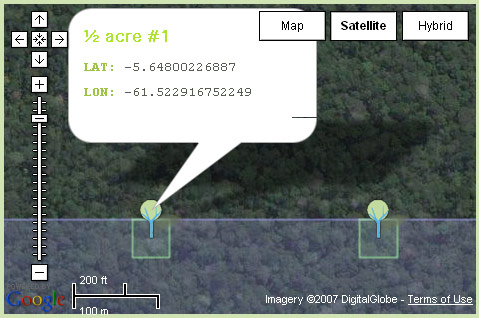 Good stuff. There's more info on the Cool Earth website and its FAQ page. Details on how to do your bit can be found here. ®
Bootnote
*Yes, we know what you're thinking. The Sun explains: "THE SUN has made a donation to Cool Earth which will compensate for our return flights to Brazil many times over."