Original URL: https://www.theregister.co.uk/2007/06/04/review_vita_audio_r2/
Vita Audio R2 DAB/FM stereo radio
Who said radio was dead..?
Posted in Personal Tech, 4th June 2007 12:38 GMT
Review The concept of DAB in the UK has been dogged a little by new entrants into the radio sector introducing some indifferent products looking to cash in on an expanding market. The Vita R2 is a genuinely good product with a sensible and simple approach to design, but with a few surprises up its sleeve as well.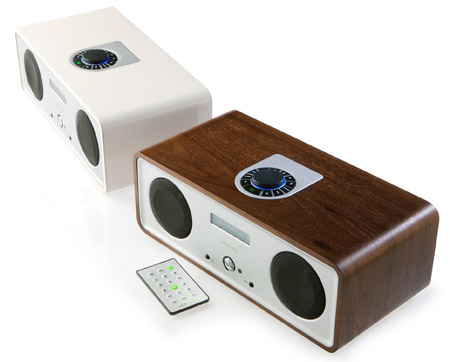 Following hot on the heels of the company's R1 radio, the R2 looks to build on a well-received debut with more features and greater sound quality. Right after purchase you get the impression this product has had a good level of thought put into it as it comes in its own sturdy cardboard carry case with a rope handle. It might seem an odd thing to pick out, but it shows that the manufacturer is thinking about practicality and presentation.
The promising packaging is not let down as the radio itself comes in either an attractive of Ivory high gloss lacquer finish or a walnut veneer. Not a huge range in design, but there is enough that is different in the look of each to provide a choice for those who like a contemporary look and those who prefer a more traditional looking radio.
The cabinets themselves are made from compressed wood fibre, which is used to deliver a very solid and relatively vibration-free platform to help the acoustic properties of the radio. The rest of the machine is sensibly arranged with headphone jack and an auxiliary port (designed mostly to accommodate an MP3) on the front of the unit.
Connection options do not end there as on the back there are two pairs of gold-plated in and out phono sockets. This means the unit can be permanently connected to a CD player/iPod dock or itself can be routed through an amp to become part of a separate AV system. Also on the back there is an auto-scan button so regular station up-dates can be carried out and there is also a car cigarette adapter power cord available (sold separately).
When the unit is first fired up it automatically begins a scan for what DAB stations are available. The area we used to do the test in does not get a great DAB signal and some radios can struggle. Not so here, a quick scan bought up a full compliment of channels in under a minute.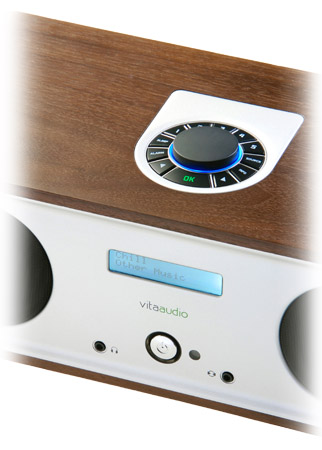 The display could be bigger on this unit, particularly with the amount of graphic information now contained on a DAB broadcast and this will only be added to as time goes on. However, this issue is dealt with by the ability to scroll through six different display options, which gives not only information on programming, but also technical information like signal strength and what broadcast multiplex the unit is tuned to.
A lot of thought has gone into control interface of the unit, which is known as the Rotodial. This interface will be seen across much of the brand's products and is designed to form an attractive looking, tactile and intuitive way of navigating around the radio's features. Arranged around a central volume control dial are five numbered buttons, two scrolling arrow buttons, an OK button, a source button and buttons giving access to the alarm controls.
The way the user navigates around the radio's functions is not so intuitive that the user can just get going on their own. We found we had to refer to the manual for a while to really get the hang of it, but once the way of navigation and selecting different functions was gone through a few times it does stick and the unit becomes comfortable and friendly to use. The instruction manual is also written in plain English and provides a useful way into getting the most out of the machine, not always the case, especially with Far East products.
A good function that can be accessed from the Rotodial is a drill down feature that enables the listener to switch to ancillary broadcasts or sister stations attached to a particular station. Station presets are also easy to not only store but select using the five numbered buttons on the top of the unit. We would argue however that in the modern radio world five presets (both in DAB or FM mode) is a little low.
Providing genuine stereo sound in a unit this size is always a challenge due to the fact that the speakers can only be so far apart and really high-end stereo needs a big gap. However, once you start to listen to the R2 you can hear where much of the development time and money has gone. A rich and surprisingly detailed sound stage is provided in FM and DAB and while the sound quality is not as good if you connect up a walkman or iPod, this is due to the format being used and not the quality of the product.

The real test of any music system this size is it give it some volume and see where the cracks appear. The R2 copes really well, even with bass effects. The sound can also be tweaked if there are signal problems. The unit automatically adjusts between mono or stereo to suit what is being broadcast. However, if a stereo input has been chosen by the unit and there is still a little hiss, the user can manually change the delivery to mono.
There is also a 3D sound option that delivers an extra layer of richness. We found that it was best to keep this on the whole time unless listening to speech radio when the effect echoed a little. Overall, sound quality wise, the unit has enough subtlety to deal with a gentile evening listening the Radio 3, but it would be equally happy blasting out a few hours of Planet Rock after the pub has shut.
Should you require them, the alarm functions are simple to use and on buzzer mode there are different levels of volume that kick-in to bring you around should the initial attempt fail.
Verdict
This is a really likeable little radio which has the ability to handle a wide range of sound demands and delivers an above average range of features and connectivity. Ultimately, like its space-travelling robotic namesake, the R2 has enough tricks up its sleeve so you forgive any minor operational quirks that the unit has.