Original URL: https://www.theregister.co.uk/2007/05/30/review_creative_zen_stone/
Creative Zen Stone MP3 player
More of a pebble than a stone really
Posted in Personal Tech, 30th May 2007 13:12 GMT
Review If you never consider an MP3 unless it comes with a screen...then stop reading now. But if, on the other hand, you may be interested in a highly portable, cheaper version of the second gen iPod Shuffle, walk this way.
The Zen Stone from Creative really does just what it says on the tin – it plays audio tracks and stores digital media. But it also has one or two other little features that just might appeal, not least of which is 1GB of storage.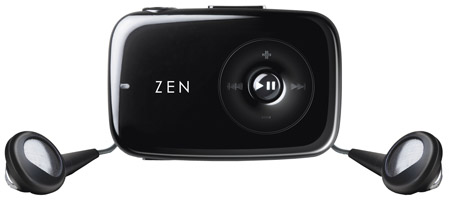 The Zen Stone is more of a pebble really, weighing in at a tiny 24g. The fact then that it's actually a little larger than the Shuffle really shouldn't bother you – it's still extremely wee, but not so small as to be unmanageable for anyone with above-pixie-sized digits. The device comes with the absolute bare essentials; headphones, mini USB (1.1/2.0) connection lead, start-up leaflet. There are some accessories coming on the market like armbands and keychain cases, and whether you want to bulk-it up is down to individual taste, but for us one of the key selling points of the Zen Stone is its portability…and price, coming in at under £30.
The design ain't too shabby either – the Zen's skin is pretty good at avoiding scratches, which should please the aesthetes among you, although the earphones are predictably patchy; fine for my girlfriend, terrible for me. It's best to use your own favourite brand of ear-wear anyway these days, and not bother with the rubbish frequently shipped with MP3 players. You also get a choice of black, white, blue, pink, red, or yellow devices. Along the left side of the player is a hole for threading through something to wear the player round your neck with (to give it its technical term), which should particularly appeal to gym-goers and other health freaks.
Headphone jack is on the top, USB connector on the bottom and on the front left is a small LED light, which uses a variety of sequences and colours to indicate various levels of battery life. This we found quite handy as the player will blink orange during charging – which takes about three hours – for a varied number of times, each denoting how much the device has been charged.
Controls are simple enough for even the most ardent technophobe: the central play/pause button doubles as on/off switch, with volume levels and forward/back skip replicating the tried and tested iPod design format. The top of the device has a sliding bar that allows you to choose standard play format, shuffle, or skip to the next folder of music. In fact, this is probably one of the key differentiators from the Shuffle, it's nice to be able to store multiple albums and move from one to the other – which doesn't make up for the lack of screen, but makes it a lot less of an issue, especially considering the low price of the device. While there is no limit to the number of folders/albums, there is a limit of 1000 files, which may restrict some users. Also, songs not in a folder will be played first.

The Zen Stone is a UMS/MSC type of MP3, which means it plays with any operating system without the need to download software – Windows, Linux, Mac, you name it – an all too rare moment of common sense from an MP3 manufacturer. This means folders/files can be simply dragged and dropped to the device, each album taking around a minute – mercifully quick and easy. As well as MP3s, the Zen Stone takes both unprotected and purchase-only WMAs.
Creative recommends users to download its Creative Media Lite software for the best user experience, which is up to individual taste really. It offers basic features like CD burning, music transfer, folder organiser and a battery-level read-out, together with a volume-setting function protected by password, which will surely only appeal to meddlesome parents keen to protect their little tykes' eardrums. The device can also store other files on it if you want to.
The sound quality on this little number is pretty good too, at least it's certainly good enough to compete with all the other wannabes on the market vying for a little chunk of Apple's market share. In keeping with the basic look and feel of this product it doesn't have EQs, but that's no great loss.
Verdict
Whether you prefer this to the Shuffle really might depend on how many DRM-protected iTunes tracks you've bought. If the answer's none/few, then it's worth considering, primarily as a secondary player to take with you on occasions where you need something very light, and which won't cost too much to replace if it gets damaged. In addition the folder-skip function gives it a big advantage over the Shuffle, and for something priced at under £30, it's certainly worth considering.