Original URL: https://www.theregister.co.uk/2007/05/29/william_davies_ask_vs_google/
Ask.com's bogus Information Revolution
Scale means success
Posted in The Channel, 29th May 2007 14:27 GMT
Column Over the past couple of months, the British public have been subject to a widespread poster campaign, imploring them to join the "Information Revolution".
Posters have appeared in train carriages, buses, and restrooms, plastered in self-consciously militant leftist graphics, demanding freedom of expression and choice. Initially, the posters appeared with no indication of who was behind them, perhaps in the hope that some would be sufficiently naïve about advertising finance to believe this was a genuine guerrilla movement. Sadly not. It is just very naïve guerrilla marketing.
The instigators came out of the bushes a few weeks ago. To the surprise of nobody, it turned out to be one of Google's competitors. Ask.com is one of the many search engines that has been pushed to the margins since Google came to dominate the web in the late nineties. Ask.com believes that a single dominant search engine threatens the cosmopolitanism of the public sphere, citing Karl Popper's notion of the "open society" as the best basis for building new, more inclusive norms for the digital age. Oh all right, they don't. But they'd quite like a few more click-throughs.
The Information Revolution campaign betrays an innocence about the twenty-first century economy that is both embarrassing and dumb. Let's take embarrassing first.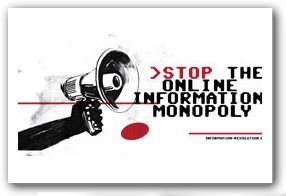 You say you want a revolution
When Thomas Frank coined the phrase "the conquest of cool" in his 1997 book of the same name, he was referring to the way radical ideas, icons, and movements were being co-opted into the advertising strategies of multinational companies. Companies like Nike and Apple invited people to stand out from the crowd, do their own thing, resist convention. Management consultancies entered companies, telling people to embrace chaos, over-turn hierarchy, be creative. It was all a great new way of making money.
These strategies are only sinister when they work. One of Apple's best campaigns included a vast black and white photograph of a young Miles Davis holding his trumpet, above their old slogan, "Think Different". What was so troubling about it was the photo was so beautiful. It tugged at one's desire to be like that. It made you want to buy an iMac. How dare they?
By contrast, the Information Revolution posters are like a suburban uncle who turns up to a fancy-dress party dressed as Rambo. Its website includes the cringe-inducing sub-headings "The Movement", "The Word on the Street", and "Join Us". Click on the latter and you find the cry "The Internet needs YOU! Fight the mind control! Don't worry you don't all have to take to the streets (you can if you want to, but we won't pay your bail - and we're happy with sofa-bound revolutionaries as well!)". Ouch.
Aside from the chirpy awfulness of this Cliff Richard-esque nonsense, there is a rather more significant reason why the campaign is doomed. Ask.com is making a fundamental mistake about what makes the web an efficient medium for information exchange: it is a network containing centralised nodes where they are necessary, and not where they aren't. Google is one of the centralised nodes. It works well because it is a monopoly, not in spite of being one.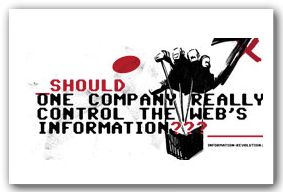 The sheer diversity and scale of the web means that if quasi-monopolistic intermediary websites did not exist, we would almost certainly have to invent them. In the minds of most web users, eBay is now synonymous with online auctioning, Amazon with online retailing, and Google with searching. The choice that consumers want lies in the goods and information they access via these intermediaries, not in the intermediaries themselves.
There are two legitimate concerns about this. The first is economic: how can we be sure that these private monopolies will maximise consumer welfare? The answer is that we can't, which potentially introduces a role for competition authorities. But, at least in a European context, the sin committed by monopolies is not "dominance" but "abuse of dominance". As long as companies like Google are reinvesting their profits (which admittedly they struggle to, given their size) and providing good quality search results, then the monopoly is not deemed a problem.
Where monopoly becomes actually beneficial to consumers is where there are network effects involved resulting from the presence of other users. This has always been the case with marketplaces such as eBay. The reason we buy and sell at eBay is the same reason traders do so on Wall Street – that's where all the other users are.
There may not be such direct network effects relating to Google's size, but there is an accumulation of trust and quality. The more users Google gains, the more money it makes on the margins, and the greater financial stake it has in the integrity of its service. This is an economic fact, not an ethical defence.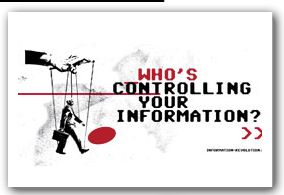 The second concern is political, and this is where perhaps we could take Ask.com at their word. How should we feel about having so much of the world's information channelled and found via a single company? What about advertising to us on the basis of our Gmail inboxes? What happens if Google suddenly abandons its "Don't be evil" ethos?
Privacy - a minority sport
These are all valid questions. The main tool we have to appease such concerns is data protection legislation. Perhaps we need to supplement this with an independent government regulator for search engines, as Bill Thompson has argued in the past. Equally, it would be nice if search engines entered an arms race in consumer ethics, each trying to out-do the other in the transparency of its data management.
Sadly, all of this is rather beside the point. Data protection and privacy laws are of very limited appeal to the broader public, a search engine regulator is only plausible once some scandalous melt-down in data handling has occurred, and if ethical terms and conditions were really a selling point for a search engine then undoubtedly Ask.com would have focused on that for its "information revolution". But it's not and they didn't.
Which brings us back to where we started. Oscar Wilde famously wrote that "the problem with socialism is that it takes up too many evenings". Ask.com's "Information Revolution" faces a similar problem. Trying to mobilise people to do something which isn't convenient and won't directly benefit them is hard at the best of times. When you're trying to do so in order to prop up your bottom line, you deserve the utmost failure. ®
William Davies is a sociologist and policy analyst. His blog is here. ®