Original URL: https://www.theregister.co.uk/2007/05/28/review_nvidia_geforce_8800_ultra/
Asus EN8800 Nvidia GeForce 8800 Ultra-based graphics card
AMD who?
Posted in The Channel, 28th May 2007 08:57 GMT
Review Nvidia has never been shy about slicing and dicing its product line-up to meet the needs of specific groups of the graphics-card buying public with the result that you can buy its flagship DirectX 10 GeForce 8800 chip in a number of versions.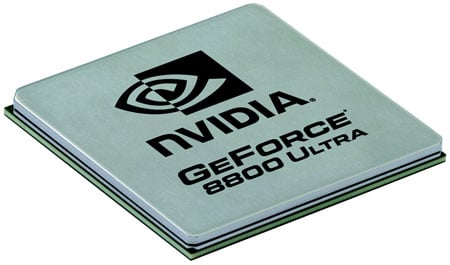 Nvidia's GeForce 8800 Ultra: GPU view
The bread-and butter version is the 8800 GTS with 640MB of memory and priced at £260, though there's a cheaper, bread-and-dripping variant with a mere 320MB of memory for £215. Move up the scale and you'll find the caviar-on-toast 8800 GTX with 768MB of memory that uses faster clock speeds and a larger complement of Nvidia's unified Stream processors to deliver top-notch performance for a hefty £380. And that, you might think, is that. However you'd be wrong.
Since its launch in November 2006 the GeForce 8800 GTX has been the fastest graphics card on the market, period. That's a considerable achievement when you consider the 8800 GTX is a DirectX 10 part that has been tested exclusively in a DirectX 9 environment for the simple reason that we don't yet have any DirectX 10 games. It's just as well because Nvidia hadn't quite sorted out its Windows Vista drivers when it launched the new chip, but happily that sorry situation is behind us. It's May 2007 now and we still don't have any DirectX 10 games, although Nvidia and Capcom have just made a demo of Lost Planet available for download in versions for both DirectX 9 and 10. You can get it here.
| | | | | |
| --- | --- | --- | --- | --- |
|   | 8800 Ultra | 8800 GTX | 8800 GTS | 8800 GTS |
| Stream Processors | 128 | 128 | 96 | 96 |
| Core Clock (MHz) | 612 | 575 | 500 | 500 |
| Shader Clock (MHz) | 1500 | 1350 | 1200 | 1200 |
| Memory Clock (MHz) | 2160 | 1800 | 1600 | 1600 |
| Memory size (MB) | 768 | 768 | 640 | 320 |
| Memory bus width (bits) | 384 | 384 | 320 | 320 |
| Memory bandwdith (GBps) | 103.7 | 86.4 | 64 | 64 |
| Fill rate (GTMUps) | 39.2 | 36.8 | 24 | 24 |
| Price (£) | 485 | 380 | 260 | 215 |
Tragically, the demo was posted a day after Asus had reclaimed its graphics card from our grasp after a very short loan period so we can't yet comment on the looks or performance of the demo on the Ultra. We can report, however, that the demo looked awful on AMD's ATI Radeon HD 2900 XT, so it's probably best if we pass on AMD's thoughts on the subject:
"Lost Planet is an Nvidia-sponsored title, and one that Nvidia has had a chance to look at and optimise their drivers for. The developer has not made [AMD] aware of this new benchmark, and as such the ATI Radeon driver team has not had the opportunity to explore how the benchmark uses our hardware and optimise in a similar fashion."
The reason for the short loan period is simple to explain. The 8800 Ultra is very expensive and samples are few and far between. At launch, Nvidia had just two cards available for the UK's entire array of technology correspondents, and we get the impression that Asus has only one EN8800 Ultra doing the rounds.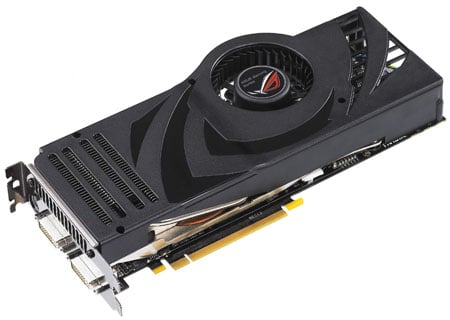 Asus' EN8800 Ultra graphics card
So what, you may wonder, do you get for an extra £100 over the price of a regular GeForce 8800 GTX? The core speed is raised from 575MHz to 612MHz, the Stream processors run at 1500MHz instead of 1350MHz, and the memory has an effective speed of 2160MHz rather than 1800MHz. In other words, the Ultra is a carefully selected GTX that runs approximately ten per cent faster than normal.
The other thing that sets the Ultra apart is the layout of the heatsink package. The GTS and GTX use a conventional double-slot design that transfers heat from the heatsink to the heat exchanger via an array of heatpipes. The cooling fan sits between the heat exchanger and the pair of PCI Express power connectors where it can suck air in from inside the case and then blow it through the heat exchanger. It's a logical arrangement. However, it means that the fan unit is located directly above the power hardware, and that's not an especially good location. With the Ultra the fan has been moved sideways where it's out of the way, hence the bulge in the plastic shroud which covers the entire length of the graphics card.
This simple change helps to keep the Ultra cool despite its maximum power draw of 175W. In 2D usage, the cooler is essentially silent but the real surprise is that the cooler barely gets any louder even when the Ultra is working hard. This is an impressive feat by any standards.
3DMark 06 Results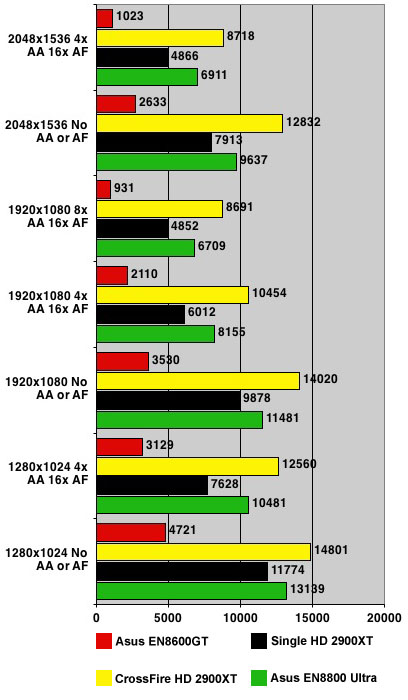 Longer bars are better
Half-life 2 Lost Coast Results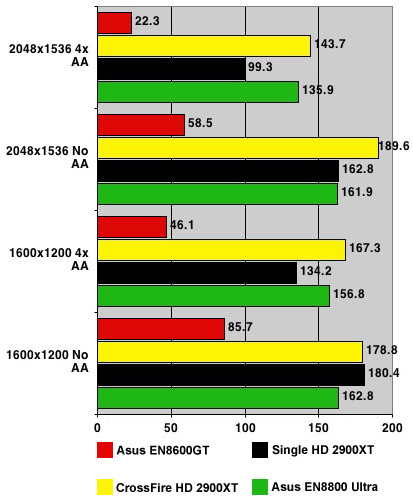 Frames per second (FPS) - longer bars are better
We have to ask ourselves why Nvidia launched the Ultra when it already ruled the roost with the 8800 GTX. The obvious answer is that it had to prepare for the launch of the Radeon HD X2900 XT. However, the performance of the X2900 XT fell a long way short of the 8800 GTX, so there was arguably no need for the Ultra after all.
Elder Scrolls Oblivion Results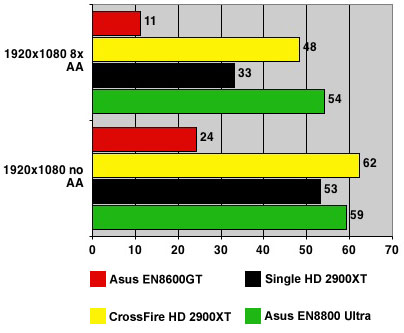 Frames per second (FPS) - longer bars are better
Indeed, there's some evidence that the Ultra was a bit rushed as driver version 158.22 isn't WHQL approved and Nvidia's nTune v5.05 overclocking utility doesn't recognise the Ultra.
No doubt Nvidia enjoyed the 'Fastest Ever' headlines that rained on AMD's parade but it must be earning a small fortune from the sale of every Ultra chip, and we suspect that was the real motivation.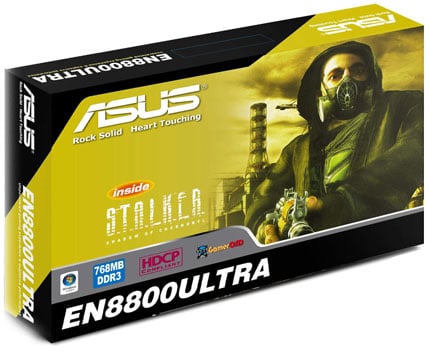 Asus' EN8800 Ultra: big box, small bundle
The Asus part of the package is minimal and consists of a copy of Stalker Shadow of Chernobyl, which is nice but less than £20 retail. You also get an s-to-component video splitter cable, one DVI-to-VGA adapter and two PCIe power adapters. Please, if you're spending this much cash on an Ultra, go get yourself a proper power supply.
Verdict
The 8800 Ultra takes over from the 8800 GTX as the fastest graphics card on the market but the price is truly terrifying. No doubt there will be a handful of gamers who are unable to resist squeezing an extra few frames per second onto their huge LCD TV at any price, and we applaud them wholeheartedly. No, that's quite insincere - in truth we're as jealous as heck...