Original URL: http://www.theregister.co.uk/2007/05/22/review_sharp_lc32_lcd_tv/
Sharp Aquos LC32RD2E 32in LCD TV
Exemplary?
Posted in Personal Tech, 22nd May 2007 13:41 GMT
Review Sharp is perhaps the keenest supporter of LCD TV technology. It was the first really big name to switch to producing only LCD TVs and thus has had more practice than most. This longevity of experience has allowed Sharp to filter down some of its top-line technologies to its smaller sets and this unit is a good example of that process.
The 32in LC32RD2E is the smallest member of Sharp's new RD2E family, which is part of the Aquos range. Its bigger brothers come in 37in and 43in versions. The TV has analogue and digital tuners, has a 1366 x 768 screen resolution, a viewing angle of 176° and comes equipped with a 100Hz refresh speed, which gives the set a response time of 4ms.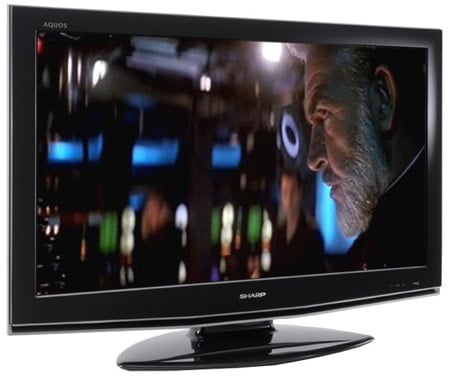 Looks-wise, the Aquos range has always been easy on the eye and this TV is no different, with its sleek lines and piano black-lacquer finish. Setting up the TV could be a little easier. There are eight screws to go in that hold the screen and stand together. However, the work feels worth it as the stand allows the screen to rotate from left to right to get the best viewing position. Not too much of this should be necessary as the 176° viewing angle means that poor viewing angles, so long an Achilles' heel for LCD, is not a serious issue here.
Channel set-up is straightforward, but not the fastest I've ever seen. Still, the EPG (Electronic Programming Guide) and menu systems more than make up for this as they offer a wide array of intuitive features to deliver a good level of navigation and adjustability. The eight-day EPG is simple and fast way to navigate around. And when the set's in analogue mode, the viewer can call up a simple on-screen menu to skip quickly from channel to channel.
Another nice feature of the menus is, rather like on a Mac, a channel or function often only has to be highlighted to be selected. Menu options allow adjustment of the level of backlighting, contrast ratio, brightness, colour tint and sharpness of the picture. A few years ago, we'd have questioned the need for this kind of level of adjustment on a TV. However, these days, with the advent of many more channels and especially satellite's mixed levels of picture quality, these adjustments do come in handy. If you really want to get clever you can even mess around with the colour temperature or black level expansion setting.
The real star of this TV's line up of technologies is its 100Hz, 4ms response time. A criticism often levelled at LCD is the struggle it has delivering a realistic image and dealing with fast-moving images. However, the performance of this set does much to dismiss many of the complaints. Put simply, an LCD image remains visible until another image replaces it. The faster the next image comes along the more natural the picture looks and the more readily the TV can deal with fast-moving images. During TV mode the set delivers a more natural picture and is more comfortable to watch than some of its competitors.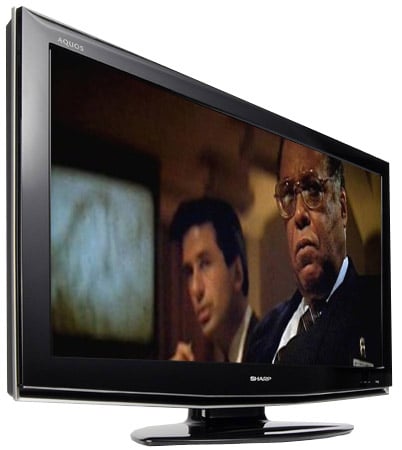 The last day of the Carling Premiership season provided ample fodder to sample this. There are plenty of other sets out there that can out-perform the Sharp in this department, but they would be considerably more expensive and they would also probably be a plasma. This Sharp definitely sets a new standard for fast images on LCDs of this size.
On to a DVD test, and I decided to set the Sharp a challenge by hooking up a rather ancient DVD player and an old copy of The Hunt for Red October. Happily the set coped well. Movement was life-like and flesh tones were particularly good. The movie presents a colour gamut of grey or dark seascapes and internal submarine shots, which can look a little flat. However, the Sharp did well and delivered colours close to those which director John McTiernan had probably hoped for, although it could do nothing about the more-Scottish-than-Lithuanian accent of Mr Connery.
Good black levels are what all ambitious TV designers dream about, and also here the Sharp does well. Giving the set a break, we hooked up a more heavy-duty DVD player and decided to go with leather-clad goth-fest Underworld, to see what the set could do with really dark scenes. The opening sequence is a rain-soaked urban street sequence, the kind that modern film makers love, as dark images are a visual short cut to produce atmosphere. Unfortunately, many sets can't cope with this technique.
Yet again, the set came through, giving good detail even down to the rain drops dripping of Ms Beckinsale's figure-hugging outfit.
The only place where the picture struggles a little is when dealing with thin in-picture elements, a flag pole, say. These can look like they have a little noise around them.
The LC32RD2E is also billed as having a quality audio set-up and it does have some useful audio options. The user is able to turn the picture off and just have audio - great for listening to the radio over Sky or Freeview. There is also an option to set the volume at a required level and the TV will automatically adjust each feed to match that level.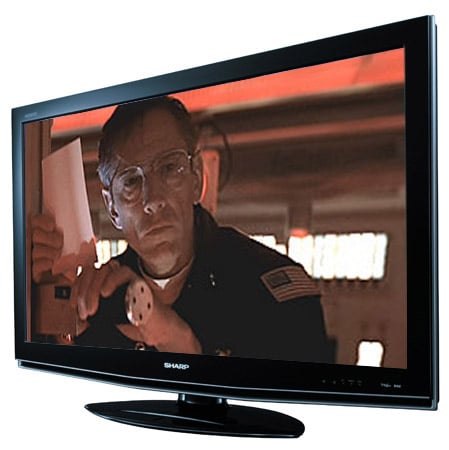 AC/DC Live at Donington is a DVD that can test even a decent 5.1-channel audio system. To be honest, we were a little disappointed, as there wasn't much real bass to the sound and it all came across as a little tame. However, providing the ability to adjust not only the picture, but the sound, Sharp provides a way around the problem. A big dose of bass level later and a switch to the "surround mode" really bought things to life, and the sound bounced along to the thumping drums and Angus Young's frenetic guitar. We wouldn't say that the surround mode actually made the sound feel like it was surrounding the viewer, but it definitely makes the sound much fatter and more detailed.
For connections, you've got pretty much everything you could expect on a TV this size. Two each of Scarts and HDMI, four audio output ports, s-video, an RS232C port and an analogue RGB. All the unit's connections are hidden behind a handy removable panel with a small opening at the bottom to allow the cables to flow out and to tidy them up. There's even an extra video port and audio ports located away from the main connection panel for faster access.
Verdict
A great little set, Sharp's LC32RD2E LCD TV punches above its screen size with a picture performance that shows how far LCDs had come in overcoming some of the technology's flaws. An intuitive control suite and impressive levels of connectivity partner genuinely impressive picture performance. Even a re-run of the Catherine Hepburn, Carry Grant, Jimmy Stuart classic The Philadelphia Story made in 1940 had new levels of reality and depth breathed into it.