Original URL: https://www.theregister.co.uk/2007/05/18/dell_project_hybrid_blade/
Project Hybrid: Dell's transformation begins
Hunting the Butterfly Effect
Posted in The Channel, 18th May 2007 14:26 GMT
Dell now hints with muscularity around its future data center plans. We give you Project Hybrid.
Company executives, most notably CEO Michael Dell, have spent the last few weeks positing the notion that Dell will revamp its server and storage hardware. On Thursday, Dell added the faintest touch of concrete detail to these suggestions, describing "Project Hybrid" as "the first step in Dell's plans to radically change the business computing industry." If you're still perplexed, we have only so much to offer.
Speaking at a press conference in San Francisco, CTO Kevin Kettler and server chief Jay Parker told reporters that Dell will release a new line of servers in the second half of the year that place special emphasis on power consumption and virtualization. The only actual product presented to back up these plans was a prototype blade system, which we wrote about earlier this year.
The blade box, as predicted, can hold two rows of eight servers and includes networking and I/O functions at the back of the chassis. Those of you familiar with HP's c-Class blade chassis will also be familiar with Dell's so far unnamed system. The two boxes appear near identical from the outside. Dell declined to provide any specifications on the blade unit at this time.
Part of Project Hybrid will apparently appear in the blade server. But, again, we have no idea what the parts are, since Dell would not say.
We tried our best to comprehend Project Hybrid as presented, and here's what we're thinking.
Dell looks set to ship a number of low power server SKUs – systems that sound similar to what Rackable makes today and what Intel has hand-crafted to appease Google. You can think of low-power components, DDR2 in place of FB-DIMMs and half-height servers. As we understand it, Dell tried to buy Rackable at close to $40 per share but was denied. So, now it'll make thin, low-power systems on its own.
In addition, Dell plans to ship servers with low-level and high-level virtualization software. Will Dell build this software or buy it from, say, VMware or a start-up?
"It could be a little of both overtime," Parker told us.
Clear?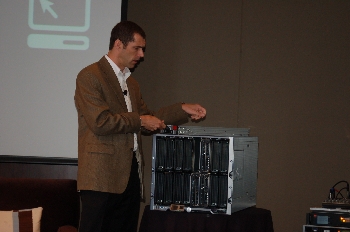 Parker meets new blade
Today, you can go to Dell's web site and use pull down menus to select all the pieces of a high performance computing cluster. Dell wants to extend that model to the virtualization market, Parker said.
"You will see unique software capabilities – embedded in some cases," he said, adding that Phase I of Project Hybrid will be all about "ease of deployment and ease of management."
"It can take customers moving from physical to virtual today hours, days and even months in some cases. We will be able to cut the deployment of virtual machines to minutes. Those are capabilities that do not exist today in the marketplace."
Well, in fact, they do exist from a wide range of software vendors. Parker, however, seems to mean that no Tier 1 server seller has tied virtualization to servers in the mysterious manner that Dell plans.
On top of all this, Project Hybrid will also make use of Dell's services arm. But then you knew that was coming.
Dell Rhetoric 2.0
With this announcement, you find a Dell that wants to recalculate its perception in the server marketplace.
Kettler talked about Dell's past where the company decided not to build its own silicon, decided against Itanium, decided against building 8-way boxes and decided against crafting its own middleware and operating system. Instead, Dell bet on one- to two-socket boxes and that bet paid off.
The x86 market, however, has matured to the point where simple box shifters look archaic, especially among the Tier 1 set. Customers face a wide variety of complex issues – most notably power consumption and virtualizaton – and need serious help through engineering.
Dell seems to take this rather seriously, as evidenced, if nothing else, by the press event in San Francisco. The hardware maker rarely holds such events, preferring to go about its business rather than patting itself on the back.
Just how different Dell really will be under Project Hybrid proves near impossible to discern given the amount of information doled out so far.
It's clear, however, that Dell wants to craft a message, products and services that differ from IBM and HP, at least on paper.
One concrete spot where this drift from IBM and HP has occurred is around the blade systems. Sure, Dell has prepped what looks an HP clone, but the company does not push the boxes at every turn. It presents blade as an option, while adding that one- to two-socket systems should remain as the mainstream systems for customers.
That's a practical message given the proprietary nature of the blades and, of course, one that serves the third place blade seller well. We give Dell credit for cutting back on the blade hype. Too many customers have been burned – sometimes literally – by the big vendor blade pitch.
It's encouraging to see a Dell that appears rejuvenated and ready to compete with ferocity once again. As many of you know, Dell lost some of its competitive luster during its bout with Opteron denial.
A vibrant Dell tends to translate into cheaper systems from IBM, HP and Sun Microsystems for customers.
We like that the company is thinking again and pushing on some key customer trouble spots. With any luck, the Project Hybrid gear will live up to its billing. ®