Original URL: https://www.theregister.co.uk/2007/05/17/preview_fujitsu_fmv8240/
Fujitsu LifeBook FMV-U8240 ultra-mobile PC
Miniaturisation gone mad?
Posted in Personal Tech, 17th May 2007 16:32 GMT
Hands-on preview Japan continues to live up to its reputation for miniaturisation. This week, Fujitsu unveiled a family of small PCs, sized only slightly larger than a hefty PDA, known as the U Series, where the U is taken from Ultra-mobile PC.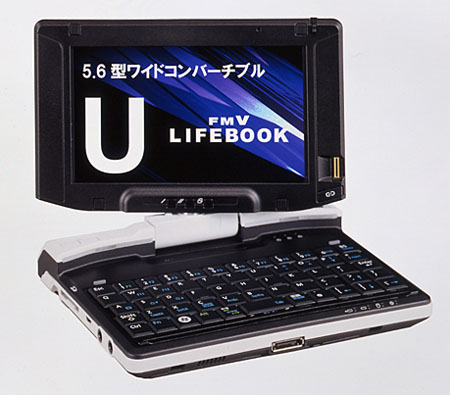 Aimed at the corporate user on the go, the unhandily named FMV-U8240 features a desktop operating system - either Windows XP or, for the adventurous user, Windows Vista - as part of the 580g package which slipped handily into my jacket pocket - for testing purposes only, you understand. At 2.7cm thick, it's as thin as a modest paperback book. The diminutive computer caught the fancy of a German colleague who immediately saw a use for this as an on-the-go digital photo editing platform.
A bright 5.6in display with 1,024 x 600 resolution provided a surprisingly easy-to-read screen - provided that you read Japanese easily, that is - the launch of this gadget is scheduled for June (XP) and July (Vista), in Asian regions only. No date yet on when it will reach Europe or North America.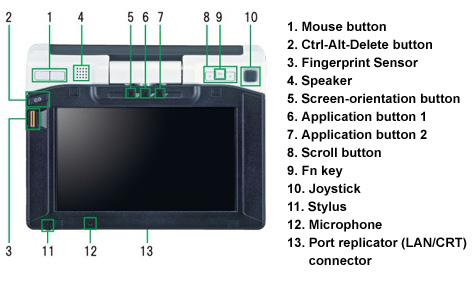 The FMV-U8240 face on
Although the unit can operate in standard laptop 'clamshell' mode, a twist and a swivel turns the unit into a tablet, complete with included stylus. There's also a 'nipple' mouse controller, similar to those that used to grace ThinkPads and Toshiba laptops, but here located to be accessible whether the keyboard is hidden or open. Also available from either configuration is a dedicated screen-orientation button that allowed this left-handed user to hold and operate the unit as easily as a right-hander might.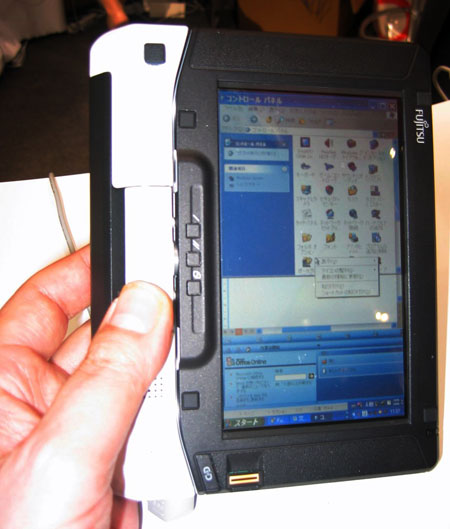 The built-in keyboard, though small - a 14 mm key pitch, according to the publicity, with a fairly generous 1.3mm keystroke travel - proved relatively easy to use, even for my fat foreign fingers, though as with all Japanese keyboards the space bar is too short for my liking, and I kept changing between Japanese and English input. I also disliked the cursor keys needing a modifier Fn key to operate, but keyboards are a matter of personal taste. This is certainly not a keyboard that you'd want to do a lot of work on, but fine for form-filling, etc. In any case, the port replicator contains a few more USB ports, as well as an external VGA display port. The built-in Ethernet - 100-Base-T - also finds its outlet here.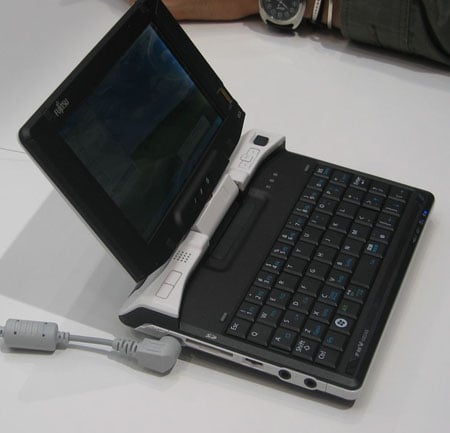 Given Japan's idiosyncratic personal data protection laws and a current obsession with privacy, these computers offer security against unauthorised access by including a fingerprint reader that can also replace password logins for OS or applications. The USB port can also be locked so that only devices approved by an administrator can be connected and used.


The FMV-U8240's right-hand side
As well as wired Ethernet, the FMV-U8240 sports a built-in Wi-Fi adapter, but I searched in vain for a Bluetooth function. Given that USB, CompactFlash and SD cards are all available, maybe this won't prove too much of a loss, but the ability to use a cellular phone as a modem via Bluetooth or to print wirelessly using built-in hardware seems a surprising omission. On the other hand, there are cellular and PHS adapters available, and public Wi-Fi access is becoming more prevalent in larger cities in Japan.


The FMV-U8240's left-hand side
Battery life is rated at about four hours of use, but an optional high-capacity battery can double that figure.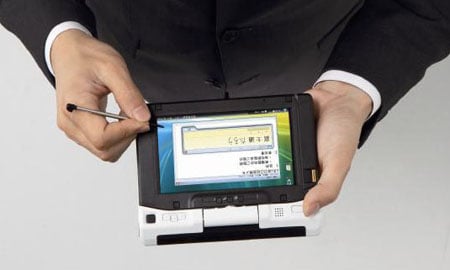 The chipset is Intel's Ultra Mobile Platform 2007 using the A110 processor clocked at a modest 800 MHz - though the slower clock speed does mean that the semi-rubberized non-slip case doesn't get too hot. A 20GB hard disk stores data, and ¥144,000 (just over £600) buys you the model with 512MB of memory and XP installed. For ¥164,000 (£685) you get a full gigabyte of RAM, and this is also the price for the Vista 1GB model.