Original URL: https://www.theregister.co.uk/2007/05/16/review_sony_vaio_sz4/
Sony Vaio SZ4 slimline laptop
It's slim but is it a lightweight?
Posted in Personal Tech, 16th May 2007 12:50 GMT
Review Sony's slender Vaio SZ4 is geared to folk who don't like their laptops to weigh them down. It's not the most compact of models, but at very portable 1.7kg, the SZ4 is eminently suited not only to the portability-over-performance crowd but also to those who want their laptop to be a looker.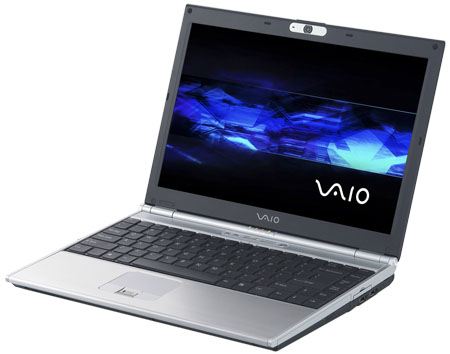 Case in point: there is no case. Clearly Sony wants you to carry this svelte puppy under your arm and show it to world. With its 13.3in display, it comes in at a carryable 31.5 x 23.3 x 3.5cm, so it'll easily slip into most briefcases with room to spare.
But why tuck it away? The photos don't do justice to the SZ4 and make it look rather average. In fact, the quality of the chassis and the feel of the finish are absolutely top notch.
Not so its chippery. Although Intel has recently launched the new 'Santa Rosa' Centrino Duo platform, the hardware inside the SZ4 is based on the previous generation of silicon. This means that the dual-core CPU uses a 667MHz frontide bus rather than an 800MHz one - the 512MB of DDR 2 memory is clocked to an even lower 533MHz - and other neat new features, such as the Turbo Memory Flash cache accelerator and 802.11n next-gen wireless networking, are conspicuous by their absence.
What you do get is a reasonable 120GB hard drive and a 2GHz Core 2 Duo T2900 processor. Happily Sony has specified an Nvidia GeForce Go 7400 graphics chip rather than the unimpressive graphics engine built into the machine's Intel i945GM chipset, so the Windows Vista Aero interface is fully supported. Sony has opted to bundle Vista's Business Edition, which brings us to the crux of the SZ4.
Sony describes this model as a "premium carbon fibre notebook for professionals", so the Business Edition may seem like the natural choice. This version of Vista doesn't include BitLocker encryption, which may well seem like a handy tool if you want to keep the business data on your laptop safe from thieves and prying eyes. Sony has clearly thought of this and has the situation covered. Between the two mouse buttons there's a fingerprint reader which is identified as a TouchChip Fingerprint Coprocessor in the Device Manager which is controlled by a copy of Upek Protector Suite QL v5.6. This fingerprint software can digitise your fingerprints and store them as encryption keys on the hard drive or, if you prefer, in the sensor itself. This gives you the option to right-click on a file and then add the file to an encrypted archive.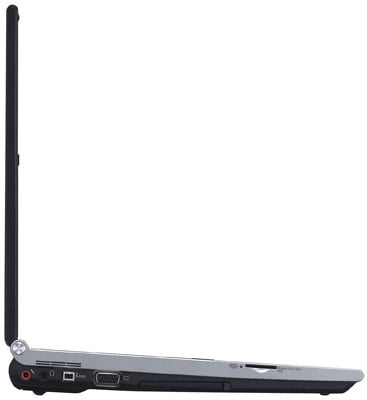 Taking a tour of the chassis you get a reasonable array of ports and connectors. On the left side there are jacks for headphones and a microphone, along with a Firewire 400 port, VGA, an old-style PC Card slot and a Memory Stick/SD/xD card reader.
There's not much going on at the back as the battery takes up most of the space. It's the right side where things get a bit more interesting. There's a multi-format DVD writer, two USB ports, network, modem and an ExpressCard 34 slot. Normally, we'd say that the ExpressCard slot could come in handy when it's time for an upgrade of some sort. However, Sony includes a £230 Novatel Merlin XU870 HSDPA 3.6Mbps 3G ExpressCard with the SZ4. Install the card and sign up for the suggested T-Mobile Web'n'Walk package and you can have (almost) unlimited high-speed data transfer for £30 per month.
To round off the list of features, there's Bluetooth, with switches above the keyboard for this and the 802.11b/g wireless. Above the screen there's a 0.3-megapixel webcam.
You get a fairly reasonable list of software with the SZ4, including SonicStageCP 4.2, SonicStage Mastering Studio 2.3, DVgate Plus 2.3, WinDVD 8.0, Adobe Photoshop Elements 5.0, Acrobat 8.0 and Microsoft Works 8.5, as well as the annoying trial version of Norton Internet Security 2007. We have to wonder how much of this is relevant to the business user, and in particular Works and Norton seem out of place.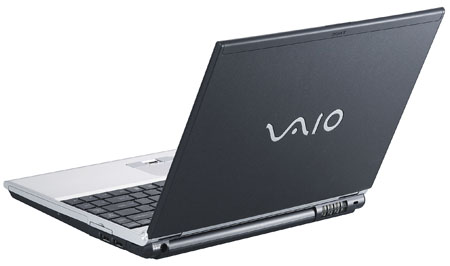 The SZ4's performance is solid if uninspiring. However, the cooling fan makes a steady noise not dissimilar to a small hairdryer. Sony has done an impressive job by shoehorning this much hardware into such a slender chassis, but it seems that the cooling system has paid a price.
Running the standard benchmark tests, the GeForce Go 7200 scored 707 - not bad for general apps, but you'd not want to run games more graphically challenging than Tetris on it. That's reflected in the low-ish PCMark05 graphics rating of 2103, compared to CPU, memory and hard disk scores of 4801, 3890 and 3205, respectively. Overall, the SZ4 scored 4084.
We've got bad news when it comes to the battery life as we only got a mere one hour and five minutes of continuous use from the SZ4. The standard battery is rated at 5200mAh and costs an amusing £139. But the alternative, 7800mAh battery is priced at a scary £279. We reckon this bigger battery should last for one hour and 40 minutes, which is hardly more than the bundled standard unit, so you'd better expect to carry the sizeable 560g AC adaptor supply with you when you're on the move.
Verdict
We have mixed feelings about the Vaio SZ4. It looks superb and has a decent keyboard and a clear, bright, colourful screen. The list of features is likely to appeal to the business user - especially if you can persuade your company to pay for it - and its size will win the approval of individuals who doesn't mind paying a little more to get a machine that's a lot more portable than most. But with such a short battery life it doesn't seem like a practical proposition.