Original URL: https://www.theregister.co.uk/2007/05/16/mifid_deadline_approaches/
The MiFID opportunity
Deadline is fast approaching...
Posted in Business, 16th May 2007 09:02 GMT
You can say one thing for a business disaster these days: it's usually a lucrative "opportunity" for IT people. The next such opportunity is going to be MiFID – the EU Markets in Financial Instruments Directive, which goes live in November 2007.
MiFID affects only a subset of UK companies, those in financial services (check out the FSA web pages at the above link), although some that are affected may not realise it yet – some will be coming under regulation for the first time – and it will have a major impact on those affected.
A guide to the MiFID state of play in the UK, from Michael Folger of the FSA, is available here; and another, Jitz Desai's MiFID: The roadmap to implementation, can be obtained from the MiFID documents section of the JWG-IT think tank pages (registration required).
MiFID is intended to increase transparency for trading in financial instruments and will, possibly, provide better consumer protection in this market. But, it has consequences for the IT group in firms affected (and remember that it will be a large and therefore high-risk project, highly visible, attracting board-level interest, and dealing with external regulators).
And, as usual with implementation of regulatory change, such work is likely to be well-paid - either because the legislators have unrealistic timescales or, more likely, because many businesses will leave compliance to the last possible moment.
What this new directive means (among other things) is that customers will be able to expect "best execution" of their trades according to published rules (and select their financial services partners according to their own preferred interpretation of "best execution").
However, there are few prescriptive rules as to how exactly to implement this (ILOG's Jean-Baptiste Dezard provides a useful summary of the likely requirements in his paper Addressing MiFID's Best Execution challenge - more from ILOG on MiFID here).
Financial services firms will be expected to be able to point to a documented process that implements MiFID to the satisfaction of the regulators. They may also have to defend their interpretation of best execution if this is disputed (going back five years) and be able to supply timely information on the completion of deals to their customers and regulators.
This may be good news for financial services customers, and it promises to reduce capital costs and provide increased business for financial services firms – although high implementation costs are also anticipated.
However, it will be a real headache for a hard-pressed IT department, especially if resources haven't been allocated to MiFID, since the MiFID rules (which were supposed to be formulated by the national regulators for the beginning of 2007) have not generally been implemented across Europe yet, and the MiFID "go live" date is November 2007.
Luckily, the UK FSA is ahead of the game - although MiFID is an international issue, in general, even for UK companies.
At SunLIVE07, Nick Gibson, head of regulatory stream, EU MiFID Programme, ABN Amro, discussed some of the potential technical challenges associated with implementing MiFID. These include:
Knowing what application logic is needed - Dutch law, for example, is unlikely to be finalised until shortly before MiFID goes live, giving Dutch IT groups little time to code and test the necessary logic.
Deciding what the "best execution" requirements really are; not just the rules applying when the trade is made, but any logic required to report on best execution from trades five years ago – do we need to actually recreate the market at the time of the trade? Gibson thinks not, but this isn't clear.
Managing the operational risk is associated with traders having to work out which rulebook applies to, say, a French client trading with the London branch of a Dutch bank.
Improving the user interface to financial systems, to make supplying more information to customers and other stakeholders easier ("self service" facilities may be needed).
Gibson also points out (ironically) that transaction reporting is "a joy" - with 27 potential variants and a choice of the applicable regulator and regulating engine (internal or external) to worry about.
Tools
There are plenty of MiFID tools on offer but the first step, from an IT point of view, is to get your head around what MiFID is and how your firm and your national regulators are interpreting it.
There is a tool that may help you do this, from Fintecs: the MiFIDMap Workbench. Fintecs MD Toby Gratton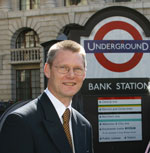 explained that this is a Visio-based visualisation tool that distils the actual directives into a more readable, structured form that can easily be navigated by compliance officers and which maintains hyperlinks back to the directives themselves. Keyword search is available and reports can be exported to the usual Microsoft Office applications via XML; but perhaps its most useful feature is a map can be user-customised with links to an organisation's own processes and compliance progress.
The Workbench isn't cheap (some £4,500), but it is intended for compliance officers; a "Reader" is available (just under £1,500) for managers and other stakeholders to use in order to track their compliance schedules (trial versions are available for download). And Fintecs can also print wallchart versions of your MiFID compliance map to help encourage everybody forwards.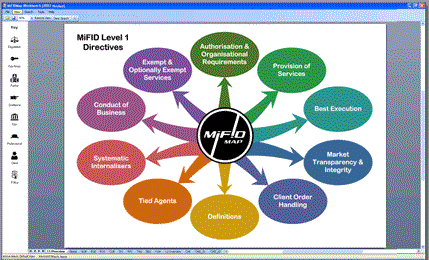 MiFID Workbench is part of a general Microsoft MiFID support initiative (see the Microsoft Financial Services press release here, which involves not just Microsoft stuff (Office, BizTalk, Sharepoint, SQLServer etc) but other partners too: as well as Fintecs, there is HP and Progress Apama, for example.
A welcome sign of the maturity needed to be a major financial services player rather than just a supplier of really powerful (and possibly unmanaged) spreadsheets and C++ compilers (although that is probably a tad unfair to Microsoft these days).
A key feature of any MiFID solution will be some kind of real-time data store capable of going back over five years in a time sequence. Mark Palmer (vice president and general manager of the Apama Division of Progress Software) says this is a key strength of the Apama compliance event-processing platform (which is already proven in algorithmic trading).
As Palmer puts it: "The Event Store is a subatomic data warehouse from which questions concerning past "best execution" and the like can be answered."
But, as I said, most financial services technology vendors will have a MiFID story if you ask for it. It is, however, a case of "buyer beware" as not all technology will meet the potential demands of MiFID.
Gavin Quinn (business development manager finance EMEA at Sybase), for example, points out that many conventional databases are not good at near-real-time processing of large volumes of time-series data; not surprisingly, Sybase claims to have a solution (check out its Risk Analytics Platform here).
Process
However, there is more to MiFID than technology. Gratton stresses that Fintecs is more than just a software vendor; it is also a financial services consultancy with extensive European experience in business process improvement.
Well, perhaps that is to be expected, but the fact remains that MiFID compliance may well be as much to do with process management and improvement as it is with technology. It is all about transparency, good record keeping, and operating on a level playing field with European competitors. If your process can't cope with this, new technology probably won't cover for it.
And if your MiFID project fails, I bet it will be more to do with a failure of project management, or a failure of the business to deal with EU regulation effectively, than it will be to do with technology failure.
Perhaps some companies will need experienced external assistance. ®