Original URL: http://www.theregister.co.uk/2007/05/15/review_seagate_freeagent_pro/
Seagate FreeAgent Pro 750GB external hard drive
As capacious as an elephant's scrotum - and as visually appealing?
Posted in Hardware, 15th May 2007 11:02 GMT
Review You can go too far to be consumer friendly. Making a device straightforward to set up and get running with some clear, simple guidance is all very well, but it's easy to overdo it and come across chirpy and brainless. Seagate has come perilously close with its FreeAgent Pro external hard drive.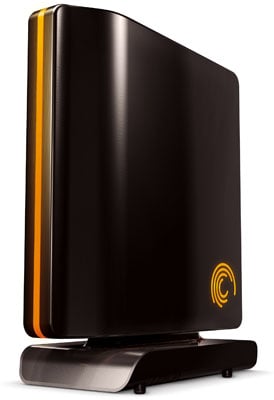 Seagate clearly believes ordinary folk are scared of storage, even though external drives have never been easier to connect and use. So, opening the FreeAgent Pro's box reveals not only the most basic of set-up guides - reassuringly headlined, in large, friendly letters, "This won't take long" - but all the cables and adaptors come in little grey bags each sealed with a yellow sticker marked "Hello".
Every page of the set-up instructions includes the time Seagate expects you to take with each stage, claiming you'll be done in 1 minute 51 seconds. Or not - as it says on the back: "Times may vary depending on exactly how excited you are about using your new FreeAgent Pro data mover."
Heck, even Mac packaging isn't this smug.
And let me repeat those last few words. "Data mover." Even the phrase 'hard drive' might prove unfathomable for poor old Colin, the Confused Consumer.
But the worse is yet to come: the FreeAgent's design. Again, in a bid to stress that storage products are as relevant to consumers as they are to office drones, Seagate has come up with a look that's miles from the grey blocks of yore. The drive's encased in black plastic moulded to look like brushed metal and banded with translucent orange plastic that lights up when you connect the power supply. It's also eminently scratchable as I found after taking it home one evening.
Black and orange can go together, but here the illumination resembles nothing so much as the sickly glow you get from sodium street lamps.
The drive is mounted on its side. While it's fixed to the shiny black base unit, it's arranged to look like it's floating slightly above the base, giving the impression you can lift it off like an iPod from a docking cradle. You can't, which means the FreeAgent can be laid flat on your desk, a mode in which its parallelogram profile would actually look quite good, sodium glow notwithstanding.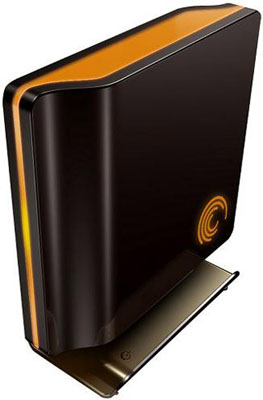 But if the styling's all wrong, the industrial design has its moments. Seagate supplies the drive with not only USB and Firewire interfaces but the up-and-coming eSATA standard. They're not all available at the same time: the base has a screw-on panel with an eSATA connector and a mini USB socket, and there's a replacement unit in the box with two six-pin Firewire 400 ports. There are Firewire and USB cables in the box, but no eSATA line.
Swapping them round is easy enough, though while the screw that locks the panel into place is nice and large, the depth of the slot could be deeper to make it more screwdriver friendly. As it is, it's designed to be turned with no lesser tool than a US penny.
Seagate sent me the 750GB FreeAgent Pro, and with the Firewire ports plugged in I was able to connect it to my MacBook Pro and start moving data. The drive's pre-formatted for Windows users, but, to quote the packaging, "if you're a Mac person... you can reformat for Mac using Disk Utility and enjoy all those glorious gigabytes". Please.
I didn't reformat the drive because I wanted to connect it to my Windows XP machine later. In fact, it's formatted using the Windows NT file system, and Mac OS X said I didn't have sufficient permission to write to it, so I reformatted it to FAT32 for compatibility.
Next, some tests. I created a 100MB file, duplicated it nine times, popped 'em into a folder and then copied that five times to create a 5GB folder containing 50 items. This I copied first to the FreeAgent, then duplicated on the drive itself, before copying the data back. In each case, the time was averaged over three runs.
Copying over the data took 4m 32.96s, or 18.32MBps. Duplicating the data on the drive took 5m 14.57s, or 15.9MBps. So by no means unreasonable for a 7,200rpm external drive, quite quick, in fact.
I also tried Sonnet Technologies' Tempo ExpressCard add-in to try the drive's eSATA connection. Speed-wise, the results were near enough the Firewire figures as makes no odds: 18.56MBps for copying to the drive. That said duplication on the drive happened at a rate of, on average, 25.4MBps, well above Firewire speeds, which is handy if you plan to use the drive as a Photoshop scratch disk, for example.
The drive in the FreeAgent Pro spins at 7,200rpm. It runs quite warm when its powered up and connected, but not hot.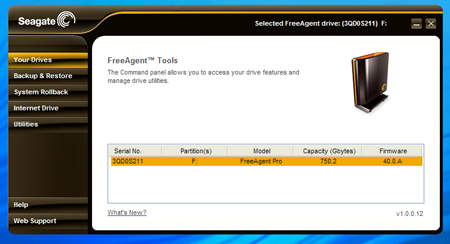 After swapping out the Firewire connector for the USB/eSATA unit, I took the drive and connected it to a Vaio notebook and try out the bundled apps: a drive utility and an automatic back-up package. Both are up to the task and easy to use. AutoBackup monitors your PC's hard drive and copies over new files and folders, and any that get changed, all in real time. It's easy to select specific folders for it to watch or set it to look out for changes to specific types of file - web bookmarks, for example.
The FreeAgent Tools package lets you set automatic system roll-back points - in case an update or a new app messes up your system - and tweak drive settings like the aforementioned orange light and the disk sleep time. Handy to have, but not essential - and downright unavailable if you're a Mac or Linux buff.
One irritation: there's a quick-link icon in the System Tray which runs the various tools but isn't smart enough to maximise their windows when they're already running. Instead, you get a message saying: "Utilities is already running." Helpful? Not.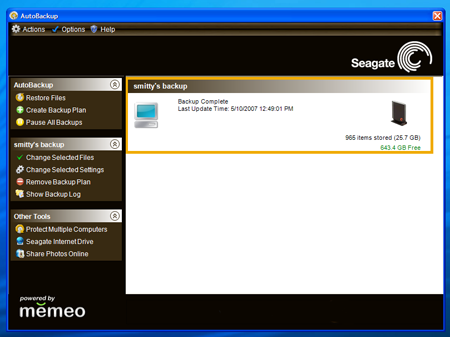 The FreeAgent Pro retails for around £225 inc VAT, though I've seen prices ranging from £215 to £249. It's not a bad price, given the capacity and, in particular, the ports it offers. LaCie has a 500GB d2 Quadra that likewise features USB, eSATA and Firewire - both 400 and 800 - all for £139, which works out better value than the Seagate on a price-per-gigabyte basis and comes with Mac and Windows back-up software, unlike the Windows-only FreeAgent.
Verdict
You either love the FreeAgent Pro's looks - or you hate them. What everyone can agree on is that the drive is not only well capacious and quick, but also - since these are not unique qualities - equipped with a solid array of connection options, including eSATA, which looks set to feature on many more new systems. And the price isn't half bad either.