Original URL: http://www.theregister.co.uk/2007/05/10/review_xoro_hsd_7510_lcd_tv/
Xoro HSD 7510 DVD player-equipped LCD TV
Practical and portable?
Posted in Personal Tech, 10th May 2007 12:59 GMT
Review Portable TVs are hardly a new idea. Neither for that matter are portable DVD players. However, put the two together, add a host of other features and then you do have something that feels like it's breaking new ground.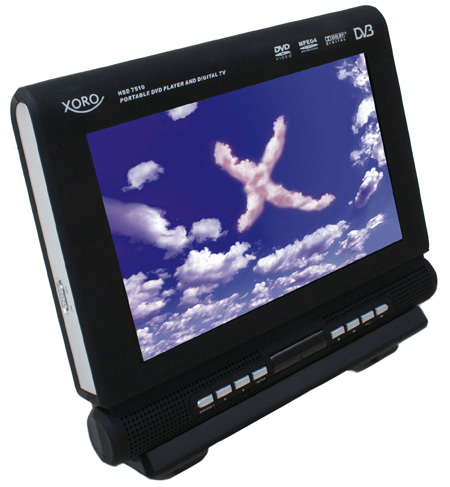 Right out of the box the Xoro feels like a robust and reliable machine, with its chunky looks and rubberised surround that frames its 9.2in screen. OK, there are plenty of other portable products that look sleeker than the Xoro, but there is something reassuring about its robust appearance and deep black paint job.
Assembly is simple and straightforward. The screen comes with an adjustable foot which screws into the base of the unit to provide a flexible and stable viewing platform. In fact, the only thing that doesn't feel solid about the product is the rather basic manually-sliding door for the DVD deck, which feels a little vulnerable to damage.
DVD operation allays these fears as spool up time is extremely short, rarely going over ten seconds. Navigating around a disc - skipping from scene to scene, for example - is even more impressive: taking less than a second, the Xoro is quicker that some full-sized DVD decks. Picture quality is also pretty good. Some discs at very close range display a little picture noise, but in general the picture is clear and sharp and without the thin washed-out feel you can get on some portable DVD players.
Anyone who is old enough to remember the portable TV from its first incarnation in the 1980s could be forgiven for not wanting to touch the format with a disinfected barge pole. The picture was awful and battery time was barely long enough to make it through an episode of Emmerdale Farm. Using the Xoro underlines that things are very different now. During set up, the Freeview tuner only takes a couple of minutes to locate all the radio and TV channels. The unit's seven-day EPG - Electronic Programme Guide - is easy to understand and navigate, and picture quality is good.
Playback time using the Xoro's rechargeable battery will obviously depend on volume levels and so on, but we got a good few hours out of it, and the unit can run on mains power too. The Xoro has its own mini-aerial, and like all digital sets, this TV does have to be in strong signal area. We tried three locations and got satisfactory reception in two of them. The best reception is, of course, obtained by plugging the unit straight into a loft-fitted or roof-mounted aerial.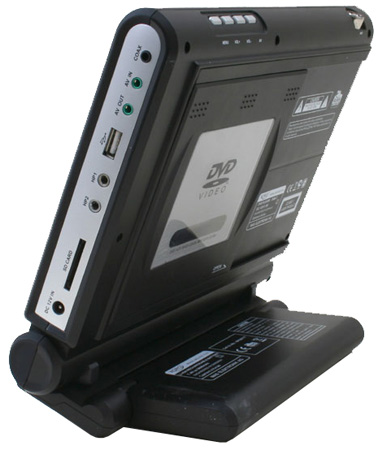 We took the Xoro outside and attached the mini-aerial - it's magnetised - to the roof of a car and got a good picture. In-car use is possible, thanks to a bundled headrest attachment. Hardly a unique feature, but a useful one, and the Xoro is actually robust enough to survive the sticky fingers and unforgiving treatment that any unit operating in the back of a car is likely to receive. The Xoro has its own in-car adapter that uses power from a cigarette lighter socket.
The Xoro's sound quality isn't as strong is its picture. The speakers feel a little underpowered even at full volume. Still, the sound mix itself feels about right with enough detail and a clear enough dialogue - many portables struggle here - to give a satisfactory effort. At any rate, my advice would be that when the unit is being used by just one person to use the headphone jack as the sound is richer. The unit can actually accommodate two viewers in this way - there are two headphone jacks.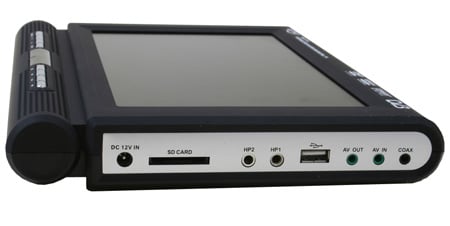 A really useful feature this one. How many times have you seen people on buses and trains sharing one ear piece of a headphone set? We're not sure why more manufacturers don't do this.
A good level of features can also be found on the unit's compact, but busy remote control. The buttons have a pleasingly tactile 'click' operation that feels much more positive that many of the soft-touch remotes on the market. The layout and labelling of the buttons is really straightforward and only a few minutes' operation will enable most users to become familiar with where and what everything is.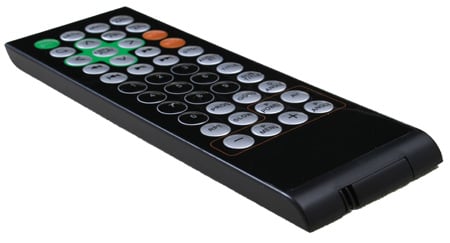 Other features include an SD card reader so users can view their photos as a slideshow. There's also a USB jack so portable media players and Flash drives can be connected to the machine - the Xoro's codec support goes all the way up to MPEG 4. We tried playing a Natasha Bedingfield video stored on a Sony Walkman player. Yes, we know, but it was pre-loaded onto the Sony so it was close at hand, OK? The playback quality was pretty good, though it took a long time to read the contents of the Walkman.

There's an AV input to allow you to hook up a set-top box or camcorder, and an AV output so you can bypass the Xoro's speakers and run it instead through a hi-fi.
Verdict
With its price tag of £215, the Xoro HSD 7510 can genuinely call itself fully featured. There are better standalone portable DVD players on the market, and better portable TVs, but this one combines those features and then adds some more for good measure. This is a competitively priced all-rounder that displays a good enough level of performance to genuinely add a new dimension to your at-home and out-of-house entertainment choices.