Original URL: https://www.theregister.co.uk/2007/05/09/bogus_nano_spy_coin_alert/
Souvenir coin sparked nano spy alert
"We haven't seen anything like it before, Jim..."
Posted in The Channel, 9th May 2007 14:36 GMT
A commemorative Canadian 25 cent coin was responsible for a US Defence Department security alert that soured relations between the US and its closest neighbour.
Concerned US contractors reported that a sinister new technology had been found embedded in the coin, which were apparently of Canadian origin.
One filed a report describing how the coin was "filled with something man-made that looked like nano-technology".
"Under high power microscope, it appeared to be complex consisting of several layers of clear, but different material, with a wire like mesh suspended on top," continued the vigilant contractor, who also noted the absence of electrical security or radio emissions.
This didn't deter his security chiefs, however, who launched into flights of fancy. Subsequently, in January the US Defence Department issued a warning suggesting that Canada may be using radio technology, embedded in coins.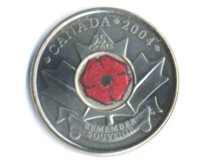 The coin that sparked a security alert
AP's Ted Bridis pieced together the truth behind the alert using US and Canadian sunshine legislation.
Defense chiefs quietly backed away from the espionage alert, admitting they couldn't make it stand up. Canada produced 30 million of the commemorative "poppy" coins in 2004. ®