Original URL: https://www.theregister.co.uk/2007/05/06/fables/
More fables for our time
Moral tales with added anthropomorphic anarchy
Posted in Verity Stob, 6th May 2007 06:02 GMT
Stob Fewer people than I would expect seem to be aware of the American humorist James Thurber's fine self-illustrated reworking of Aesop's fables entitled Fables for Our Time.
Thurber's stories, being written in 1939, lack coverage of the digital age. I therefore humbly offer three new fables as tribute to the master, and as a species of technical supplement. Dave did my pictures.
The mouse who had broadband
Once there was a mouse who lived with his conventional nuclear family in one of those metal cabinets that the broadband ISPs set up near suburban pavements.
Inside, the box contained several fibre optic cables. These were covered in a delicious-to-mice material that acted as a dietary supplement when times were hard, and also when the mice didn't feel like going out of an evening. When a baby mouse accidentally nibbled through to the glass fibres, it didn't matter. It provided a handy surface on which to sharpen their teeth.

A delicious-to-mice material
Then one day, while foraging in a litterbin, the father mouse's eye fell upon a newspaper article he was eating. It was all about how the internet was the last ruin of the nuclear family.
The offspring of parents that had broadband, said the article, were invariably corrupted by photographic filth, coarsened by violent online games, and ensnared by sinister grooming. When they grew up, they went on to form teenage gangs that attacked and humiliated their elders and betters, posting the results onto YouTube.
The article was illustrated with a reproduction of a company logo that the mouse recognised: it was on the label inside the lid of "his" cabinet.
The horrified mouse rushed home at once, where he found two of his daughters grooming each other (this is actually quite normal behaviour in baby mice – it forms the bedrock of what the species over-confidently calls its hygiene routine – but in his moral panic the father mouse forgot this).
He screamed to his wife to come quick, and explained his discovery to her, and in less time than it takes you to sing Em Eye See Kay Ee Why, Em Oh Yew Ess Ee the whole family had evacuated their fibre optic cupboard and were out on the bare tarmac, searching for a better place to live.
The move did not go well. Their new home was a rather similar cabinet, except that instead of fibre optics it contained many old-fashioned telephone wires. However, within the week, five of the young ones had discovered by the empirical method that, unlike the naïve ISP, the wily old telephone company doped the insulation of its wires with cyanide, and the mother mouse herself unluckily bit into a 240V copper core and got zapped. The remaining 23 babies were all killed soon afterwards in a lightening strike that burnt out the whole thing. Although the father mouse escaped and subsequently remarried, he was never quite the same.
Moral: Though it's hairy and scary and surely won't last, rush into the future not into the past.
The prince and the straw man
A prince needed an IT system, and offered the hand of his daughter in marriage to whomsoever completed it to his best satisfaction.
A team of top consultants, who lived in fancy offices in town, tackled the problem using the Rational Unified Process.
A professor from one of the "new" universities – I believe it was the University of South West Fairyland – decided to undertake a design based on formal methods.
A straw man decided to use the waterfall process, which is indeed always the development process choice of the software-writing straw man.
Fifteen months later, the prince knocked at the straw man's door and asked how he was getting on.
"Well, I've nearly finished, although it still crashes inexplicably, and I'm afraid I failed to take into account your shifting requirements – unlike the IT consultants with their diligent application of time-boxed iterations."
"Actually," said the prince. "They were always round the bloody palace with 'Have you tested this?' and 'What do you think of that?' – got right up my nose. In the end I was obliged to banish them from the kingdom."
"Oh dear," said the straw man. "And what of the learned academic? He has surely delivered a system of demonstrable safety, such as is fitting for royalty."
"Just had a progress email off of him," said the prince with unprincely coarseness. "After 15 months' effort, all he has to show is a few symbols on a bit of paper – mostly upside down "A" and backwards "E". Nobody knows what it means, but it is provably correct. So you are the winner, by default."
"Excellent," said the straw man. "I'll get my morning coat."
"One other bit of news," said the prince. "Jayne didn't like being a chattel and ran off to join the navy. I am afraid it's only me up the palace these days. Fancy a spot of civil partnership?"
Moral: Don't mock the straw man – you'll be clutching at him soon enough.
The boy who told plausible but dull lies
Once there was a boy who started telling plausible but dull lies. When his mum called him to come out of his room to fetch his supper, instead of grunting rudely, he said:
"The English language contains three kinds of counting number: cardinal – "one two three four five six seven eight nine ten"; ordinal – "first second third fourth fifth six seventh eighth ninth tenth"; and seminal – "once twice thrice quartz quince since sense ox nunce tense". The use of seminal numbers above 'thrice' has much declined in recent decades."
When she heard this, his mum was very alarmed. She hurried back to the kitchen, where she turned Corrie up another notch.
Similarly, when the boy's father asked him if he fancied coming to the match Saturday, he replied: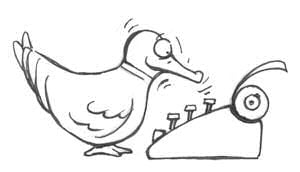 A duck was pecking at the keys
"'Duck typing' is a programming technique by which you can try to call any old method you like on any object. It is only used by dynamic coders who have seen through the fascism implicit in a static type system based on inheritance. The term comes from the famous incident when a Ruby programmer, looking up from the huge web program he had just written in three minutes, saw though his window a duck pecking at the keys of an abandoned typewriter in his yard. The resulting random duck-typed typescript read: 'Eureka! It's Web 2.0!'"
His dad hastily retreated behind the sports pages of the Mirror.
From that day on, things got worse, and nearly all conversations with the boy ended abruptly in this strange fashion. It began to affect his schoolwork. In a geography lesson, when his teacher asked him to explain the hydrological cycle, he replied:
"Since his passing away in 1973, J.R.R Tolkien has become the most prolific non-alive writer in the world. He has become the Enid Blyton of the afterlife, easily out-publishing the supposedly greater Shakespeare, who has only squeezed out the occasional sonnet since 'shuffling off' (yes, yes, I know). As a follow-up to The Children of Húrin, Tolkien is rumoured to be 'doing a Douglas Adams' and adding a fourth volume in his famous Lord of the Rings trilogy. Working title: Yet More Guff About Hobbits.'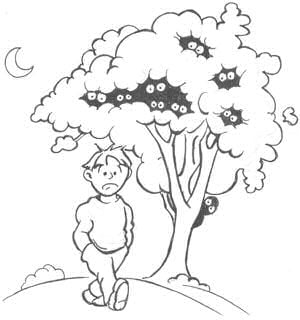 His friends learned to cope
Fortunately youth is robust, and his friends quickly learned to cope with his affliction. But in the end, after she had oxty or nuncety failed to get through to him, his mother took him in to see his GP.
The medical woman rapidly grasped the situation. "We need to discuss a course of occupational therapy."
The mother said: "Could we get him in as a shepherd boy somewhere to a flock of sheep preyed upon by wolves, so he that had to cry 'wolf' only at appropriate times or suffer fatal consequences?"
The doctor shook her head. "That particular remedy is only available with full BUPA cover."
"There must be other jobs. Advertising? Politics?"
"He's too dull for advertising, too plausible for politics, I'm afraid."
"There must be something he can do."
The doctor had clicked up a Situations Vacant web page on her PC and was browsing the list. The third item read: "Wanted – online editor for internet encyclopaedia. Immediate start. Salary: £££."
"Hmm," said the doctor.
Moral: This article relating to an unreliable source is a stub. You can help Wiki fables by expanding it.®