Original URL: https://www.theregister.co.uk/2007/05/04/review_lifebook_p1610/
Fujitsu Siemens Lifebook P1610
The Good Book overfloweth with features
Posted in Personal Tech, 4th May 2007 15:37 GMT
Review Laptops come in all shapes and sizes, from super-big, hernia-inducing desktop replacements to mega-dinky ultra-portables. The Fujitsu Siemens Lifebook P1610 sits firmly at the smaller end of the scale, with a footprint barely larger than an A5 sheet of paper.
It's built to be lightweight and portable, and though it may be petite on the outside it's not short on the features front. The P1610 is also a tablet PC, so you can swing the screen around and fold it back down flat. With a size of just 23.2 x 16.7 x 3.7cm and a weight of around 1.2kg, it's actually very usable in this mode. Like most tablet PCs, the single hinge feels a little fragile - but as it's attached to a smaller screen it doesn't feel as flimsy as larger tablet screens do.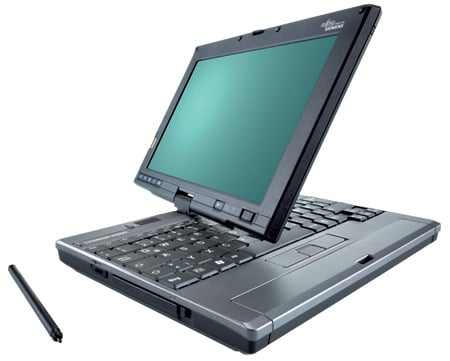 Fujitsu has opted for a touch-sensitive screen, rather than the more traditional active digitizer found in most tablet PCs. This has the advantage that you can use any nearby object on the screen - such as your fingernail - if you haven't got the stylus to hand. You do lose the ability to hover over items, though, which can make tasks like moving through menus more tricky.
The touchscreen is easily accurate enough for mouse navigation and when teamed up with XP's handwriting recognition software the results were surprisingly good. You wouldn't want to write a novel using it, but it's good enough for taking a few notes here and there.
Fujitsu has also included the Dialkeys application, usually found on UMPC machines. This divides an on-screen keyboard into two quarter-circles and places one in each bottom corner of the screen. You type by pressing the relevant virtual with your thumb. Although it works better here than it does on most UMPCs - largely because the bigger screen resolution of the laptop means the virtual keyboard doesn't cover the application you're trying to type into - it's still fairly slow going.
Flip it back into to normal laptop mode and there's a full QWERTY keyboard - although it's had to be squished a fair bit to fit in. Letter keys measure just 12mm square, so even those with the most nimble of fingers will find typing at speed a bit of challenge - it's very easy to catch the adjacent key if you're not careful.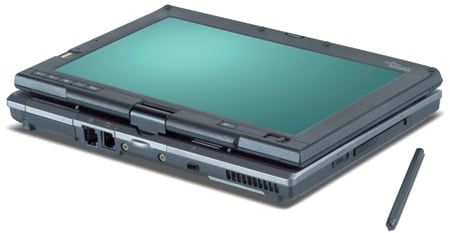 There's a trackpoint for mouse navigation, situated, as usual, between the G, H and B keys. The mouse buttons are a little close to the space bar, due to the battery occupying the bottom edge of the machine. The position is a little uncomfortable, as the buttons don't naturally fall under your thumb when you're using the trackpoint. However, you can tap the trackpoint for a left-click, avoiding the problem some of the time.
Given the small size, you're not exactly spoilt for ports, switches and connectors. On the left-hand side there's a hardware wireless on/off switch and PC Card slot. Over the opposite side you'll find two USB ports, headphone and microphone sockets, an SD card slot, power supply connection and stylus hole. Round the back there's space to connect a modem and an Ethernet cable, and there's also a VGA port hidden behind a protective rubber flap. There's also an array of shortcut buttons around the screen and a switch to turn off the LCD backlight - although you'll be hard pushed to make anything out with it off unless you're in very bright surroundings.
When it comes to specs, the P1610 matches it's small and portable purpose - in other words, don't get too excited. The processor is an Intel Core Solo U1400 that runs at 1.2GHz, although it is an ultra-low voltage model. There's 512MB of DDR 2 memory and the graphics are produced by the integrated Intel 945GMS chipset. Ultimately, it's fine for Word and web use, but try and do anything too taxing on it and it'll start to cry. Its low PCMark05 score of 1,393 backs this up and 3DMark06 wouldn't run at all.
However, if you're buying a machine like this, you're not buying it for its raw processing capability but its portability, and if you want something small then compromises have to be made somewhere. The 8.9in screen has a widescreen aspect ratio and a native resolution of 1,280 x 768. Despite its small size, we found the resolution fine to work with - although others may consider it a bit too small. More of a worry is how reflective it is - if there's any light source behind you then chances are you'll see it shining back at you in the display. This is a problem with all tablet PCs and not specific to this model, though.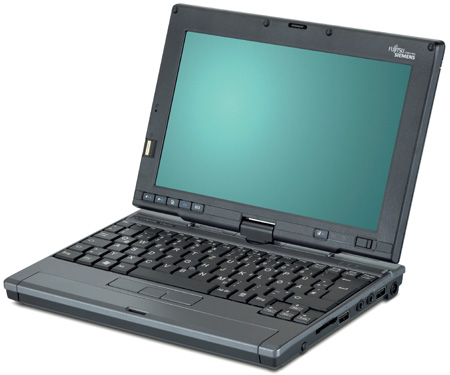 In terms of drives, you're limited to a single hard disk - there's no room inside to squeeze in an optical drive as well. The hard disk is a little on the small size, only stretching to 60GB, although there is an optional 80GB model available. On the wireless front, you'll find both 802.11a/b/g Wi-Fi and Bluetooth 2 on board.
The review model was running Windows XP Tablet PC Edition, but by the time you read this there will also be a version loaded with Windows Vista Business available too - which will actually cost you about £10 less.
The LifeBook also came with a large, six-cell battery, which protrudes from the font of the unit. There is a three-cell battery available for around £20 less, which sits snugly inside the machine outline. The six-cell unit has a claimed life of up to nine hours. However, with just moderate use, you'll find four hours is probably a more realistic rating.
Verdict
While the P1610 isn't going to win any performance awards, it's up to the job of everyday tasks. What it lacks in power it easily compensates for in portability. The keyboard is a little on the small side, but other than that it's a very usable machine. The tiny size comes at a premium, but when judged against other similar systems it's reasonably priced. It's a machine you really could take with you everywhere and still be able to get something done once you arrive.