Original URL: https://www.theregister.co.uk/2007/05/03/sealand_mckinnon_asylum_nixed/
Sealand dismisses McKinnon asylum offer as 'rumour'
Sanctuary at sea plan sunk
Posted in Policy, 3rd May 2007 08:49 GMT
Gary McKinnon, the British hacker facing extradition over allegations he broke into US Military and NASA sites, will have to look elsewhere for salvation after the government of Sealand dismissed reports it was prepared to offer him asylum as "rumours".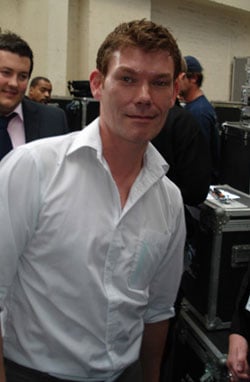 Gary McKinnon at Infosec
A technician working for a hosting business operating from the former military platform off the coast of Suffolk turned "micronation", floated the idea to McKinnon and his supporters when the hacker appeared as a speaker at the Infosec conference in London last week. Postings on the Torrentfreak blog suggested Prince Michael Bates of Sealand was prepared to offer McKinnon bed and board on the 550 square metre platform.
But a representative for Sealand told El Reg that what started out as a suggestion by a worker was definitely not a runner, a move that presumably means US commandos on snatch-squad training can now stand down.
"Somebody lower down, who works on the platform, made the suggestion. The attitude of the government is that we're not going to get involved. It won't be issuing asylum to Gary McKinnon," he said, adding that a statement to that effect would be published on the principality's official site.
Since Sealand is recognised as part of the UK by other governments, it's tempting to think the idea was just a bit of light fun dreamt up in the pub at the end of a busy conference. Our man on Sealand denied it had floated the idea as a publicity exercise, maintaining it was above such things.
The Bates family has long claimed the former WWII fort - home of web hosting firm HavenCo - is an independent principality, a contention dismissed by legal experts.
Earlier this year, Swedish file sharing site The Pirate Bay mounted an unsuccessful campaign to purchase the self-proclaimed nation as a home for its torrents.
Meanwhile, McKinnon is continuing to fight against extradition to the US on hacking offences after losing an appeal last month. Only the Law Lords now stand between the Scot and a US trial for allegedly breaking into and damaging 97 US government computers between 2001 and 2002 and causing an estimated $700,000 worth of damage, in what US authorities have described as the "biggest military" computer hack ever. ®