Original URL: http://www.theregister.co.uk/2007/05/03/review_htc_310_smartphone/
HTC S310 Windows Mobile smart phone
Entry-level handset
Posted in Personal Tech, 3rd May 2007 12:56 GMT
Review If first impressions are as important as some people claim, then the HTC S310 is in big trouble. Selling itself as having a 'compact design', when it first sits in the palm of your hand you can't help thinking you've been handed something that's at least a few years old.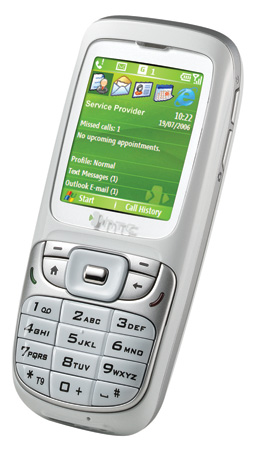 Despite measuring up at just 10.8 x 4.7 x 1.85cm and weighing only 105g, the S310 feels bulky for a modern phone. That initial reaction isn't helped by what at first seems like uninspired styling. True, when it comes to colours we were handed the worst offender: an extremely dull grey version with touches of black. The white model and the black-and-silver models at least look more interesting from their photos, but still not that attractive.
Thankfully, there are hidden depths to our shallows and we don't just judge things by appearance. After a couple of hours' use, everything suddenly became clear. While it won't be scooping any fashion awards, the design of the S310 has one real plus - and it's a biggie - in that it's extremely easy to use. That's largely thanks to the design of the keypad, which has been designed with large buttons for maximum usability.
The larger keys are also distinct enough from one another to minimise accidental presses, but are still close enough to use quickly with a single thumb. The red and green Call and End buttons have also been removed so there's less doubling up on the keypad. Instead they are given their own light-up buttons just below the Back and Home keys. Two soft-menu keys sit just above all of these.
As seems common these days, the camera button has been pulled to the side of the device and the power button sits just above it. As well as turning the phone on and off, this also allows access to the quick list of useful commands with a single, short press.
The usability of the S310 follows through generally when it comes to the phone's functions. It runs Windows Mobile 5.0, which acts as a cut-down version of the full Windows operating system. This is configured well and every time you think something should be in the Start menu, there it is. Sll the usual suspects are there, with Messaging, Calendar, Contacts and Internet Explorer just a tap away.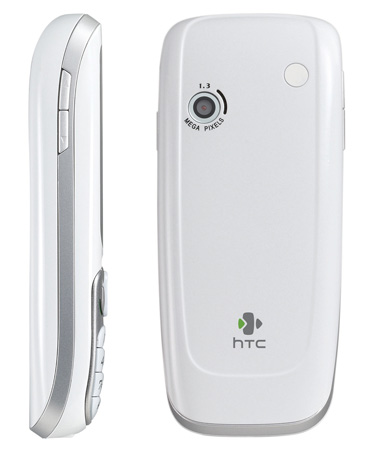 Unfortunately, HTC hasn't opted for the standard Microsoft mobile versions of Office software that are usually found on Windows smart phones. Instead, the S310 comes equipped with the ClearVue suite of products. This includes ClearVue Presentation, Worksheet, Documents and PDF, which allow the user to view - but not edit - documents saved in PowerPoint, Excel, Word and PDF formats, respectively. Files can be viewed easily enough even on the 2in TFT screen, thanks to zoom options. However, the software doesn't support all of the fonts, colours and other features of the PC versions of Office. It will try and match anything it doesn't understand and in our experience it didn't have too many problems with recently created documents.
Out of the box, the phone lets you sync Contacts, Calendar, Email, Tasks, Favorites and Windows Media files. On first start-up it had no trouble syncing more than 500 contacts and more than 100 diary entries. Companies using Microsoft's push email technology on their servers can also keep their staff up to date by having messages regularly relayed to them.
Additional, Java-based programs - called Midlets - written specifically for mobile phones can be added thanks to the Java 2 Micro edition (J2ME) software featured on the phone. The S310 also includes a Midlet manager to specifically keep track of these additional programs.
When it comes to connections, it's more about what the phone doesn't have than what it does. While quad-band GSM, GPRS and EDGE are present, there's no sign of any 3G activity.
Similarly disappointing is the discovery that only Bluetooth 2.0 is included, with no option to connect to a wireless network. Don't be fooled otherwise when flicking through the manual and landing on the "Using Wireless Modem" page - that option only allows you to use the phone to connect something else to the internet. However, syncing with a PC can be done over a Bluetooth connection, which is standard in today's laptops.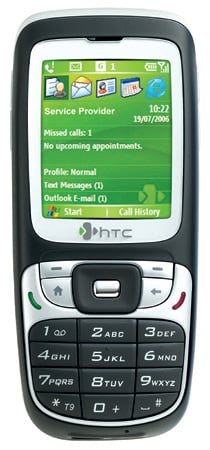 What's under the hood works fairly well and keeps that multicoloured spinning wheel off the front unless you're really taxing it by, say, starting up a video. Not that the S310 is bursting with high-end components and the 200MHz processor is only backed up by 64MB ROM and the same amount of RAM. Thankfully there's a MiniSD slot inside and you will want to fill this if you plan to make serious use of the phone's media playback features.
Despite being more of a business phone, a camera is included, though it's only a 1.3-megapixel snapper. Oddly, in a device that seems bigger than it should, the 176 x 220, 65,536-colour screen appears slightly too small and makes you pine for the big pictures a PDA-style smart phone would show you. Our only other gripe comes from the standard mini USB slot used to connect the S310 to a PC. This also acts as the port for the mains charger but connecting the phone to a PC doesn't draw power from the USB port and begin the charging process.
Verdict
The HTC S310 might have been at the back of the room when they were handing out style, but its usability almost makes up for that. It doesn't really have any additional features over and above most other smartphones on the market. However, someone looking to roll out a very usable, small(ish) device across a small business could do a lot worse.