Original URL: https://www.theregister.co.uk/2007/05/02/review_ion_usb_turntable/
ION USB turntable
The vinyl countdown
Posted in Personal Tech, 2nd May 2007 12:04 GMT
Review The next generation of DJs are forsaking traditional 12-inchers in favour of digital means to create their sounds. If you think today's tunes could benefit from some seasoned samples, or even if you want to transfer your vintage vinyl to a digital music player, then this could be a worthwhile investment.
The ION USB turntable is certainly one of the more interesting devices available from the usual online gadget store suspects and it'll appeal to both young and old. In fact, Register Hardware has had to fight hard to keep every pair of prying paws in the office off it. Reactions like, "Oooh, can I borrow that when you're done..." have been heard a lot of late.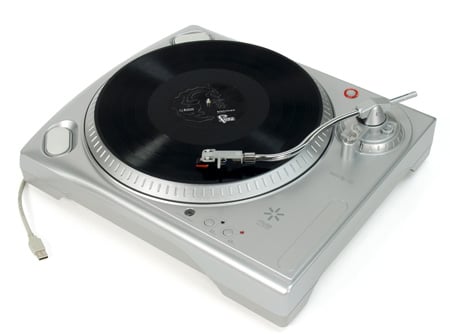 Until recently, the most practical way to transfer vinyl music to a digital format was to connect a hi-fi system to a sound card-equipped PC. As a desktop would probably be used to perform this task, no doubt trying to connect the two across the expanse of a living room often proved problematic.
The ION is well packaged, with the fragile components, including the stylus, neatly stuffed into Styrofoam end caps. Check the box contents against the clearly labelled list on the instructions - always a good habit to get into - as the review sample we received was missing a slipmat for the turntable. Not a particularly big problem for us, but it could mean a delay in setting it up for some.
The deck comes with cables that can be connected to an amplifier, allowing you to hear what you're playing. Alternately, sound can also be played through the computer and out of headphones or speakers. Be sure to plug all the cables in before setting up the stylus and counter weight as all the ports on are on the underside of the unit.
We tested the ION on an Apple MacBook. The bundled open source Audacity application was copied onto the desktop and then the machine was re-started.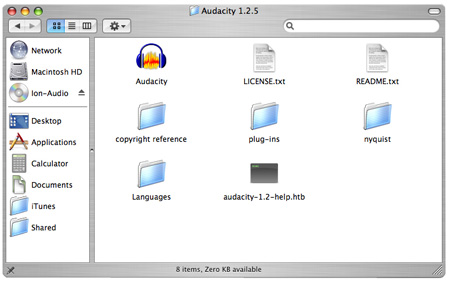 Audacity install software CD contents
Unfortunately, there was no guidance of any sort in the manual about how to use the software, and even the text files on the CD only contained information on upgrades that had been undertaken and credits for the developers.
The application's Help option states "This is an online help for Audacity. It is meant to be a quick reference, not a complete manual. There is also a complete reference manual available online."
So if you are stuck, it helps to be online. However, helpful though it is with instructions and screenshots, the online manual caters primarily for those using a PC, with additional footnotes for Mac users. A little odd given many dedicated domestic digital music producers use Macs, but on the whole this represents little difficulty in getting to grips with the set-up procedure: engage a little common sense and this minor difficulty is overcome.
So, very much with a try-it-and-see mentality, we turned the power on and pressed the START button.
At 48 x 38 x 13cm, the ION is slightly larger than a traditional hi-fi turntable, but it works in exactly the same way. Put the record on the platter, put the needle in the groove... and the song beats go like this...
The turntable can play both 33.33 and 45rpm speeds, and once you've got to grips with the software up and running, you can splice continuous one-side recordings into individual tracks, and save them as WAV and MP3 files.
It's also possible to record at high speed and use the software to convert it into normal speed. In essence, this means recording a 33.33rpm disc at 45rpm and using Audacity to automatically correct tempo and pitch. It worked well and could save hours when recording a large LP collection.


Audacity software Mac OSX interface
Tone arm weighting and anti-skating can be adjusted quite easily if the needle doesn't come to rest in the groove properly, and there's a gain dial to change the sound level sent to the computer. In addition, there's a stereo line-input for attaching external devices such as a mini-disc player or even a cassette player if you've got some tapes in your collection too. Extra devices need extra cables, all of which you'll need to buy separately.
One minor grumble is that the turntable's light weight does mean that only a slight knock is needed for the record to jump. And those more experienced Djs out there might argue that because the device is belt driven, it takes longer for the platter to react to being switched on. But for those of us who aren't experienced DJs, it works well enough.
We liked how the recording was actually started through the software, rather than simply pressing Start on the deck: this allowed for more accurate timing when recording. We also liked the portability of this device - as it can be easily transported to wherever the hi-fi or desktop PC may sit.
Verdict
If you don't possess a record deck of any kind and simply want to transfer old music to digital formats, the ION USB Turntable will do just that. However, the biggest setback is the software. For some inexplicable reason, those that write music-editing software seem to feel the need for a bizarre and totally non-logical interface: GrooveMaker is a classic case in point. Audacity is sadly no exception. Perhaps the box should have "Some patience is required" printed on the side. Persevere though, and you will be rewarded. Eventually.