Original URL: https://www.theregister.co.uk/2007/05/01/review_nokia_n95/
Nokia N95 multimedia slider phone
Yes, it does everything - but is it any good?
Posted in Personal Tech, 1st May 2007 14:08 GMT
2007's Top Products It's the Swiss Army Knife of mobile phones: a compact handset that does everything. Music, video, mobile and wireless broadand, photography, satnav, email, blogging, office work, web surfing, messaging - heck, it'll even help you talk to people over long distances. But is Nokia's top-of-the-range N95 trying too hard to be too many things?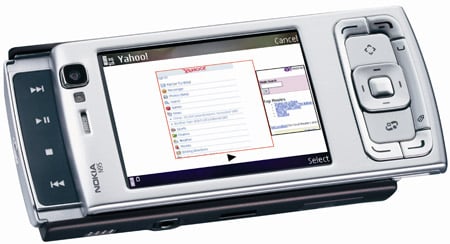 Out of the box, charged up and in your hand, the N95 is a very nice size. The dimensions are 9.9 x 5.3 x 2.1cm, so it's thicker than many a mobile, but unless you've been living with a particularly skinny model for a while, the N95 isn't going to feel uncomfortable. Weighing in at 120g, it's no lightweight - solid, yes; heavy, no.
The phone's frontage is dominated by a glorious 2.6in, 240 x 320, 16m-colour screen, big enough for web browsing to work and with a sufficient colour depth to bring photos and movies to life - more on these features later.
The N95 is a 3G phone, so above the screen sits the customary videocall camera. Alongside that is a light sensor and the earpiece. Below the screen is a typical slider-phone control cluster: five-way navigation key surrounded by not one but two Menu keys, soft-menu buttons, call make and break buttons.
The N95 is silver-look plastic, set in a wraparound burgundy rubber-texture piece. The red sides are home to the two stereo speakers, camera controls, volume rocker switch, MicroSD slot - under, for once, a cover that's easy to open - infrared port and AV output. On the back is the autofocus camera and Carl Zeiss lens under a manually opened cover. You'll find the new, skinny style power socket and a mini USB port on the phone's base.
The numeric keypad is revealed by pushing the screen upwards in the usual slider phone fashion. The keys have a solid action and are raised slightly, making them easy to use one-handed. Entering a text is a quick process. Well, provided you don't make a mistake - the backspace C key is part of the upper key cluster, and I found it a little too easy to hit the call-break button instead, taking me out of the Messaging app back to the phone display.
Now comes the clever bit: sliding the screen downwards reveals the N95's third keypad: a set of media playback buttons. It's a gimmick of course - I found myself using the main control cluster more often than the dedicated media controls - but they're there if you prefer them.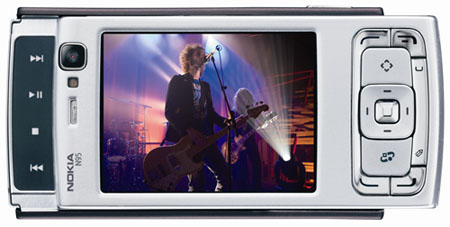 The second slider flips the display into landscape mode and pops up the first of the N95's two menu screens: the Multimedia Menu. The other is the standard S60 screen. The Multimedia menu's an animated affair that, despite its name, can be customised to incorporate any app on the phone. And since it operates in portrait mode as well as landscape, and can be activated from the N95's main navigation pad, you can use it as an alternative to the standard menu.
The only flaw: it's intended to sport an animated background and fades out all the icons in favour of the animation. There's no way to disable this behaviour. And then there's the inevitable pregnant pause while the menu loads. Application load times remain slower than they should be, though apps already running switch quickly enough - certainly faster than recent Nokias I've looked at.
A quick note about the S60 menu: it now highlights the icons of open applications so you know what's running. And unlike earlier N series handsets, like the N70, pressing the call-break button in other apps takes you straight to the phone display without quitting the application you were just using, so you don't have to wait while they restart.
Music playback's well up to iPod standards. Yes, the Apple player has a neater interface, but the N95's Music Player app does more, building on basic playback with EQ pre-sets, all of them customisable, and a very nice stereo spacing feature, which works particularly well with earphones. Not that you'd play music back through the built-in speakers - unless you fancy that ye olde transistor radio sound...
Nokia includes an adequate pair of 'phones in the box which can connect direct to the N95 or via the bundled remote control. The earphones have a 3.5mm jack, so you can swap them for another pair with ease. The N95's 3D Tones feature works best with 'phones too - it dynamically mixes a ringtone two swoop around from left to right and back round again. Cute, but impractical when the phone's in your pocket with no earphones attached.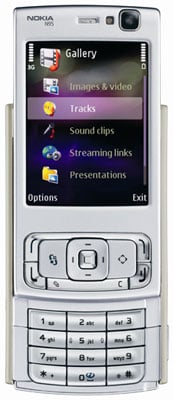 The N95 supports Bluetooth's wireless stereo protocol, A2DP, and pairing a pair of Logitech wireless headphones was straightforward. And better than using wired 'phones. With the socket on the side of the handset, earphone plugs poke out an inch or so, getting in the way of sliding the handset into your pocket. The earphone socket really should have been on the top or bottom of the phone.
Transferring tracks is straightforward for PC users, less so for the rest of us. The N95 will sync with Windows Media Player via USB, but the phone will also operate as a USB Mass Storage device. Well, almost - it will if and only if it has a MicroSD card plugged. Instead, I sent a heap of songs over from my MacBook Pro by Bluetooth 2.0's Extended Data Rate technology, zapping the tracks through the ether at a very respectable 100Kbps on average.
The only thing I didn't like about the music playback was that, in landscape orientation, the volume buttons work the opposite way you expect them to: left for up, right for down, rather than the other way round. At least that's how I expect them to work...
Video playback impressed me almost as much as music did, with easy access to online content providers and fast downloads via my home 802.11g Wi-Fi network. Downloads were typical 320 x 240 MPEG 4s, so they can be played on the handset - nicely, I might add, thanks to that 16m colour screen - or Bluetoothed over to your computer, or sent the other way.
The N95's 3.5mm earphone socket is also capable of passing a composite video signal, and there's a suitable cable in the box to allow you to hook the phone up to your TV. The picture quality depends entirely on how the source material is encoded, but said 320 x 240 H.264 files were entirely watchable on my 28in widescreen CRT. Folk with fancy HD rigs may be less impressed, of course, but it is nice being able to view movies and photos on the big screen.
Photos particularly, perhaps, because of the N95's five-megapixel camera. The N95 uses Carl Zeiss optics, as does my Sony Cyber-shot, so I took them both out one sunny morning for a head-to-head. I let both do all the work, leaving them on the default, automatic setting.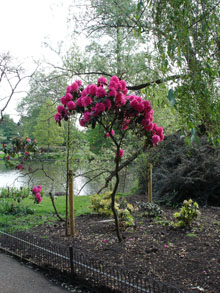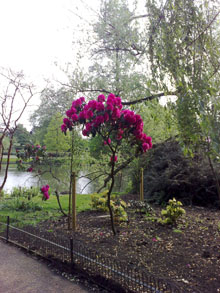 Cyber-shot on the left, N95 on the right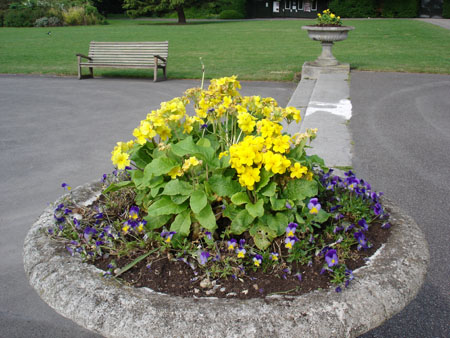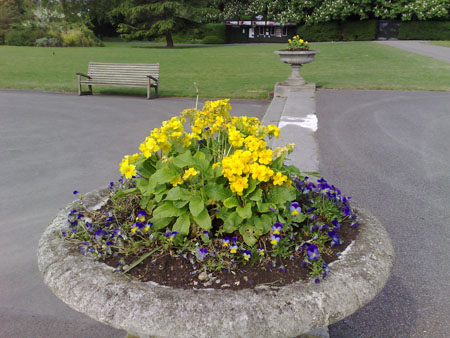 Not a lot to choose between the Cyber-shot (top) and the N95 (bottom)
The N95 holds up well. The colours it takes are warmer than the Sony's but that's just the way the on-board image processing is set, but the dedicated camera's detail is better - partly due to a lower level of picture compression.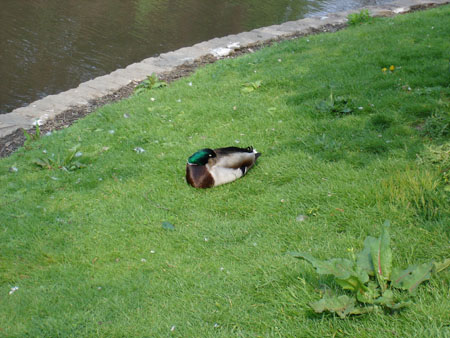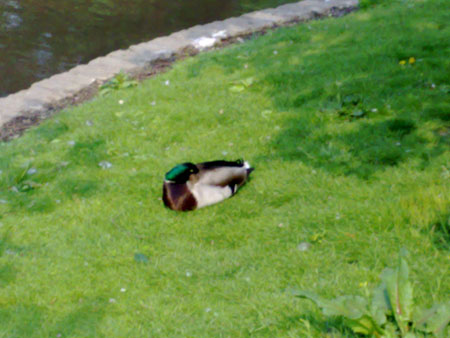 Optical zooming (top, Cyber-shot) is always better than digital (bottom, N95)
The camera wins out, though, because of its near-instant shutter speed. The N95 took a couple of seconds from pressing the button to the shutter 'click', and then up to eight more seconds to display the finished image. Yes, it's only ten seconds, but it felt an age, particularly when I wanted to line up another shot quickly.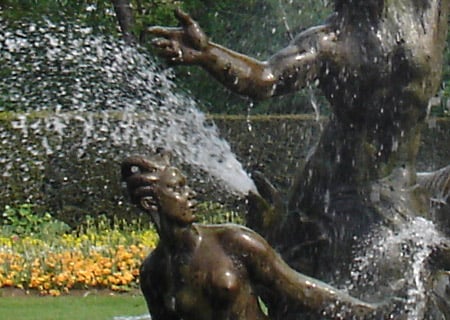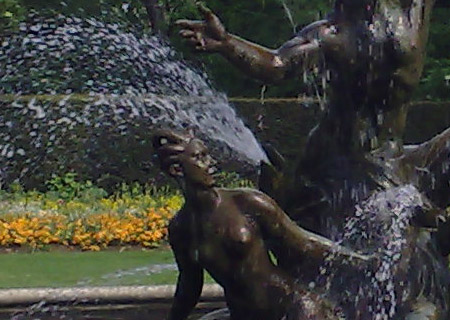 The Cyber-shot (top) produces better detail at 100% than the N95 (bottom)
The video quality wasn't bad, either, and the capture time quicker than taking stills. Recording at 640 x 480 and 30 frames a second with 16m colours not only gives you a decent look on the phone's screen but it's none too shabby when played back via the bundled composite-video cable and a standard-definition telly.
If you do get snapping, downloading movies or copying over your music collection, you'll need to get a Micro SD memory card pronto. The N95's 160MB of on-board memory is undoubtedly generous as mobile phones go, but if you want to use the handset as an digital music player or PMP - and why else would you own one - then you'll want to start filling those cards.
It's such a shame then that Nokia has limited the N95 to 2GB MicroSDs and not future-proofed it for the higher capacity versions to come.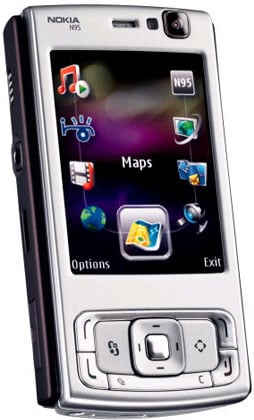 The N95 has telephony covered, though it's a tri-band GSM/GPRS/EDGE device, not a quad-band for total worldwide roaming. As I said, it's also a 3G phone and has HSDPA technology on board for fast, 1.8Mbps downloads and smoother surfing when you're away from a Wi-Fi hotspot. I like Nokia's Web app, here improved by the ability to operate in landscape orientation, though it's still a memory hog, and prevented me from opening some other apps when it was running.
The call quality is good - as loud and as clear as any phone I've tried in the past 14 years - and I always seemed to get top signal strength using an Orange SIM.
If you fear all this multimedia frippery will distract you from work, worry not: the N95 has an Microsoft Office-friendly reader app, though you'll have to pay £10.50 to enable editing files too. I Bluetoothed over an Excel spreadsheet full of motherboard benchmarks and it appeared quickly - but minus the charts. There's even a barcode reader app on board, though I couldn't get it to read anything.
The same goes for the N95's GPS receiver. Nokia warns agains indoor usage, but I tried it anyway, without joy. Moving outside - onto our Central London office's well exposed top-floor balcony - and still no joy. Back indoors, it got a fix then, as soon as I picked up the handset, it lost it. Despite knowing (once, at least) where you are Nokia's Maps app won't plot a route until it gets a GPS fix.
You'll note I said 'plot a route' - actually guiding you to it in real time costs extra. Using the app does too, since the maps are downloaded over the network. Fortunately, they're retained in memory, ideally on a card to make room for it all, so make sure you plan routes when you're in range of a hotspot - and have a clear GPS signal of course... There is a separate Map Loader application to grab maps in advance, but it's Windows only.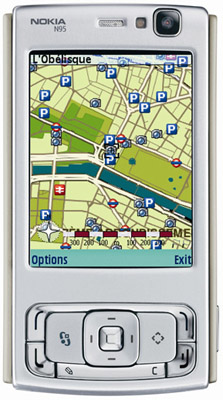 Special mention has to go to the AC adaptor that comes with the N95: it's tiny, smaller in fact than a standard three-pin plug. The downside is the very thin cable which will clearly not take kindly to rough usage.
It's handy that the AC adaptor's small, because the N95 needs a lot of charging. I got a day's use out of a fully charged battery, with Bluetooth and Wi-Fi enabled, a little bit web surfing, ten minutes' video watching, and an hours' music playback. A canny power conserver can probably eke out the battery life to a second day, and I did activate the display more than most users would on average. Still, nothing to shout about.


No, it's not just a plug, it's the AC adaptor
It'll come as no surprise that a handset crammed with as many features as the N95 has doesn't come cheap. But £549 inc VAT isn't too bad in my book. That's unlocked, so the networks will probably offer it for less.
Verdict
It's the gadget fan's ultimate phone: it does absolutely everything and does it well. It's not as good as standalone devices, but at least it saves you carrying five bits of kit around. Nokia has produced a handset that doesn't compromise on size or functionality, and for once avoids the unnecessary irritations that have spoiled past N series phones. Only the price - high - and the battery life - low - are bothersome. Now, where's my credit card?