Original URL: https://www.theregister.co.uk/2007/04/27/from_managed_chaos/
From managed chaos to coherent infrastructure
Poll results: The management information journey
Posted in Business, 27th April 2007 09:59 GMT
Reg Reader Workshop Over the past few weeks, we have been exploring various aspects of business intelligence delivery through a series of workshops and polls. For the last poll in our series, we pulled it all together and asked where you are now and where you want to get to in terms of infrastructure and solutions.
Taking the last of these first, it is clear that the majority would ideally want a coherent management information infrastructure into which specific products and technologies can be integrated in a coordinated manner.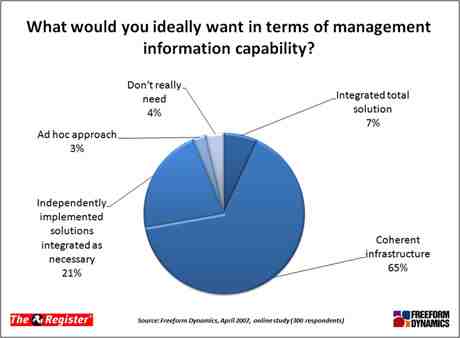 This desire for coherency was particularly marked in larger organisations, while smaller companies were a bit more interested in total integrated solutions (corporates generally don't want to go this far).
And he saw it was good
The problem is, however, that there is quite a big gap between this ideal vision and the reality of what's in place today. The term "managed chaos" stands out here, whereby solutions have been independently implemented and integrated only on a "needs must" basis.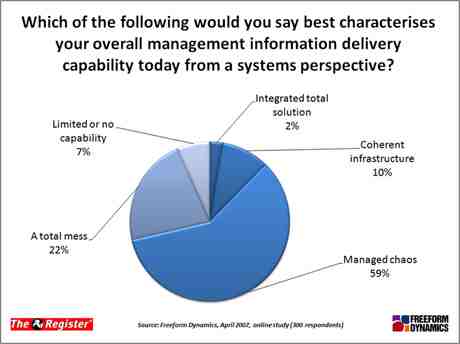 The story being told by these findings is that there is work to be done in making the necessary transformation in the majority of organisations, so what are the practicalities?
Well the biggest imperative heard back from three quarters of our respondents is the need to go through a structured review of information requirements across different parts of the business. Many regard this as an important pre-requisite of any improvement programme in the area of information delivery.
Second on the list is the definition of an overall information access and security policy. The point here is that application level security in source transactional systems is not always adequate to cope with the requirements of business intelligence.
Beyond this around 70% feel that an over-arching information delivery budget would be useful, which is understandable given the fragmentation that characterises business intelligence landscapes today.
We'll be pulling together the overall findings from the workshops and surveys we have conducted in this area over the past few weeks into a full report that will be available to readers for download. In the meantime, we would like to thank everyone who has given us their feedback recently, but feel free to continue browsing and commenting in the BI workshop that is still up and running over here.