Original URL: http://www.theregister.co.uk/2007/04/26/review_toshiba_hd-xe1/
Toshiba HD-XE1 HD DVD player
Tosh brings in 1080p on a budget
Posted in Personal Tech, 26th April 2007 10:59 GMT
Review After the big bang of the HD disc format war, the dust has settled a little. There are players available on both the Blu-ray and HD DVD sides and now manufacturers are expanding their product lines - adding a feature here and an enhancement there.

Since the launch of the Toshiba's relatively bargain priced HD-E1 player, a couple of things have changed. Firstly, Sony has finally shipped the PlayStation 3, bringing a budget - well, cheaper at least - Blu-ray player to the UK market. It's still got some way to go to beat the HD-E1 on price, but it does play games as well.
TV manufacturers have also started shipping what's dubbed 'Full HD' TVs - screens that support 1080p signals in addition to the normal 720p and 1080i HD resolutions. Support for 1080p only makes sense on large screens - on a 32in LCD you'd be hard pushed to tell the difference. But given it's the maximum resolution HD DVD offers it seems silly not to take advantage of it if it's there.
So, Toshiba's latest model, the HD-XE1, aims to compete not on price but on features. Unlike the HD-E1, it can output at 1080p if you've got a TV than can handle that resolution and it also supports version 1.3 of the HDMI cable standard which promises enhanced colour.
Design-wise, the HD-XE1 is a sleek-looking machine that wouldn't look out of place among other high-end AV separates. The front of the unit is sparse and uncluttered, with just a power switch, eject button and LED display on show. An array of control buttons is neatly hidden beneath a fold-down flap which also conceals two (currently not functional) USB ports. There's a blue light that shines out at the bottom, although if you find it distracting there's a button on the remote control to turn it off. You can also dim or turn off the LED display, if you so desire.
Round the back of the unit you'll find almost every connector you could ever want. There's HDMI and component-video for HD output, plus composite-video and s-video connectors for standard-definition displays - although hooking it up to an SD display would be somewhat pointless. In addition to two-channel audio output, you'll also find connectors for 5.1 audio so you can hook it up directly to a surround sound amp without a decoder. Co-ax and optical digital audio output ports are also present if you want to use your own surround decoder, and there's the obligatory internet connection that discs can optionally use for additional features, or the player itself for firmware updates.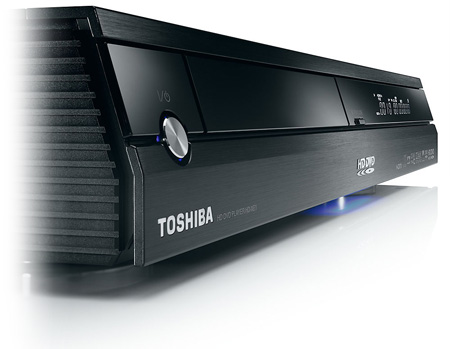 The remote control bundled with the HD-E1 was disappointing. It had a fairly basic design and not in keeping with the player's price tag and equally high-end audience. The buttons where difficult to read in low-light conditions - ie. when you're watching a movie with the lights off - and it generally felt a bit cheap.
For the HD-XE1, however, Toshiba has pulled out all the stops and made the remote control department work double-time to produce something much, much better. It retains the ability to control your TV - just punch in the code in the manual and you've got quick access to power, volume, etc - but design-wise it's miles ahead. It's finished in a brushed black metal effect and it has a good amount of weight and sturdiness to it. The buttons are backlit, so finding your way around the controls in the near-dark is no longer a problem. Once you know where everything is, you can also turn the backlight off to preserve battery life - which is just as well since it takes four AAA batteries. The button placement is logical, and finding your way around the controls is simple.
So what's the player actually like to use? Well, once you get it going, very good. Like the HD-E1, it's rather slow to start up, taking 40 seconds from switch-on until it'll accept a disc, and a further 30 seconds until it will do anything with it. It's almost like it has to be wound up before it can do anything. It can also feel a bit sluggish in response to key presses at times, so sometimes you end up pressing the same button a couple of times before it appears to register what you want to do.

Pop in an HD DVD disc, however, and all these issues seem less important. The crisp, sharp images and huge level of detail make you wonder how you managed with plain old DVD.
During the races in The Fast and the Furious: Tokyo Drift it feels as if you're almost inside the car with them during action - which is just as well really as it's a distraction from the paper-thin plot. Smoke filled scenes, such as the police raid on the BTN centre in V for Vendetta, look crisp and defined rather than fogged and blurry. The difference between 720p and 1080p isn't as marked as that between normal DVD and 720p, but it does add an extra layer of realism.
Pop in a regular DVD and the HD-EX1 will upscale it from its standard-definition resolution to HD with decent quality results. An HD DVD will easily surpass the quality of an upscaled DVD, but if you're still waiting for your favourite title to be released in HD then it will certainly allow you to chuck out or pass on your old DVD player.
Verdict
With an retail proce of around £650, the HD-XE1 is still reasonably priced when you consider its features. Given that you'll need a fairly high-end telly to make the most of it, it's competitively priced and, PlayStation 3 aside, still cheaper than the nearest-specced Blu-ray rivals. Hunt around and you should be able to get it from around £150 less.