Original URL: http://www.theregister.co.uk/2007/04/24/group_test_camcorders/
Easy cam, easy go: camcorders on test
'This is incredible. A portable television studio...'
Posted in Personal Tech, 24th April 2007 14:04 GMT
Group Test The stigma of the camcorder as a provider of rubbish quality "comedy" footage shot solely to keep Harry Hill in a job is over. Be it HD pro movie making or just YouTube-style improv clips, there are myriad models on offer so suit any and all budgets...
Sony HDR-UX3E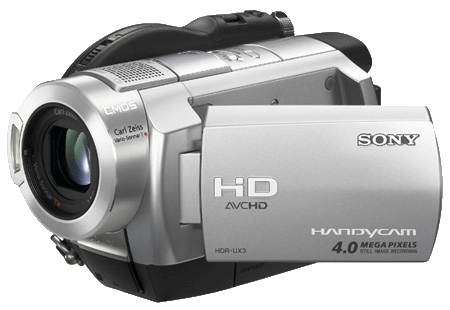 Sony's new AVCHD-format camcorder range has been designed smaller, lighter and more affordable than before in order to try and bring the benefits of 1080i HD home video to the masses. Our pick from the range is the HDR-UX3E, which combines top-notch HD recording with a not-too-scary price tag.
Recording direct to DVD means footage is instantly accessible for the home user to play back on their HDTVs using either the HDMI link or an AVCHD-compatible Blu-ray player - unsurprisingly this includes the PlayStation 3 - but means the UX3E has lost some of its svelteness due to the disc drawer on its side. In Long Play mode a dual-layer disc can hold up to an hour's worth of HD footage and also records 5.1-channel surround sound for the fully immersive experience. It's an admirably good-looking machine though that's easy on the palm and adheres to Sony's rigorous build standards.
The UX3E uses Sony's now ubiquitous Carl Zeiss Vario Sonnar T lens, with the latest generation ClearVid image sensor, meaning pictures are clear and crisp with superb colour reproduction thanks to the ridiculously monikered x.v.Colour mode. Flick to still-image mode, and the Sony will take four -megapixel shots direct to Memory Stick Duo that are equally impressive - though as always no match for a standalone digicam.
A new Auto Slow Shutter function ensures that low-light conditions are handled ably too - an area where many camcorders fall down. Other features include a 10x optical zoom; 16:9, 2.7in LCD screen; and a funky Smooth Slow Record function that shoots at 200 frames per second for tremendous slo-mo playback with sound. Nice.
Sony HDR-UX3E
---
Best for DVD
To DVD or not to DVD - that is the question. Well, Sony has the answer...
Panasonic HDC-SD1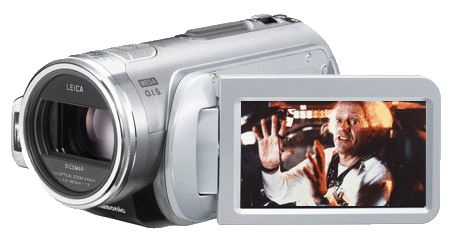 Hot off the presses, Panasonic's HDC-SD1 has been tailored to meet the needs of the home movie-maker who likes nothing more then expressing their film-making credentials via the medium of an absolutely massive HDTV and full 5.1 surround sound.
Recording direct to SD cards, the SD1 is currently the world's smallest and lightest 3CCD - the same image sensor used in pro broadcast cameras - HD camcorder. The design is solid in the hand and simple to use.
Employing the high-resolution AVCHD format means the Panny's pictures are as crisp as a packet of Walkers, gobbling up the capacity of a 4GB SDHC card in around an hour - but the picture quality is most definitely worth it.
The in-built Optical Image Stabiliser that has become a trademark of Panasonic's imaging equipment works well to reduce the slight blur caused by unsteady hands, only adding to the picture quality. Sonically, the SD1 uses a 5.1-channel microphone to record true surround sound, cleverly aligned to the optical zoom so you hear only what you are filming.
Specs wise there's a 12x variable speed optical zoom; 3in, 16:9 LCD monitor; and a 2.1 megapixel still-shot function. Released alongside the HDC-DX1 similarly spec'd camcorder that instead records direct to DVD, this version would have to be our choice simply because of its size, robustness and weight.
Panasonic HDC-SD1
---
Best for action
Hi-fallutin', high-definition from the SD card-carrying folk at Panasonic...
Samsung Miniket VP-X220L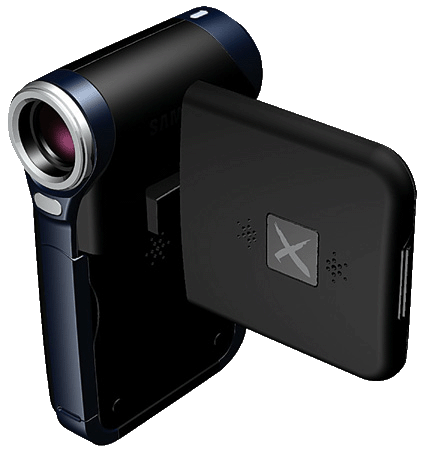 An unashamed 'sports' product (shudder), the VP-X220L is part of Samsung's Miniket range, and hides a whole lot more than just camcorder functionality under that sleek and absolutely tiny frame.
Not just a camcorder then, the X220L also offers still-image shooting, voice recording and MP3 playback, all content stored on the 2GB of internal memory. Designed primarily for activities that tend to feature the word 'extreme', it features a tough rubberised weatherproof housing and external lens, so the likes of snowboarding and general outdoor pursuits pose it no problem.
Alongside these sporty credentials comes the Samsung's killer application: a wired external camera that you can mount remotely from the body using the supplied 1.5m cable, though the lack of a wireless hook up is a real opportunity missed. It comes with its own power/record button, and a head and armband too, so you can mount it where you see fit to shoot the most radical action. Dude.
The trouble comes, however, with the quality of footage - and we're not talking your dubious skills as opposed to the distinctly second-rate specifications. The X220L shoots MPEG 4 video at 720 x 480 pixels using a paltry 0.8 megapixel sensor, and when you're throwing fast-paced action at it, the resulting footage is mostly blurred and uninspiring, despite the efforts of the electronic image stabiliser. The 0.3 megapixel still images are laughable too - worse, in fact, than pretty much every modern mobile phone - particularly when displayed on the 2in LCD monitor. The MP3 player is decent though, and coupled with the not-bad-at-all supplied earphones, it certainly increases the overall appeal of the X220L as an all round action man' mate on the mountain. A good try, Samsung, but no cigar.
Samsung Miniket VP-X220L
---
Best for sports
Samsung grows a goatee, says 'narly' a lot and generally gets extreme with the miniket x220l...
Sony DCR-SR72E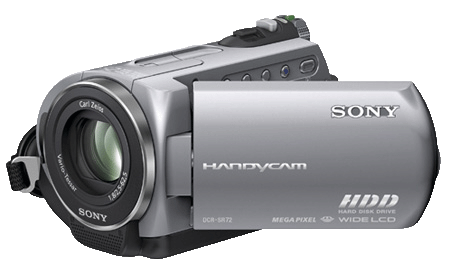 For pure convenience on the move, you can't beat the simplicity of a hard disk-equipped camcorder. Sony's DCR-SR72E sits smack in the middle of its HDD line up, and offers superb features and functionality at a surprisingly acceptable price point.
Employing a hard drive means Sony can keep the dimensions to a minimum and the styling to a maximum, which has resulted in what is probably the best looking camcorder in this test. The SR72E features a 60GB hard disk drive - enough for 41 hours and 50 minutes of footage or 9,999 still images. Plenty then. Coupled with an eight-hour battery, the DCR-SR72E is a superb long-use camera where recharging options aren't at a premium.
The Carl Zeiss Vario Tessar lens houses a 25x optical zoom, relaying images to the 16:9, 2.7in hybrid LCD screen with touch panel, a tidy system that lets you navigate the simple and unmistakably Sony menu system with little difficulty.
The hard drive - fitted with a drop-detection system to reduce the effect of sudden falls - allows for pretty simple viewing, searching and downloading of your footage to a PC, but the now bundled HandyCam Station makes things even simpler. Leave it hooked up to your TV or PC and when you're done just drop the SR72E into the cradle and download or view away, while the Handycam recharges.
Sony DCR-SR72E
---
Best for mobility
Take two batteries and separate disc storage on holiday? Not with this Sony you don't...
Canon HV20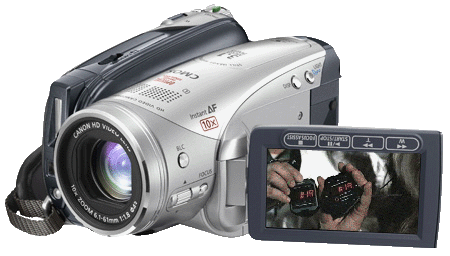 The HV20 is Canon's all-new flagship model, a High-Definition HDV1080i camcorder with 2.96Megapixel, 1920x1080, True HD CMOS sensor designed to kick out pictures so clean you could eat your dinner off them. And that's exactly what it does (though we obviously haven't eaten our dinner off them, that would be stupid).
Where Canon is really looking to steal the march over its competitors is with the HV20's 25p Progressive Scan shooting, a unique camera system which combines the True HD CMOS sensor with specialist Canon optics and an HD-optimised DIGIC DV II processor to create as good an HD image as is possible to get from any camcorder – 'cinema like progressive recording' in fact. Throw in a Super Range Optical Image Stabiliser (OIS), Instant AF system and the a direct HDMI connection for optimal HD image and audio quality and you have a machine that takes it image recording duties very seriously.
The HV20 is barrel like in design and looks every bit the traditional camcorder. Canon has opted for the tape-based HDV recording format, which means a bulkier body then the SD card and hard disk recorders elsewhere in the test, but it claims this is still the most reliable format for transfer and editing on a home computer. Hmm.
The specially engineered for HD 10x optical zoom lens is a cracker, especially in conjunction with the Super Range OIS and works brilliantly with both moving footage and the 2Mp still image recording direct to MiniSD memory card. If you're looking for the very best in image quality above all else, the HV20 is the answer.
Canon HV20
---
Best for image quality
Canon cinematic masterpiece, the HV20 is all about the pictures…
JVC Everio GZ-HD7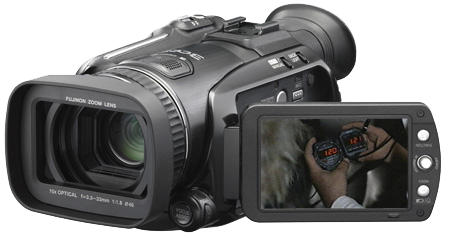 JVC's Everio range of camcorders has garnered numerous awards since its inception, and with the Victor Company of Japan producing machines like the so-new-it's-not-even-out-yet GZ-HD7, it's easy to see why. This is a beast of a camcorder, combining the very best of everything into one very professional, very good-looking package.
The GZ-HD7 is one of the world's first camcorders - if you can really call it that - to offer full HD 1920 x 1080i recording, direct to its mammoth 60GB hard drive. That's five hours of HD capacity with MPEG 2 Transport Stream video and MPEG 1 Layer 2 audio, or an enormous seven hours recording at standard definition. The top-notch image quality - and, trust us, it really is amazing - is ensured by the three 1/5in image sensors coupled with a superb Fujinon lens system that uses Electronic Beam Coating to greatly reduce degradation caused by light reflecting off the lens surfaces, leading to improved light transmission, and reduced flaring and ghosting.
Fujinon has also provided the 10x optical zoom for the JVC, complete with image stabilisation that does a great job of dealing with camera shake. The JVC's connectivity is faultless, with HDMI, USB and i.Link - ie Firewire - and you can transfer your MPEG 2 footage to Blu-ray Disc using the bundled software. Though you'll need a BD recorder, natch. There's a great range of manual functions for fine-tuning your filming or getting a little more creative in what you shoot. These include a manual focus ring, manual white balance, exposure control, shutter priority mode, aperture priority mode and sharpness control.
Heck, you can even exchange the lens to a 46mm telephoto or 46mm wide conversion effort for truly professional quality shooting options.
JVC Everio GZ-HD7
---
Best for technology
Technology, functionality and control in one simple, sexy package...
Samsung VP-DC563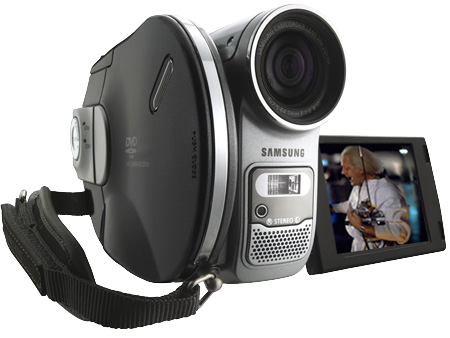 Samsung's VP-DC563 is part of the company's DVD camcorder range. It's an extremely traditional looking camcorder with no great surprises up its disc drawer in terms of style, functionality or features. But that's no bad thing if all you're after is a pick-up-and-use for family outings.
The DC563 uses a 1.1 megapixel sensor to record MPEG 4 video and MPEG 2 stills-as-slideshow direct to DVD for easy playback on any DVD player, and JPEG still images direct to memory card - your choice, as it's a four-in-one slot. Image quality is decent in both these instances, though it's never going to rattle the cages of the HD behemoths elsewhere in this test.
The 2.5in LCD monitor is nice and punchy too, rotating to 270° so you can demonstrate for photographic talents to anyone who's interested. The 26x optical zoom is more than enough for all but the most prying of film makers, and thanks to the ubiquitous image stabiliser, pics hold up well until it hits maximum zoom, when inevitable picture noise and loss of definition creeps into the frame.
The inclusion of PictBridge and USB port ensures connectivity is always a quick and easy affair, completing the DC563's credentials as a great everyday camera perfectly suited to the home user.
Samsung VP-DC563
---
Best for pick-up-and-go shooting
An everyday camcorder for everyday use...
Sanyo VPC-HD2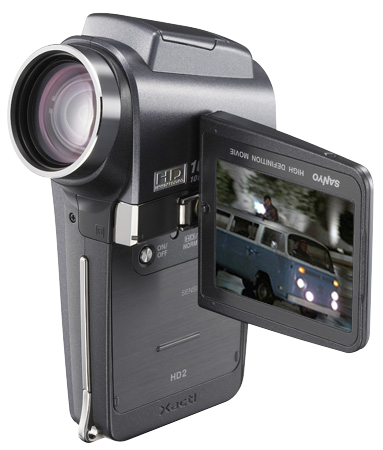 Launched only very recently, Sanyo is calling the HD2 the world's smallest and lightest HD camcorder, and who are we to disagree? It really is absolutely tiny. Styled in the same vein as Sanyo's previous HD models, the HD2 is small enough to be pocketable and convenient enough to use one handed for both video and still-image capture. It's a handsome devil too.
Recording at 720p resolution to SD card, the Sanyo also takes cracking 7.1 megapixel stills, resplendent on the very tidy 4:3, 2.2in LCD monitor, which swivels through a rotating-tastic 285°. A widescreen display would have been nice, but with these dimensions probably not realistic.
In a nod to the modern obsession with web videos and posting all your home movies for everyone to see, the HD2 features a specific web-use filming mode, so footage can be uploaded direct to the internet without needing to be converted first. The Web-SHQ recording mode on the other hand is for footage heading for playback on your iPod or other MPEG 4-playing PMP.
Further features include a 10x optical zoom, super-fast start-up time, image stabilisation and, for low-light conditions, a one-touch high-sensitivity mode. Feature-packed, well styled and with a great, tactile menu system, the HD2 is a top addition to Sanyo's camcorder stable.
Sanyo VPC-HD2
---
Best for all-round usage
Little on the outside but big on the inside, it's the Tardis of camcorders...
Panasonic SDR-S10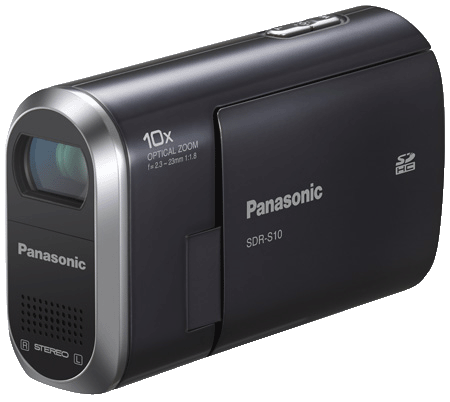 Panasonic's brand new SDR-S10 is so hot off the manufacturing line it practically sizzles. Designed for the new generation of video makers who love to upload their footage to YouTube and MySpace, it records direct to SD/SDHC memory cards for instant access to and easy transfer of video clips.
Super svelte and compact - it's currently the world's smallest SD camcorder - the SDR-S10 is small enough to fit in your bag and light enough to lug around without breaking your back. But that titchy design belies some serious inner strength, because this Panny is fully weatherproof, dustproof and shockproof, meaning you can take it wherever you want without worrying about a little rough and tumble.
It offers a 10x variable speed optical zoom; a 16:9, 2.7in LCD monitor; a super-fast 1.7s start-up time; and 0.3 megapixel still shots. Crucially, the SD/SDHC format allows for long recording capability, so a 4GB SDHC memory card gives you up to 100 minutes of recording capacity and the bundled 2GB card gives up to 50 minutes.
Panasonic SDR-S10
---
Best for the next generation
Panny gets manly with the hardest of the camcorder world...
Canon MD160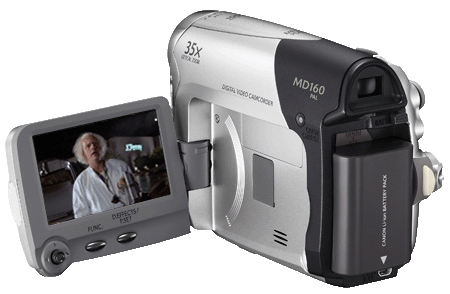 Canon's latest MiniDV camcorder is designed to offer an affordable and easy to use introduction to home movie making. And it does, but with some caveats.
The MD160 is actually the top model in Canon's MiniDV line up, and as such features some nice additions, including a humungous 35x optical zoom - currently the highest offered on any Canon consumer model and a great feature for the long-lens voyeurs amongst us. But the electronic image stabilisation technology struggles badly at full zoom rendering the image shaky to the point of uselessness.
The MD160 features a new Quick Start button for instant shooting on the cuff, and the joystick control makes menu navigation quick and intuitive. Footage is displayed on a 16:9, 2.7in monitor, and image and colour reproduction is spot on - easily good enough for your family holiday footage.
The one-megapixel sensor - an upgrade on the previous MV960 model - makes a decent job of still images too, though we're not talking anywhere near the quality of a standalone digicam. Low-light conditions cause real problems for the Canon, with a lot of noise and image break-up creeping into shadowy areas. Keep it in the light, though, and it's smiles all round.
The MD160 is a very capable and superbly priced MiniDV camcorder that offers a great first step into home shooting. Perfect for your average home footage, the price is reflected in a lack of features - there's no way to convert analogue signals, for example - but it's comfy in the hand and easy to use. And for most of us, that's more than enough.
Canon MD160
---
Best for budget
A simple and safe first step into the world of camcorders...
Verdict
In a burgeoning market, it's not difficult to pick ten different camcorders that each offer something very different in terms of usability, style, format and, of course, price. It's a diverse selection in this test, but for us a couple of the new additions stand out. We love the Panasonic SDR-S10, if only because it's designed to appeal to the YouTube generation and anything that encourages people to post videos injuring themselves has to be a good thing. Plus, it's great looking, tough and pretty darn cheap to boot. Of the HD crop, however, Sony's DCR-SR72E and JVC's new Everio GZ-HD7 are up above the competition. Their capacious hard drives are bounteous and durable, they look the dog's knackers, and the pictures each produces are excellent.