Original URL: https://www.theregister.co.uk/2007/04/23/samsung_adopts_tsvs/
Samsung adopts latest 3D chip stack tech
Follows IBM, Intel
Posted in Personal Tech, 23rd April 2007 09:58 GMT
First IBM, then Intel, now Samsung. The South Korean chip maker today said it too was going to implement the 'Through Silicon Via' (TSV) technique to allow it to stack layers of chip dice more efficiently.
TSVs are tiny tubes drilled through a chip's silicon foundation and filled with metal and capped with connector bumps. The tubes provide a high-speed route for power and for data between dice places one above the other. The TSV approach also allows chip makers to add many, many more chip-to-chip connections than they can if they're limited to wiring chip packages or even separate dice together.
IBM announced its move to TSVs two weeks ago. Intel said much the same thing last week. Both want to use the method to connect memory to processors, and processors to processors. Samsung today said it would use the technique as a way of stacking memory chips more efficiently.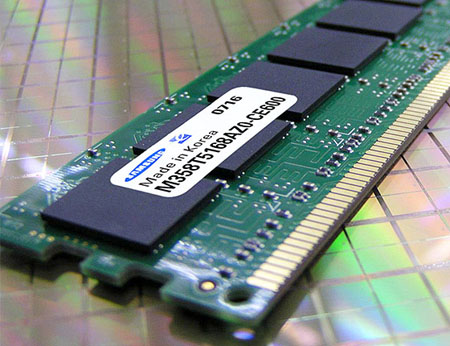 As a prototype, it's connected four 512Mb DDR 2 SDRAM dice to form a single 2Gb/256MB chip. A heap of these were used to create a 4GB DIMM - double the maximum capacity currently found on memory modules designed for desktops rather than servers.
Not that these will be coming to market any time soon: Samsung said it was developing the process for "next-generation computing systems in 2010 and beyond".