Original URL: http://www.theregister.co.uk/2007/04/20/cf-y5_toughbook/
Panasonic CF-Y5 Toughbook laptop
A Navy SEAL of notebooks... a lumberjack of laptops
Posted in Personal Tech, 20th April 2007 18:41 GMT
Review The CF-Y5 sits at the executive end of its Toughbook range, which if you're actually a stubble-sporting, rugged type, is realistically nearer the bottom of any table of toughness. So you won't be able to drop it down a crevice in the Antarctic and still expect to send an email.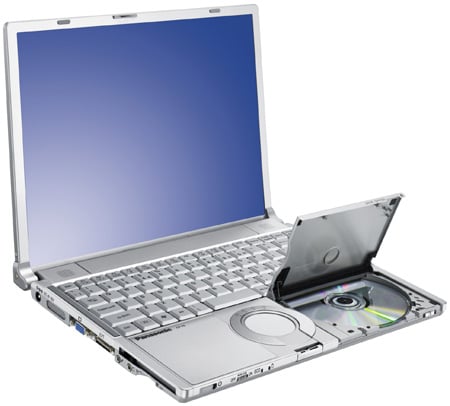 But if you fancy yourself as one among the more extreme of the executive elite, you'll be able to safely throw it on the back seat of your Ford Mondeo with careless abandon and still successfully send an email.
As the Toughbook is the only brand of laptop Panasonic makes, you'll find the rugged bits developed for the top-end titles soon trickle down to the lighter, less reinforced models. Thus making the executive range of the Toughbook series considerably more resilient in comparison to most other laptops: you can drop it from about 15 inches or spill a glass of water over the keyboard without voiding your warranty.
And it can withstand about 100kg of force - roughly the weight of a middle-aged sales executive...as long as he distributes his weight evenly. (However, the manufacturer recommends that if you do want to stand on your Toughbook, you should place a book on it first.)
There is actually a quite unusual reason why the Y5 and Panasonic's other executive Toughbooks (the T5 and W5) were built to withstand 100kg. Apparently, Japanese customers were complaining that the Tokyo underground trains were so packed full of passengers that their laptops were literally buckling under the pressure. So engineers went to investigate armed with a pressure gauge in a shoulder bag and discovered that on a typical journey they were getting their noses pressed against the window with about 70kg of rush-hour force. Thus it was set as the benchmark. True story.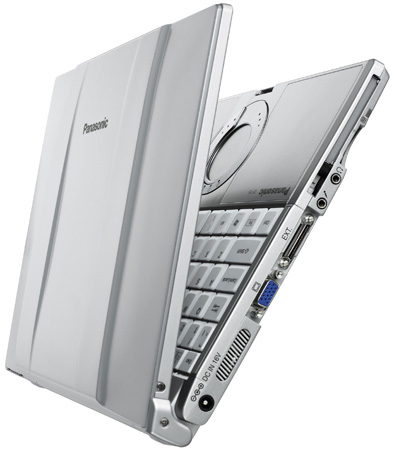 Unlike other machines, you feel that if the Y5 really did bounce off the back seat of your car, you wouldn't even have to check it was still running. It's cased with a magnesium alloy that feels like the sort of plastic you'd use to construct a laptop for a three-year-old child. And it's light enough to make you go back and double-check its integrity. The Y5 sports a 14.1in screen, a DVD-RW drive and a battery that lasts around seven hours (without using power intensive tools like watching a DVD), and yet it weighs only 1.53Kg.
You can buy lighter laptops for less than two-thirds of the price of the Y5, but you might want to look at the specifications closely and see how sturdy they feel in comparison and think seriously how you plan to be using it, because the review that follows should not sway you into investing in a Y5 if the most perilous journey your laptop will ever made is from boot of your car to the cranny desk under the stairs. This is a machine that deserves to be thrown around in a rucksack, sat on and used to bash bad-mannered people on the London underground.
The exterior design of the machine's casing is reminiscent of a Sherman tank cross-bred with a 1970s sports saloon, while the lid opens with the grace of a bank vault door. Yet the designers have managed to make the machine look attractive all the same, the overall effect being what you'd expect from GI Jane in a glittery ball gown.
Panasonic has designed this keyboard with drains running beneath it. Should you happen to take a bottle of Evian water and empty it all over the Y5 keyboard (like we did), you'll find it drains out of the bottom of the machine leaving a puppy dog-style puddle of piddle.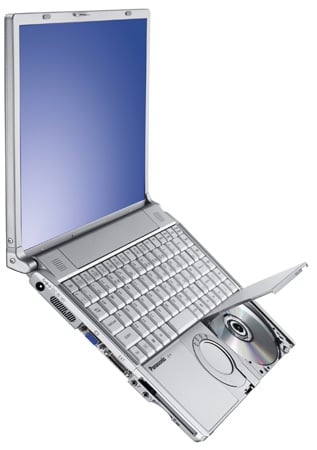 Shortly after we emptied said bottle of still mineral water over the keyboard of the Y5, marvelled at the drainage mechanism and leaving it to one side to dry off, the machine recorded an error: Hardware malfunction: call your hardware vendor for support - NMI: Channel check / IOCHK *** The system has halted ***.
The problem cleared with the reset and the Y5's been chugging along happily since, but some poor technician at Panasonic HQ is going to have to give it a full check-up before loaning it out again. The official marketing gumpf says merely that the keyboard is "splash resistant", though the accompanying press advice says it can deal with 200ml of spilt water.
We thought it wise to let the machine rest before roughing it up again. It's got a 14.1in LCD screen (1,400 x 1,050 pixel resolution) of good quality (active matrix TFT and SXGA+ graphics on an Intel chipset). There's a good selection of slots and sockets: PC Card, SD memory, external monitor, two USB ports, network, modem, port replicator connector and headphone and microphone sockets.
It's got a wireless network adaptor, of course, Bluetooth, high definition sound compatibility and a rewritable DVD drive. The standard-issue 512MB of DDR2 553MHz RAM is a little light and we'd recommend considering an upgrade. The 60 GB hard disk is contained within a protective layer of shock-resistant foam, which is one of the more important protective measures. The keyboard is an impressive size and fills out almost to the edges of the machine and at its heart lies a low-voltage Core Duo L2400 processor running at 1.66GHz with 2MB L2 cache.
When undertaking routine tasks, the battery lasted for an average of around six hours, which is not at all bad, and playing DVDs constantly it averaged at a little over four hours - again, not bad: that's two average-length movies, or one of the Lord of the Rings trilogy and a little work maybe as well.
Verdict
With an improved display, a dual-core processor and its all-round ruggedness, we took to this Toughbook even more than the earlier CF-W5 model. However, £1,649 for a laptop with a Core Duo L2400 and just 512MB RAM is enough to deter a few that were once-interested in investing in this product. An integrated 3G HSDPA slot for mobile broadband can be added, but then that complete set-up will set you back £1,949. If it were a little less expensive and had a bit more RAM, Panasonic would have a prizewinner.