Original URL: https://www.theregister.co.uk/2007/04/18/woven_switch/
Woven threatens to make 10Gig E cheap and stable
Fibre Channel? Infiniband? Forget it
Posted in The Channel, 18th April 2007 04:58 GMT
Networking start-up Woven Systems has reminded us that great ideas can come in small, cost-conscious packages.
The 26-person firm has developed a 10-Gbit/s Ethernet switch that outperforms Fibre Channel, while undercutting the price of rival Ethernet hardware. Woven expects its switch, due out in the third quarter, will find a place in the largest commercial data centers and in high performance computing hubs. If the company's technology matches its promise, customers should gain access to affordable 10-Gbit/s Ethernet networks sooner rather than later and be able to cut down on their Fibre Channel spend.
So, let's have a look at the technology basics.
The EFX 1000 takes up 10U of rack space and boasts 144 10-Gbit/s Ethernet ports via twelve 12-port line cards. Those line cards hit a midplane, which connects to six switch fabric cards and a pair of management CPUs.
The Woven magic takes place on the line cards as well. The company has plunked down three 4-channel vScale ASICs per card.
VScale? Indeed.
The homegrown vScale ASIC handles packet processing, measuring networking latency and redirecting traffic as needed to improve performance.
"We're able to rebalance and reallocate traffic in real-time based a measure of latency done in the hardware," said Woven CEO Harry Quackenboss, in an interview.
With vScale on its side, Woven claims to detect hardware failures and automatically failover to new data paths in less than 10 milliseconds. When all goes according to plan, you end up with the latencies shown in the chart.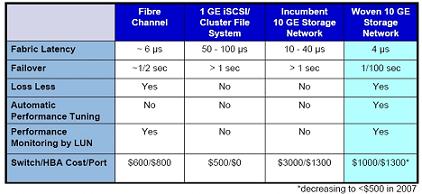 The Woven Way
Woven's design gives customers a switch that adheres to Ethernet standards, while boosting the quality of the Ethernet network by quite a margin. So, you're starting to look at something with Infiniband type performance, Fibre Channel-style loss less delivery and Ethernet's ever friendly goodness. Best of all, the EFX 1000 isn't Infiniband, and it's cheaper than current and future 10Gig E gear.
On top of all this, Woven has added in software for partitioning different types of traffic across the network and has a slick management package.
Customers not so fond of start-ups have a few options to route around Woven. You can wait for 10Gig E costs to come down. Or you can hope that Fibre Channel over IP/Ethernet standards evolve quicker than planned.
Many customers building out data centers with thousands of servers probably don't have the patience to see how these other choices play out. We're talking about webby service providers, media companies and the high performance computing crowd.
All told, Woven believes that its switch consumes one-fifth the power of rival products, while costing one-fifth the price and taking up one-fifth the rack space of other gear. It's a 20 per cent story.
Customers can start out with 48 ports and scale up to 84 switches connected together with only a 4 microsecond latency.
Woven has yet to announce a customer, although it does have a number of betas in play.
Best of all, the start-up has proved frugal with its VC money, keeping a lean, focused team. That's the type of behavior that usually keeps a young company in business.
You can see the new Woven gear here. ®