Original URL: https://www.theregister.co.uk/2007/04/18/lg_blu-ray_hd_dvd_player/
LG launches first foray into dual-format HD arena
UK release of Blu-ray/HD DVD high-definition player
Posted in Personal Tech, 18th April 2007 14:49 GMT
Yesterday in London LG announced the UK launch of its dual-format, high-definition player. As we reported in January, the Blu-ray / HD DVD device, known as the BH100, was first shown at CES in Las Vegas, earlier this year.

It supports various A/V formats, including playback of existing DVDs with 1080i up-scaling resolution, MPEG-2, VC-1, H.264 video, MPEG1/2 audio, Dolby Digital, Dolby Digital+, DTS and DTS-HD audio. It also includes multiple outputs such as HDMI, component/composite video outputs and optical/coaxial/discrete 5.1 channel audio outputs, among others.
Formats supported include DVD-R, DVD-RW, DVD+R, DVD+RW - it does not support BD-R and BD-RE. In addition, this device will not support HDi, so some of the interactive features on HD-DVD will not work - unlike the Samsung Duo HD player.
Also known as the BD-UP5000, this proudly boasts full support for the two formats' interactivity technologies, HDi and BD Java, as we reported only a few days ago. However, the LG device is available in the next few weeks and the Samsung player is not expected for another six months or so. The RRP of the LG BH100 is £1000 and it's available from May.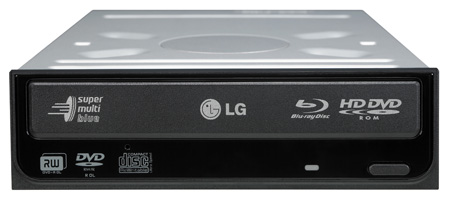 In addition to this, LG also showed off its first dual Blu-ray rewriter and HD DVD-ROM, optical storage drive - the GGW-H10N, also known as the Super Multi Blue. Supporting 4x BD-R and BD-RE, this device features full DVD/CD write/playback options. However the PC-oriented dual-format drive is read-only as far as HD DVD goes. Pricing details were sketchy, but it's expected to cost between £700-£800.