Original URL: https://www.theregister.co.uk/2007/04/18/idf_photos/
Intel inserts hack into Celebrity
Cast aside like Monday's mat
Posted in Personal Tech, 18th April 2007 09:42 GMT
IDF The word on the Beijing streets is that Bill Gates will appear Thursday at a downtown hotel to tout something. As of this writing, Microsoft has decided it would be best for us not to attend that event. The same cannot be said for Sun Microsystems, which has spared some time with Chairman Scott McNealy. And we're not sure what's going on with AMD's CEO Hector Ruiz, who may or may not be in Beijing, depending on whom you speak to.
One CEO not pumping his company's presence in China this week is Intel's Paul Otellini. He skipped the two-day Intel Developer Forum, allowing EVPs and his CTO to do the dirty work. Who needs to show face at some developer conference when you just promised a multi-billion dollar new Fab investment a couple weeks earlier?
Intel put all of the IDF hacks up at the Celebrity Hotel.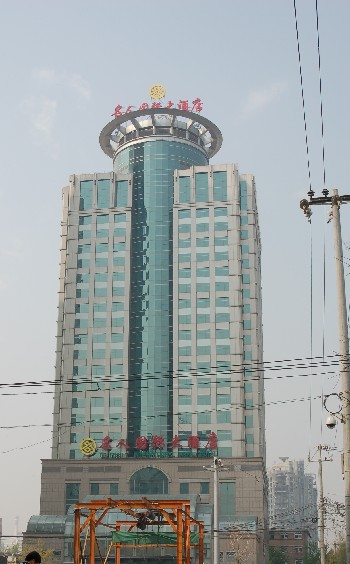 The Celebrity
It's a fine home away from home, and we'd recommend to hotel to anyone. The staff are exceptional, and the rooms are well above average. The only problem with The Celebrity comes from the shared internet connection, which appears to be 56 Kbps spread across a couple hundred rooms. I had to bash my computer against the desk 15 times just to get this story on the site.
Thankfully, the hotel makes up for the slow internet with these helpful mats placed in every elevator. Brain still as muddled as the Old Fashioneds from last night? No problem. It's Wednesday. The elevator said so.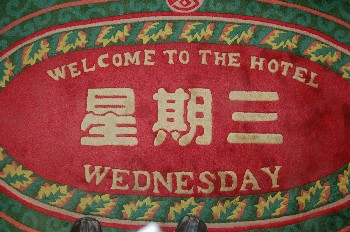 Hello, Wednesday
While The Celebrity made us feel like a celebrity, Intel sure didn't. We failed to make the cut for a tour of Intel's Chinese partners that's taking place tomorrow. StorageWorld Luxembourg will be there though, so be sure to give them a read. [God, you complain a lot – Ed.]
So, charming as they are, Intel gets the SARS Girl on a Bike award.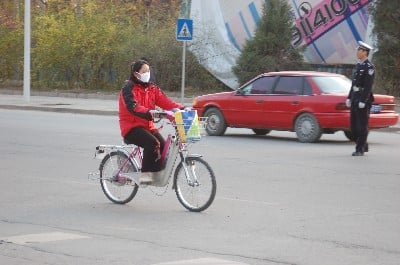 Intel Wins Again!
And just to rub it in, here's a to scale shot of the next Itanium chip. Someone suggested that we call the photo "Segtanic," but we're not sure which product gets mocked then.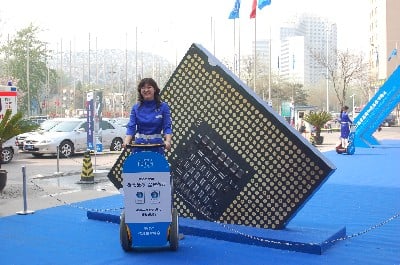 Girl on a Flop by a Flop
Okay, okay, we'll stop whining and get to some technology.
We've written a fair bit about Intel opening up its Xeon sockets to make room for FPGAs from Xilinx and Altera. Given Intel's past reluctance to let anyone else touch its sockets, it may still seem unbelievable that another vendor can in fact do the socket squeeze. Well, believe it, friends. We bring proof.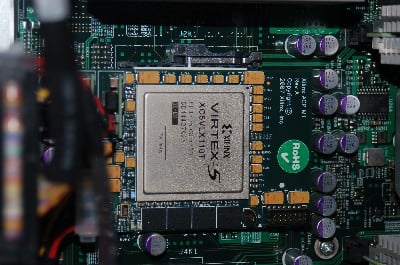 Xilinx Meets Xeon
Companies such as XtremeData and DRC already have FPGAs that pop into Opteron sockets. Similar gear for Xeon should move out of the lab and into customer sockets near the end of this year or early next, according to an Intel boother.
Right now Xilinx has the only FPGA that can make full use of Intel's 1066MHz front side bus. You can expect XtremeData and Nallatech to have some of the earliest FPGAs for the Xeon sockets, and companies such as IBM, HP and Rackable to promote the gear.
Also on display at IDF was the L3NIC. This product again uses FPGAs and places NICs right next to the FSB. Such a tight link to the FSB should improve Ethernet latency and avoid the need for specialized networking technology such as Infiniband for high performance customers. Intel, however, said the technology remains very much in the lab now. (HP apparently has a project in the works that makes use of the technology.)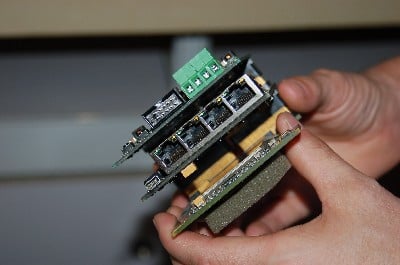 The L3NIC
With all this fancy technology around, you want to make sure it's protected. These guards held court outside of the Beijing Convention Center.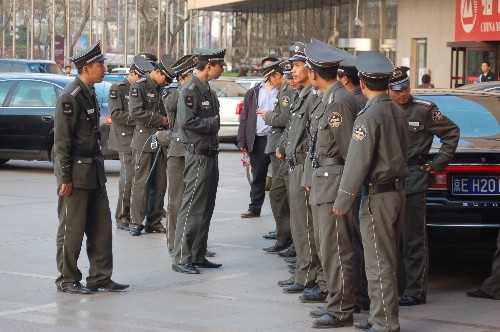 The IDF Squadron
Some of the coolest computers coming out of China are built by ShenZhen Hasee Computer Co. Ltd. They've brought the all-in-one design loved for awhile by Mac users to the PC world. These systems on display cost about 3000RMB, which is under $400.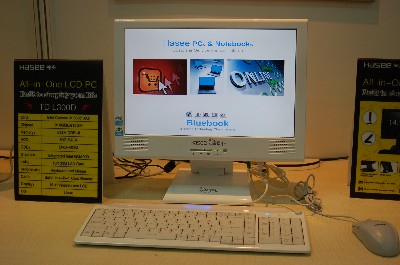 Apples in China
And now let's close with the week that was – in pictures.
Here's the Olympic Stadium just a few blocks from the IDF conference center. Looks like China's more than ready for 2008.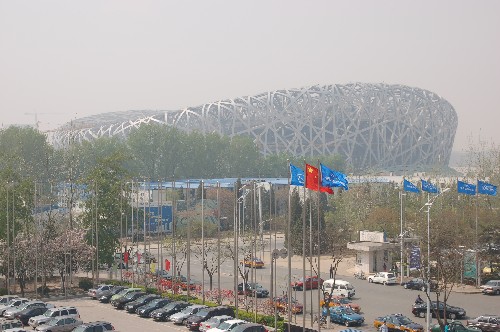 Bring on the Games
Then again, maybe Beijing's not so ready. This is just a couple of blocks from the stadium.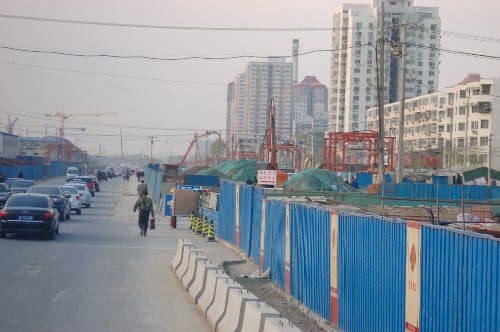 The Olympic Track
And here's a building being torn down one brick at a time.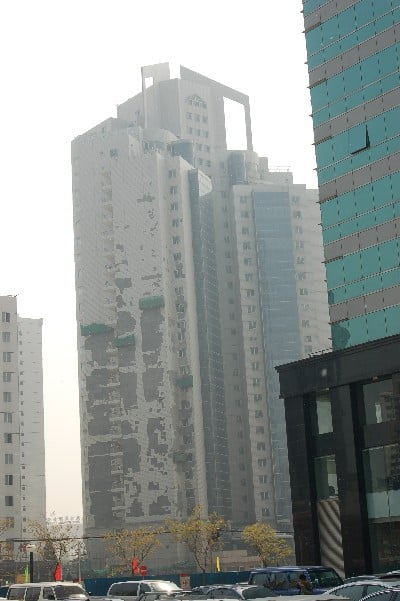 The Slowest Demolition
China certainly has its hospitality ready for the invading Olympic tourists. The people here are as friendly as people come – whether they're branded by Intel or not.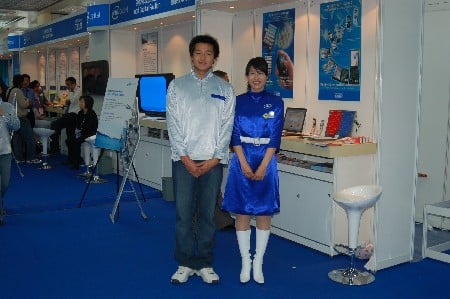 Leap Ahead with a Smile
Okay, so we're running out of material and patience with the network.
We'll close by saying someone should take one of these . . .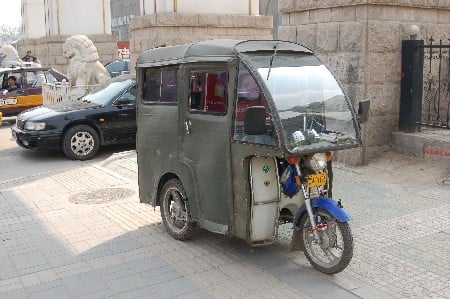 All Aboard
To the ever-popular Green Grid booth.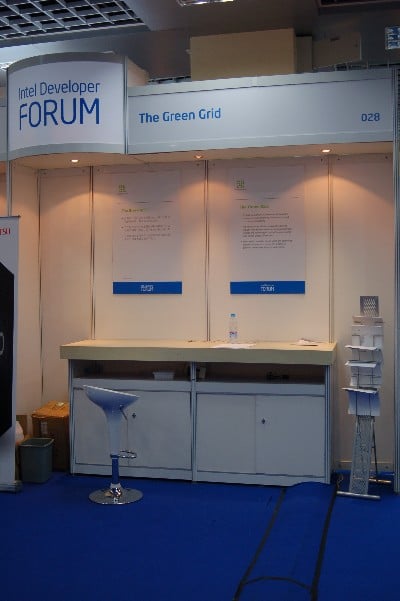 Green Computing is All the Rage
Ciao, friends. ®