Original URL: https://www.theregister.co.uk/2007/04/13/cray_ungaro_emergent/
Pork-stuffed Cray parades CEO and product
Slow smoked profit
Posted in Servers, 13th April 2007 19:47 GMT
Interview Cray's Peter Ungaro has become fully emergent. Not so much like a fluff-filled executive at a Web 2.0 start-up, but more like a CEO of a manly supercomputing firm ready to brag about his company's latest accomplishments.
Since taking the helm at Cray in 2005, Ungaro has, for the most part, been tucked away at the supercomputer maker's headquarters. Struggling with losses and layoffs, Cray hesitated to send Ungaro out into the wild to face a predatory press.
As it turns out, a fourth quarter profit and $250m in government handouts have transformed Ungaro into a media vehicle.
"We have just been on an incredible roll," he told us, during a recent interview in San Francisco.
Only a few months ago, Cray's future looked shaky. The company revealed its ambitious "Cascade" plan to create cheaper, more flexible supercomputers but confessed it might not conjure up the funds to build the systems. The Cascade effort hinged on Cray beating out IBM or Sun Microsystems for part of a massive DARPA grant. Thankfully, Cray received word last November that it had knocked Sun out of the supercomputing competition, leaving the vendor with $250m worth of pork.
In February, Cray's financial picture improved again when it turned out a $9m profit on $101m in sales. That quarter marked Cray's first experience with black ink since 2003.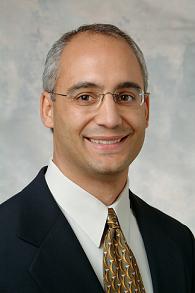 Cray's Pete Ungaro
Cray remains a weird sort of public company. Federal funds keep it humming. So, when Washington is spooked and needs to craft some nuclear weapons or make a database to end all databases, Cray's rolling in cash. And when the Feds cut supercomputing budgets, Cray feels the pinch more than other hardware makers who have other customers to pump for money.
Like members of the military complex, Cray provides a national service of sorts. IBM, HP and Sun don't care to do the dirty, demanding customization required of the government in the supercomputing field. There's not enough profit involved for them to bother. So, Cray plugs away, keeping our warheads shiny and our weather modeled.
Ungaro urged that we not focus so much on Cray's US dependence.
"Half of our revenue comes from international sales now," he said.
Cray has systems all over Europe, close to 20 in Asia, a couple in Africa and one that we know of in South America. The vendor has also handed Canada quite a number of supercomputers.
Ungaro reckons that the business crowd's surging interest in high performance computing will only increase Cray's sales diversity.
The company has been pushing on with its XT4 Opteron-based system rollout.
"We have sold out of our inventory," Ungaro said. "It has been a huge success for us."
The system can reach more than 100,000 processors and will take the four-core Opteron when it's ready in the middle of 2007.
Later this year, Cray will also ship its Vector-based BlackWidow system and then the odd XMT unit.
The XMT builds on Cray's Tera (MTA) technology and was constructed once again with funds from an unnamed government partner. The chips in the XMT box plug right into Opteron sockets and can eat up 128 software threads each. Pack the XMT with 8,000 processors, and you get a box capable of 1m threads.
It's supposed that the Feds will use the system for pattern matching across huge sets of data. Cray also hopes that businesses will pick up the gear for similar tasks, but it's no so sure how this pitch will be received.
"I call XMT our wild card," Ungaro said. "Let's just say it stays in its niche. It is partially funded from an R&D standpoint. It's not a big gamble for us, and it has a lot of upside."
In 2009, Cray begins the "Cascade era" where it will start merging disparate processor technology around a common architecture. The company wants to ship Opteron, Vector, FPGA and massively-multithreaded technology in the same box. Baker will be the first product in this line.
To pull off Cascade, Cray must still design custom compilers that split up applications and send the right code to the right kind of processor. Cray also plans to keep beavering away on a standard version of Linux for its boxes and a lightweight version that's more scalable on the high-end kit.
Close to 250 of Cray's 800 staff work on software at this time.
Despite Intel's recent revelations about a homegrown competitor to AMD's Hypertransport, Cray sees no need to go the Xeon route.
"There may be a time when we also build systems around Intel processors in addition to those from AMD," Ungaro said. "So far, there has not been a compelling reason to do that."
Other than a possible Xeon embrace, Cray has no major shockers in store for customers that it's willing to discuss.
"We are trying not be surprising," Ungaro said. "When customers are spending multiple millions of dollars on a machine, they appreciate that consistency." ®