Original URL: http://www.theregister.co.uk/2007/04/12/review_sony_nw-a800/
Sony Walkman NW-A800 media player
The Walkman enters the digital video arena...
Posted in Personal Tech, 12th April 2007 14:50 GMT
Review Sony used to be synonymous with portable entertainment: its Walkman range was the brand that all products aspired to. After losing ground with the digital generation Sony is out to mount a comeback with the NW-A800 - its first Walkman that can handle both audio and video playback on the go.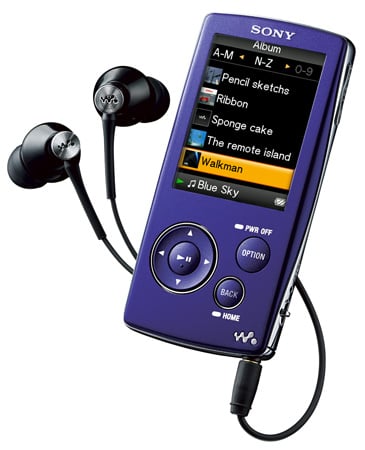 The NW-A800 is more of a competitor to the iPod Nano than the iPod proper. It's a Flash-based player, available in 2GB, 4GB or 8GB capacities - although it's pricier than Apple's similar-sized players. The 2GB and 4GB versions are £119 and £149 respectively - £20 more than the equivalent capacity Nano. The 8GB model will set you back £199, making it £30 more expensive than the nearest Nano - but of course the Apple can't do video. The Sony can.
The NW-A800 is a small slim player, measuring 8.8 x 4.4cm and just 9mm thick. It's light too, weighing in at just 53g so you won't have a problem carrying it around with you. The fashion conscious will be happy to know it's available in a range of four colours. The standard black and white version are catered for, along with a blue/violet model and a pink one for the more adventurous.
On the front of the unit there's a four-way control pad for navigating around the menu screens and a play/pause button for making selections. There's also an Option button, which brings up a sub-menu relating to the current screen you're on and a Back button for retracing your steps. The rest of the front is taking up by the comparatively large 2in screen, which fills around half of the space available.
There's a volume rocker switch on the right-hand side and a Hold switch tucked around the back. You connect up a PC via a custom USB cable, which plugs in at the bottom and also recharges the unit when it's plugged in. The headphone connector is also on the bottom, next to the USB port, so if you want to carry it around in your pocket you'll have to put it in upside down, Nano fashion.
Despite the awkwardly placed connecter, Sony has pulled out the stops when it comes to the bundled earphones. Rather than just throw in a cheap pair, the included noise-isolating earbuds sound great. They block out external noise and three sleeves are included to cater for different sized ears. The result is excellent bass reproduction usually only found on more expensive earphones or larger headphones.

The NW-A800 is very flexible on the file formats it supports - in addition to Sony's own Atrac format it's also happy to play back MP3, WMA and AAC files without the need for conversion. It won't support encrypted WMA or AAC files, such as those bought from Napster or iTunes though. If online music purchasing is your thing, then you'll have to use Sony's own Connect store instead.
It's also reasonably up to speed on video formats, with support for iPod-friendly MPEG-4 video files and AVC Baseline files as well. Conversion from other formats, such as DivX or Xvid, is handled by a bundled PC application. Conversion time will depend on the speed of your PC, but on a decent machine it'll take around one minute to convert a minute of video.
There's a range of tuning options available: the graphic equaliser has four presets available and also a user-programmable custom mode so you can get exactly the sound you're after. Sony has also included its own Digital Sound Enhancement Engine (DSEE) technology, which claims to be able to restore high frequency ranges lost due to compression, although the effects weren't particularly noticeable on the MP3s I used.
Audio playback is very good, with the NW-A800 able to handle both laid back jazz such as Miles Davis and more dancier tracks such as the Chemical Brothers equally well.
Video playback is less impressive, mostly due to the tiny screen size. Clips play fine, with no noticeable dropped frames and the display is sufficiently bright and clear - it's just there isn't enough of it to make it that enjoyable an experience.
The 240 x 320 pixel screen is taller than it is wide, but there is an option to rotate video 90° so it occupies the more of the screen. However, if you're watching widescreen content you'll still have to put up with black bars at the top and bottom, which further reduces the image size. It's fine for watching film trailers and shorter clips on - but you really wouldn't want to sit through a whole movie on such a small display.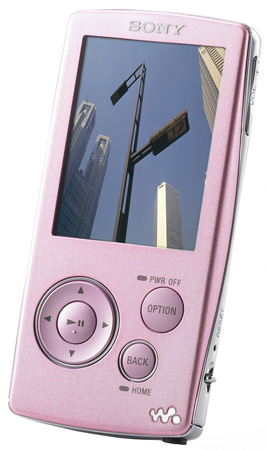 In addition to audio and video, the NW-A800 can also display still pictures in JPEG format, so you can carry round your latest snaps to show them off to people you bump into.
The menu system is easy enough to operate - from the home screen simply select audio, video or photos and then drill down further to find the item you're looking for. The Option key provides quick access to actions associated with the item you're on - such as rotating the screen for a video or viewing album art for music - which will save you jumping around various menus unnecessarily.
According to Sony's claims, it'll last up to eight hours when watching video and up to 30 hours for audio only, and after testing, the device only fell slightly short of these claims, altogether providing a healthy run time from a full charge.
Verdict
The NW-A800 is a great music player, with fantastic bundled earphones and flexible format support. In terms of capacity, it's in line with what you'd expect from current generation Flash-based players, but with a maximum of 8GB available it won't suit those with expansive music or video collections.
Video playback is less impressive than the NW-A800's audio quality mostly due to the small screen - it's just not big enough to watch anything but short clips on, which is a shame because otherwise this is an excellent player.