Original URL: http://www.theregister.co.uk/2007/04/10/review_sunshine_movie/
Sunshine
A little missing?
Posted in Bootnotes, 10th April 2007 09:45 GMT
Movie review There's an old adage that science-fiction movies tell us more about today than tomorrow. Sunshine, from Trainspotting and 28 Days Later director Danny Boyle, arguably goes further: it has its eye on the past as much as the future.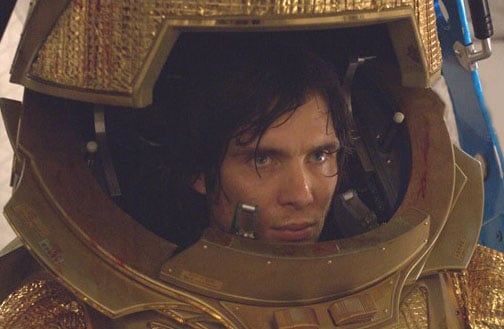 The movie-making past, that is. Sunshine is the latest film in that small sub-genre the 'space endeavour' movie. The most recent example is Brian de Palma's Mission to Mars, and while the strand's genes extend back to the likes of George Pal's Destination Moon, the real archetype is 2001: A Space Odyssey. Sunshine has a snappier title and way more sophisticated special effects than Kubrick's gem, but that's clearly the movie it most wants to be favourably compared to.
Odyssey lays down the laws of the genre, and Boyle follows the rule-book almost to the letter. The 'space mission' premise is simple: a small crew of boffins in a starship progressing in a stately manner through space to perform a task of Earth-shattering significance. In Sunshine, it's to re-ignite the dying sun and spare humanity a slow, cold death. Not for them space travel as everyday occurrence but a project with the human race's best minds behind it.
Crucially, all these movies are really about what happens when the crew arrive at their destination, but being serious sci-fi flicks with at least a nod toward Titanic-esque verisimilitude, they can't cut to the chase but have to endeavour first to show us what 'space travel is really like'. And it's dull, very dull.
To keep the movie ticking over and the audience from walking out, en route to the sun we get a series of dramatic events. In 2001, it's all that stuff about HAL cracking up; Sunshine has a previous mission that failed - essentially the same motivation for the Mission to Mars crew - and the discovery of the first ship. All this is set against the familiar sci-fi themes of dislocation from the home world - courtesy here of a communications "dark zone" - and the inevitable disobiedient computer - a seriously overclocked 'mainframe' if the sub-zero coolant it sits in is anything to go by.
Sunshine's script - by Alex Garland, author of The Beach, also filmed by Boyle - gives solid reasons for all this and what happens next, but ultimately, as with 2001, it's presented solely to set up the ending, leaving it largely unsatisfying.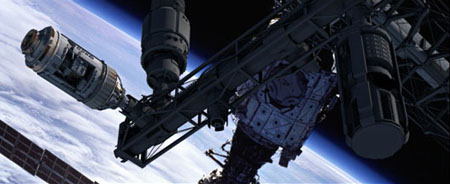 Which is why the finale has to work that much harder, to provide a pay-off that not only justifies the crews long peregrination but also the audience's. Sunshine's coda is cute: the familiar juxtaposed against the inappropriate landscape, in this case the Sydney Opera House, poking up above the snow like the ruined Statue of Liberty sitting in the surf.
And that's it: the mission succeeds, the movies ends, we all go home. Where Sunshine fails to live up to its predecessor is that there's nothing to take away. All the mundane stuff in 2001 - yes, Kubrick was contrasting the mechanistic with the divine, but the Discovery mission is no less dull for that - paves the way for astronaut Dave Bowman's mind-warping journey and alien/god-engineered tranformation into humanity's next evolutionary stage. Sunshine's Bowman, a physicist called simply Capa, moodily played by Cillian Murphy - the Icarus 2 crew, in true Alien fashion, don't have first names, much less personalities - witnesses the birth of a new sun before being vapourised.
It's not the fault of Boyle's high-tech lightshow that Capa's meeting with destiny lacks the almost religious experience of Bowman's transformation, but a shiny golden bubbling wall effect simply doesn't stir the soul the way 2001 does, particularly since Sunshine's soundtrack lacks the portentous rising notes of Also Sprach Zarathustra.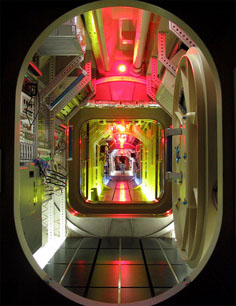 Sunshine doesn't ignore the eternal verities, but relegates them to the ramblings of the captain of the first solar mission, a man made insane by the worst case of sunburn ever and seven years spent on a dusty spaceship without even a jaycloth for company. With his mutterings about god, he's pure deus ex machina beamed in to steer the plot on its true course for the heart of the sun.
Boyle thankfully resists allowing the movie to become a slasher flick in space, but it's hard to see Captain Pinbacker as anything more than a walking plot device, leaving a trail of footprints in the dust and bloody palmprints on the walls to show where he's been and the movie's going.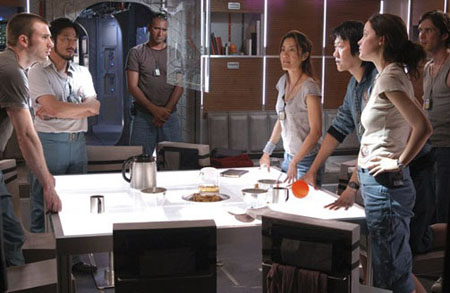 And it's good - for a change - to see a crew that's neither a post-Aliens cock-sure bunch of wise-cracking military types, or a crop of moody, foul-mouthed, always fighting, always trying to get off with each other teenagers. A true 'space mission' movie, about experiences more than people, could not present them otherwise. The downside, of course, is that Boyle's crew, like those in Mission to Mars and 2001, are entirely unengaging. Presumably astronauts, like sports people, are so dedicated to their cause that they cease to exist beyond it.
But the director needs ticking off for the repetitive seen-so-often-before establishing shots: how many transverse tracking shots of empty corridors echoing the sound of distant human activity do we need to see, for heaven's sake? How many of the beach brolly-like Icarus 2 silently gliding to its golden destination?
For all its failings, I still enjoyed Sunshine. It takes a while to get going, but once it does it proves engaging without resorting to cheap shocks and descending into the genre mish-mash that 28 Days Later did. It's unquestionably gorgeous to look at, and it's not mere eye candy. This is a serious sci-fi movie, but while it stirs the senses there's nothing here to feed the soul.
Sunshine (15)
---
| | | |
| --- | --- | --- |
| | Sunshine's visuals dazzle, but it leaves humanity in the shade... | |