Original URL: http://www.theregister.co.uk/2007/04/10/how_wifi_working_again/
How to get your Wi-Fi working again
Out with the old, in with the new
Posted in Networks, 10th April 2007 13:41 GMT
Plenty of people who link computers and other devices to the internet over a wireless network are finding they can no longer connect quite as easily as they once could. That's certainly my experience and, if the many, many emails I received after grumbling about it in public are anything to go by, it's a problem many Register Hardware readers face too.
Here are the symptoms: connections made between a notebook and a well-placed base-station suddenly drop. In places where the notebook used to be able to connect to a wireless router, a link can no longer be established. It usually happens in dense urban environments, and is usually presaged by the appearance of many more WLANs in your immediate neighbourhood.
There was always an issue with 802.11g: the noisy nature of the 2.4GHz band it operates in. The impact of noise from microwave ovens, cordless phones and Bluetooth devices is well known, but plenty of users operate with these machines making noise and don't experience problems. As the estate agents say, it all boils down to location, location, location. How is your house constructed? What noise sources are present? Are there any atmospheric effects? All these factors and more play a part in determining how good your connection is.
Of course, these are largely constants - what can change suddenly is the number of nearby networks. It's here than we quickly run into the limits of 802.11g. Centred on the narrow 2.4GHz band, it provides 11 operational channels - 13 in Europe, though not all Wi-Fi kit shows them. However, only three - channels 1, 6 and 11 - don't overlap with each other. Well, sort of. The transmission characteristics mean that there can be enough signal to spread out into the other channels.
They're not really channels at all, just mid-point frequencies 5MHz apart. Channel 1 is 2412MHz, channel 2 2417MHz, and so on. Either side of the mid-point, the signal strength should fall from 0dB to -30dB once you get 22MHz away, but there's still energy flowing out on frequencies beyond °22MHz. The result: channels 1 and 6 do overlap, albeit to a much lesser extent than channels 1 and 4 might, but the potential for interference is there, growing as more routers fight for the airwaves.
Plenty of users out there are sufficiently savvy to switch their WLANs from the default channel - usually 1 - but not necessarily to check they're not moving on to an already well-occupied channel. Using a network sniffing app like NetStumber/iStumbler is the only way to make sure your access point isn't transmitting on the same channel as everyone else.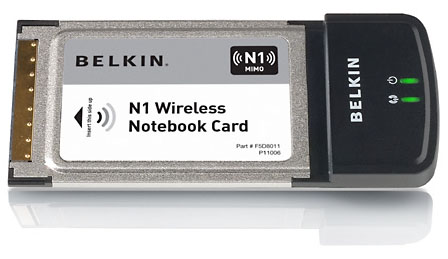 So what's the solution to these network traffic jams?
The obvious answer might be a shift to the 5GHz band utilised by 802.11a. The problem here is that because of the higher operational frequency, 802.11a has a reduced range - it's harder for the signal to penetrate walls. The upshot is that line-of-sight is essential, forcing users to install multiple access points.
That's particularly a problem because 802.11a kit is expensive, especially in the UK. When the technology first appeared, products operating in the 5GHz band required certification, which was costly and drove up the price of the hardware. By the time the certification requirement had been eased, 802.11g had arrived as the natural upgrade from 802.11b. But for big business who'd already chosen to use the technology, 802.11a would probably have died the death by now.
Even in the US, where the 5GHz band was always more readily accessible, 802.11a became limited to large companies because of the success of increasingly-cheaper, compatible-with-802.11b 802.11g units.
Homebrew
There is another option open to the more technology savvy: replace your router's firmware with an alternative, more flexible version. DD-WRT, for example, is an open source firmware replacement for a range of routers, including quite a few now past their prime and therefore readily available on eBay for not much money. It adds some interesting features, including the ability to create a wireless distribution system (WDS) - a collection of access points connected wirelessly to form a single WLAN - and to up the power of the access point's radio, albeit in violation of the spectrum regulations.
We'll be looking at DD-WRT in more detail in the near future.
The 5GHz band is still the way to go, but through 802.11n, the as-yet-non-standard successor to 802.11g. It's significantly faster than 802.11g - its effective throughput is 150Mbps, seven times that of its predecessor - and can operate in both the 2.4GHz band and the 5GHz frequencies. The 5GHz band is divided into 19-24 channels, depending on where in the world you are, so there's more room for non-overlapping access points too.


Apple's AirPort Extreme base-station
But what about the range problem experienced by 5GHz 802.11a? Not an issue, say the vendors. The technology makes use of multiple receivers and transmitters - dubbed MIMO for Multiple Input, Multiple Output - and takes advantage of all the signals bouncing off objects around the access point and client. The upshot is a system that's better able to cope with the physical environment in which it's operating, and that means potentially much better connectivity.
But there's a snag. While some 802.11n-compatible client devices are dual-band - they can operate in both the 2.4GHz and 5GHz bands - most of the access points and routers available today aren't. Instead, they're 2.4GHz devices and are limited to the same noisy spectrum as 802.11g. They can deal with it better, and can deliver higher throughput, but it will nonetheless be only a matter of time before the band gets crowded again.
Interestingly, some vendors claim 802.11n is desirable even in the 2.4GHz because the technology's higher signalling rate means it won't intrude on 802.11g communications as much as another 802.11g network on the same channel will, so going 802.11n could well ease the burden on other 802.11g users nearby. The new technology's higher raw speed also makes it more resilient to bursts of noise from older networks.
The next generation of Wi-Fi remains unratified as a standard, but almost all companies believe the current version, Draft 2.0, will be close enough to the final standard. Most 802.11n devices are currently running Draft 1.0, but software updates to bring them to Draft 2.0 are expected in the coming months as vendors prepare for the independent interoperability testing due to begin this summer under the aegis of the Wi-Fi Alliance.
Still, some folk may find it tempting to hold off migrating to 802.11n until more routers have dual-band support, and that's not going to be possible at consumer-friendly price points until early next year. That said, Apple's AirPort Express 802.11n router is a notable exception. At £119 it's pricier than most other ADSL-less 802.11n routers, but is a dual-band model.
If you do decide to wait, what options do you have in the meantime? Plenty of tinkerers have constructed antenna enhancements or installed high-gain antennae, and this can help the access point but doesn't do much for the client if it has an integrated antenna. Yes, it picks up a stronger signal or can hear a more distant source, but it may not be able to talk back.
A second option is to retain your access point and use it in conjunction with a powerline Ethernet network. The wired link(s) can be set up to provide connectivity in dead spots you've always noticed or ones that have appeared because your neighbour's just put his own access point just the other side of the wall. If you find you only want to connect to the Net in two or three locations in your home, you may even want to drop wireless altogether.
If you don't, a third network configuration sits a wireless access point at the other end of a powerline link, effectively growing your WLAN's area of influence. The downside here is that you may end up causing your neighbours problems, forcing them to implement similar solutions, and suddenly your back where you started. However, it does give you more freedom of movement since you're not going to be tethered to an Ethernet cable.
Finally, you can try upgrading your access point to a more advanced 802.11g-based model. Many of these claim to offer improved performance with existing client devices, but to get the best out of them you'll need to upgrade your clients too. That's fine if you're using a USB or PC Card adaptor, but less attractive if you've grown accustomed to having it all built-in. Indeed, that's another reason to wait for 802.11n - get it when you upgrade your laptop model with 802.11n built-in.


Apple's AirPort Extreme... round the back
Your best strategy is likely to differ from someone else's because so much depends on what you want out of your network - range, guaranteed connectivity, high bandwidth or a mixture of the three. To see how these approaches work best, there was only one thing for it: try them all out, so that's what I did.
Powerline wired networks
This is a very attractive alternative to wireless because it can be faster than 802.11g, more secure and, depending on the way your home's connected to the mains, less prone to interference. It's easy to put in place. Plug one unit in near your router and connect the two together. Then add more powerline adaptors around your house in places where you're going to want to connect from. There are limits on how many nodes your powerline network can have and still link them all efficiently, and these vary from vendor to vendor, but you should have enough for most of the rooms in your house.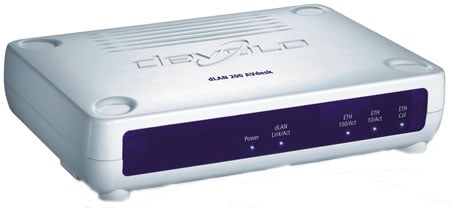 Devolo dLAN 200 AVdesk 200Mbps HomePlug Ethernet adaptor
The downside is that you can only connect to the Net in cable's reach of a free mains wall socket - you can use multi-socket distribution board, but it's not recommended, especially if it has a surge-protector fitted. This makes it more suitable for clients in fixed positions - desktop PCs, set-top boxes, media streaming kit - than ones that connect on an ad hoc basis, such as laptops.
Here are the 200Mbps powerline adaptors Register Hardware has reviewed:
Powerline WLAN extenders
Netgear's WGXB102 54Mbps WLAN range extender kit comprises a pair of devices that together create a powerline Ethernet link between two mains sockets. One of them incorporates a 10Mbps Ethernet port into which you connect your broadband modem or your router. The second unit incorporates a wireless adaptor and can operate as an access point or as a router.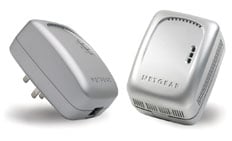 Netgear WGXB102 WLAN extender kit
Installation is trivial - just connect the WGXB102 units up and plug them in. Out of the box they create a separate WLAN, but I wanted to create what is, in effect, a single WLAN to ensure an automatic connection when any of my pre-configured laptops start up. The trick here is to log into the AP and set it up to mirror your existing WLAN's settings. I made the elementary error of neglecting to pick an access point IP address that was outside the router's DHCP range. Once I'd sorted this I was able to connect to the internet via the WGXB102.
And connect well too. The WGXB102 creates a 14Mbps link across the mains but that was sufficient for me to not only connect wirelessly by notebook running regular email requests, maintaining multi-client IM connections and doing web browsing, but also hosting my Slim Devices Squeezebox 3 while it drew down a 128Mbps MP3 stream. All without a hitch.
Well, almost. I noticed no problems on the notebook side, but starting a download caused the Squeezebox playback to stutter. A faster powerline link is needed. A 14Mbps HomePlug has a typical throughout of 4-6Mbps, well below 802.11g's real-world speed of around 20Mbps. UK supplier Solwise has an 85Mbps unit, the NET-PL-85PEW, which connects to any standard HomePlug 1.0 Turbo-based powerline adaptor and should deliver an 802.11g-comparable powerline link. Another powerline specialist, Devolo, has a 200Mbps HomePlugAV-based WLAN extender unit coming in the May/June timeframe.
Matching the powerline performance to the wireless throughput is key here. Within the combined WLAN, you can't guarantee which base-station - access point or router - you're going to link to, unless they're fairly far apart, and you don't want to connect to the slower link unless you have to.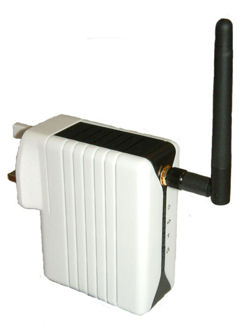 Solwise NET-PL-85PEW 802.11g WLAN extender
The units aren't expensive, but you may feel you'd rather pay a little more and get a next-generation router and adaptor. Solwise's 85Mbps extender and one of the company's wired powerline units for the router end of the link will set you back around £85, for example.
Still, it's a good option if you want to extend the range of a network beyond its usual limits - provided you have a handy mains socket.
Enhanced 802.11g
Once 802.11g had established its popularity and plunge in price, WLAN equipment makers almost immediately began to tout non-standard technologies they promised would boost 802.11g's reach and data speed. Past reviews suggest they do, but you have to have the same technology at both ends of the connection. With a router, it's easy to see the speed-boost system's brand name on the box, but adaptors built into laptops are less readily identified.
Many notebooks are based on Intel's Centrino platform, and the chip giant has maintained a stern disapproval of such range-extending techniques, insisting instead on sticking to the standard. If you have a Centrino machine, you're never going to be able to take advantage of 802.11g enhancers, at least not without plugging in a second adaptor.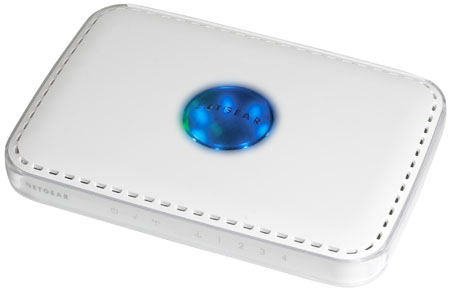 Netgear's WPN824 RangeMax MIMO 802.11g router
That said, some of these technologies also promise to improve the performance of standard 802.11g kit. Take Netgear's WPN824 RangeMax MIMO, for example, which uses speed-boosting technology and some tricks borrowed from 802.11n to boost range. I tried it and, yes, it improved the connection I got with my laptops' standard 802.11g adaptors. In the specific locations where connections would drop or simply fail to be initiated in the first place, my MacBook Pro could now pick a decent signal.
Not so a Dell Inspiron with a plug-in Linksys WPC54G PC Card. It proved resilient to the Netgear's signal boosting system. I also tried a Sony Vaio with an integrated Wi-Fi adaptor and, like the MacBook, it worked better. Which just goes to show how much better built-in antennae are over the tiny ones crammed into PC Cards.
The WPN824 costs around £90 to which you have to add the cost of one or more new PC Cards if you want to gain the full benefit. But it did improve regular 802.11g connections, and that makes it an attractive alternative to powerline range extenders. However, you may as well pay just a little extra and get a more advanced 802.11n set-up.
802.11n
Last of all, I tried 802.11n, courtesy of Belkin's N1 Wireless Router and N1 Wireless USB Adaptor. Belkin prides itself on the consumer-friendliness of its kit, and the N1 router replaces the usual Ethernet, wireless and internet activity lights with more meaningful icons, including one to indicate the router has one of the various types of wireless security protocol activated.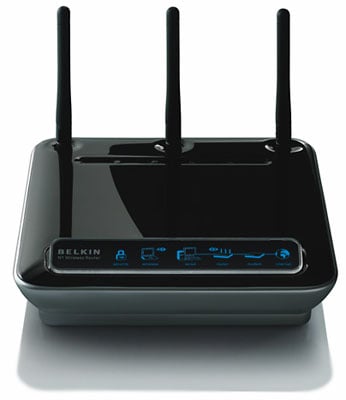 Belkin's N1 802.11n wireless router
For me personally, the N1 was a less than ideal offering because none of the components come with Mac software. Apple does now offer laptops with 802.11n built in and as an optional extra for some desktops - though you have to pay an extra £1.25 for the software needed to enable it - but my MacBook Pro pre-dates the addition of the new WLAN technology, and as I've had my notebook for less than ten months I'm not likely to be upgrading any time soon.
The N1 router provides 802.11b/g connectivity as well as 802.11n, so at least the MacBook Pro could connect to it that way while my Vaio was running the new network technology. Once you've upgraded your clients you can flip the switch in the router's admin page to 802.11n only, but not in the 5GHz band.
Interestingly, Apple's new Airport Extreme Base-station router is a dual-band 802.11n device, allowing you to force it to operate only in the 5GHz band. Since it only costs around £29 more than the N1 - £119 to £90, its future-proofing may well make it a more attractive buy, whether you're a Mac user or not.
Not that the N1 is a poor choice. Belkin's software makes set-up a doddle and it's handily compatible with both 802.11b and 802.11g for older, un-upgradeable devices. I hooked the N1 up to my cable modem, and was quickly up and running with the 802.11n USB adaptor plugged into my Vaio in the next room. Here, the signal registered as four blocks, two higher than the 802.11g RangeMax router yielded in the same location, albeit at a different time.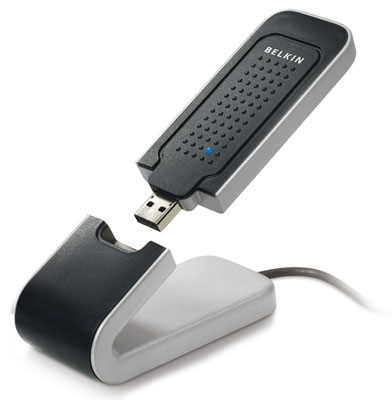 Belkin's N1 802.11n USB 2.0 wireless adaptor
Downstairs, I connected my 802.11g-only MacBook Pro and similarly spec'd Squeezebox 3 to the network with a good signal strength even in previously dodgy spots. That said, both connected just fine in the same locations with the RangeMax. Moving around, the N1's 802.11g signal rose and fell much as the RangeMax's had. So legacy devices aren't going to suffer if you go straight to an 802.11n box rather than an 802.11g-specific unit.
I also connected up Netgear's WN121T USB 802.11n adaptor and had no trouble connecting to the Belkin router and staying connected, so vendor claims that the technology's well poised to pass interoperability tests seem accurate. Netgear's USB gadget is less compact than Belkin's - it won't connect directly to a PC's USB port, for example. But where Belkin's product has its own cradle, the Netgear has a neat flip-out stand. I also tried a Netgear WN511T PC Card adaptor with similar results.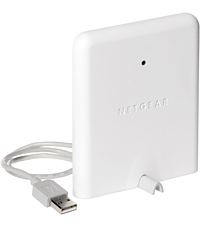 Netgear's WN121T USB adaptor
Apple and 802.11n
If you're a Mac user, there's currently only one way to connect to an 802.11n network: buy a new computer and then pay Apple an extra $2/£1.25 for the software you need to enable 802.11n on your machine. This is a disgrace, I'd argue, but what's worse is the unwillingness of networking kit vendors to capitalise upon it. None of the ones I spoke to plan to offer Mac drives for their PC Card and USB adaptors, even though these devices could be used to connect older Macs to these vendors' routers.
One ray of hope is US software developer OrangeWare, which has been offering Mac drivers for a variety of PC Card and PCI add-in Wi-Fi adaptors for some time. The downside is there's no 802.11n support yet, and OrangeWare hasn't updated the code for over a year - not a good sign. The company didn't respond to my requests for a clarification of its update plans.
Verdict
I didn't set out to do an exhaustive test of numerous wireless kit makers' products - though a number of well-known names were asked to participate and chose not to submit kit. Instead, I wanted to see what options as well as the as-yet-non-standard 802.11n are open to WLAN users who've hit the limits of standard 802.11g technology.
Clearly, 802.11n is the way to go in the medium term, since it provides not only greater bandwidth than 802.11g but delivers the kind of 802.11g performance that the more advanced 802.11g-only routers and adaptors offer. If you only want wireless networking, it's hard to recommend anything other than 802.11n. If you can wait for dual-band devices to fall in price - not that Apple's AirPort Express is particularly more expensive than single-band kit - it seems prudent to do so for access to the cleaner air the 5GHz band provides.
And if you'd like to wait but need an 802.11g deadlock-buster now, then powerline provides a way to reach dead spots or eliminate them by adding extra access points, though this approach is little cheaper than going for 2.4GHz-only 802.11n.
So much depends on your own circumstances, however. But hopefully at least one of these options will help you solve your Wi-Fi woes.
With 802.11n Draft 2.0 updates for existing next-gen Wi-Fi kit due in the next few months and Wi-Fi Alliance interoperability testing coming soon after, we're now in a position to consider 802.11n as fixed as it can be without the IEEE standards body's stamp of approval. As a result, Register Hardware will begin testing 802.11n products in their own right very shortly.
The products
Product
Rated speed
Price
Notes
Powerline WLAN extenders
Netgear WGBX102
14Mbps
£82
Two-unit pack
Solwise NET-PL-85PEW
85Mbps
£57.50
Single-unit pack
Powerline adaptors
Devolo dLAN AVdesk 200Mbps
200Mbps
£75
HomePlug AV standard, one-unit pack cross-platform software
Netgear HDX101
200Mbps
£65
DS2 Opera standard, single-unit pack
Solwise PL-200AV
200Mbps
£61
HomePlug AV standard, single-unit pack
802.11g enhancer
Netgear WPN824 RangeMax MIMO router
208Mbps
£90
Extra speed only with compatible adaptor
802.11n
Apple Airport Extreme
300Mbps
£119
Dual-band - 2.4GHz and 5GHz
Belkin N1 Wireless Router
300Mbps
£90
Single-band - 2.4GHz
Belkin N1 Wireless PC Card
300Mbps
£60
Single-band - 2.4GHz
Belkin N1 Wireless USB adaptor
300Mbps
£75
Single-band - 2.4GHz
Netgear WN511T RangeMax Next PC Card
300Mbps
£80
Single-band - 2.4GHz
Netgear W121NT RangeMax Next USB adaptor
300Mbps
£65
Single-band - 2.4GHz