Original URL: http://www.theregister.co.uk/2007/04/06/review_samsung_yp-t9/
Samsung YP-T9 MP3 player
Come in, iPod - your time is up
Posted in Personal Tech, 6th April 2007 09:08 GMT
Review Apple must really be feeling the heat by now. While the innovative design and user interface of the iPod will go down in history, they can also split public opinion like a Mac vs PC argument or an open source versus proprietary software flame war. You know, the sort of heated discussions you hear in pubs... and at trade shows just before someone gets glassed.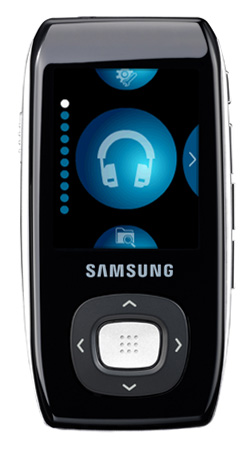 Of all the pretenders to the iPod crown, Samsung has perhaps the best credentials, and its T9 media player will do its reputation as heir apparent no harm at all. In fact, it outperforms and outcools the iPod Nano in several areas. The YP-T9JAB, to give it its full name, is a bit of a looker, perhaps not as sleek and elegant as its cousin the K3, but you still wouldn't say no. It's smooth and shiny - depending on how greasy your fingers are - and it's got a much larger screen - 1.8in - than the Nano. The display only has a 176 x 144 resolution, but image quality is good - very bright and detailed. Although it's slightly thicker than the Nano - 8.3 x 4.2 1cm - the T9 is still barely noticeable inside your pocket and feels like a small mobile phone in the hand - not bulky and durable.
The central five-way control pad on the front of the device is ergonomically perfect, although the four side buttons can be fiddly, especially those which you end up using quite often, like the Back and Menu keys. It would have been better to find a way of incorporating them on the front, for improved usability, but that said, we still found it generally easier to use than the K9's touchscreen design.
The main menu itself is a stylish interface, presented in a choice of five different colours and featuring various icons describing each function, which change into a description of that function as you look at it. OK, sounds a bit geeky, but these minor stylistic touches are what can make the difference between a great product and an also-ran, and Samsung has learned wisely. By and large the menus are fairly easy to navigate around: music can be searched for by artist, album, genres and so on, and the context menu makes it easy to set-up EQs, speed up playback - useful for audio books - and set the screen background to display album artwork or your own pictures or graphics.
You can expect to get lots of playback features with Samsung, and the T9 doesn't disappoint. As well as the regular shuffle and repeat, there are 12 EQ presets and a nine-band user-customisable EQ.
Other notable features include a volume limiter function and a Street Mode setting, which the firm says has been designed to enhance the quality of the sound so that you can hear it clearly in noisy environments. It actually just sounds louder, but that's fine, and generally the sound quality on this player is excellent - well defined and rich - though you might want to try a different pair of earphones than those supplied as they soon get uncomfortable. In fact, the Bluetooth functionality on the T9 gives you the perfect excuse to wow your friends with a new pair of wireless headphones, though they won't work in video and radio mode.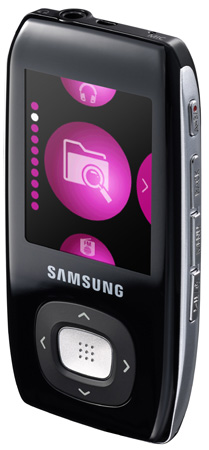 The photo display has been well thought-out: instead of displaying them all in a small thumbnail format, you're presented with one larger picture framed by three smaller thumbnails. Picture quality is crystal clear too - in fact, it's a shame there is no built-in camera to fully make use of the beautiful screen and user-friendly layout.
The T9 has trumped the Nano in a couple of other areas. It has an FM tuner that works surprisingly well, picking out the strongest stations with ease and providing room for 30 preset stations. This is something that has proved to be a feature that many are campaigning for in the next incarnation of iPod.
There is also a built-in mic for voice recording and a couple of Flash games - and you can download more if you want. Our one small gripe with the games is the volume is uncomfortably loud and hard to turn off. The T9 also allows you to play videos, and while a movie would be a little too much, the screen is big enough to make it perfect for viewing internet downloads or an episode of Family Guy.
Content transfer is fairly easy, using Samsung's Media Studio software or Windows Media Player. No prizes for guessing it doesn't cater for Mac users. You'll also need the Samsung software to transfer videos because it turns MP4 or AVI files into its own SVI proprietary format, presumably to save space. The stated 30 hours battery life is pretty impressive, even though it probably falls a little below that in reality, especially if you're watching videos.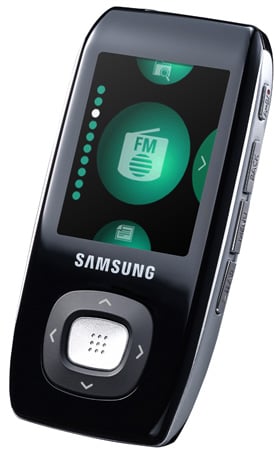 The main criticism, and this is being pretty picky, are the time lags when navigating - although it's relatively small when moving through the menus, it can be more noticeable, and a little frustrating, when moving through a long list of tracks. Depending on your patience levels this could either be no problem at all or a major inconvenience, but taken as a whole package, the T9 delivers. It comes in three flavours: 1GB, 2GB and 4GB and there's very little difference between the prices, £5 for instance between the 2GB and 4GB models.
Verdict
Samsung has just about ticked all the boxes with this one: it looks good, handles well and won't need constant recharging. The sound and visual quality can't be faulted either, and the player's packed with features you won't find on an iPod. Although it weighs in at a little over the asking price for the Nano, only die-hard Apple-devotees would refuse to consider the T9. It's a very polished little number indeed.