Original URL: https://www.theregister.co.uk/2007/04/05/venus_cloud_pics/
Astronomers peel back layers of Cloudy Venus
New pics from ESA
Posted in Science, 5th April 2007 14:13 GMT
The latest images sent back by Venus Express have given scientists greater insight into the underlying mechanics of the planet's mysterious cloud system.
Equipped with state of the art infrared imaging kit, as it is, Venus Express can peer through the incredibly dense cloud covering, peeling back layer after layer of the turbulent atmosphere.
The winds on Venus are so fast they circumnavigate the planet in just four (Earth) days. By contrast, the planet's day is longer than its own year.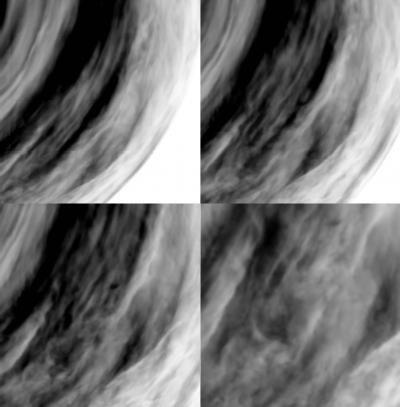 These four images were acquired on 24 September 2006 by the Ultraviolet, Visible and Near-Infrared Mapping Spectrometer (VIRTIS) on board ESA's Venus Express, from distances of about 65,000 kilometres (top left), 60,000 km (top right), 53,000 km (bottom left), and 37,000 (bottom right) from the planet's surface.
The shots were taken on the night side of the planet at a wavelength of 1.7 microns, and so reveal fairly deep atmospheric layers.
Being able to view the night side of the planet is extremely important. Some cloud formations are thought to be caused by the strong solar radiation hitting the planet on the day side. This would heat the atmosphere, creating masses of up-welling air that generate local turbulence.
But on the night side, there is no solar flux. Despite this, the cloud formations are very similar, so scientists are trying to work out whether a mechanism other than convection is responsible for the formations on both the day and night side of the planet.
Another area of investigation is a possible link between the surface topography and cloud formation. The area in the above images is close to the equator, over a region known as Alpha Regio. This is a very topographically chaotic region of the planet, with lots of ridges, faults and high (up to 4000 metres) mountainous features. The researchers are keen to find out of a link between the surface and the skies does exist. ®