Original URL: https://www.theregister.co.uk/2007/04/04/review_orange_spv_m700/
Orange SPV M700 Windows Mobile smart phone
Is it really any different to the M600?
Posted in Personal Tech, 4th April 2007 11:28 GMT
Review Orange has updated its Windows Mobile PDA phone and whacked another 100 onto its name. At first glance, the only difference is a shinier finish. So what else has been souped up to turn an M600 into an M700?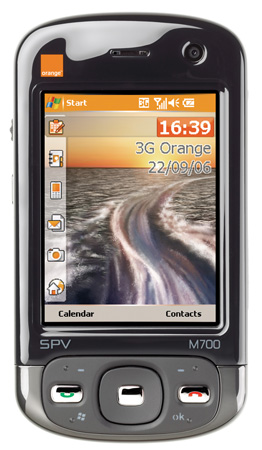 Well, for starters, the 10.8 x 5.8 x 1.8cm, 150g SPV M700 can now handle 3G connections, as well as the EDGE and GPRS capabilities it had before. That 3G support certainly helps with functions such as downloading email attachments and video clips, making it a bonus for business or pleasure. If that was all that had changed you'd be hearing some pretty stiff words from us, because as much as we loved the M600, there are plenty of improvements available with today's technology.
The lens at the top-right of the screen makes use of one of these, adding video calling to the SPV's repertoire. The lens obviously has to be on the front so you can see the other caller and they can see you. However, you can also choose which of the PDA's cameras to send images from during the call, switching back and forth to show them your face or what the camera on the reverse can see.
The biggest change is still to come, though, and it makes the M700 one of the only devices you need to leave the house with. The M600 included Orange's satnav technology but needed an additional Bluetooth device to pickup GPS satellite signals. The M700 brings that technology under its hood as is increasingly common in PDAs and smart phones.
Sadly, it can take quite a while to connect to the GPS signal, especially if you're in a large building or on a moving train. But once it has connected, regular updates of your position and the necessary maps download without any break in service. Audible instructions and a choice of top-down or 3D map functions make it usable whether you're driving or walking. It's just a shame there's no holder to attach it to your car's dashboard.
New to Windows Mobile?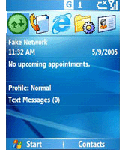 Windows Mobile is Microsoft's system software for handheld devices - phones, smart phones, personal digital assistants (PDAs) and so on. It looks a lot like the PC version of Windows, and the two operating systems can share data, but not applications. Windows Mobile uses applications specifically tailored for it, even though they may have the same names as their PC equivalents. Like Windows XP and Vista, Windows Mobile applications are accessed via a Start menu, but there's no taskbar and Trash icon, and many of the control panels are very different. If you've used Windows XP, Windows Mobile will feel familiar but not exactly the same.
Using the GPS function is obviously as energy-consuming as talking on the phone - dropping the M700's usage time to around four and half hours - so it's also good to see the inclusion of a cigarette-lighter power cable in the box. That adds to a number or recharge options, which make the M700 one for the serious traveller. Standard mains charging is augmented by a mini-USB lead so the device recuperates when you connect it to a PC to synchronise.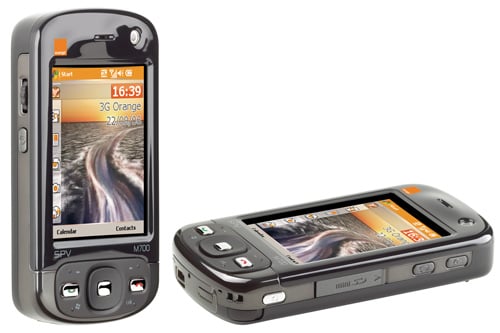 Unfortunately, the headphone socket also uses the USB connection point, so there's no charging capable while you listen to music or use the 'phones as a handsfree set. As with the M600, navigating around the device is extremely easy. Most useful functions appear in the Start menu or as hotkeys at the left of the home screen. These hotkeys offer a number of options when tapped, rather than simply opening a program. So, for example, choosing the text icon offers a list of actions, including writing a new text, viewing the regular Inbox, opening the list of picture message and accessing your Outlook email.
An Expert hotkey can be configured to show the functions or programs you use the most, or it can be turned off and replaced with a quick link to the camera. A list of the last five programs you used is also included as part of the Start menu. This list is only populated with items that don't already have a Start Menu entry so there's no doubling up and the space is used more effectively. As if the software navigation wasn't easy enough, the device once again includes a number of quick-access buttons on its front. A Start key and jog wheel are included if you don't want to pop the stylus out, with the main action key confirming your selections.
An OK button can also confirm data you have entered, or exit a program and return you to the main screen. A dedicated voice button puts you into voice speed-dial mode or can be held for three seconds to bring up the voice recorder. Windows Mobile 5.0 also aids the ease of use of the PDA, by offering relevant functions when necessary. For example, if the phone is having trouble connecting to a Wi-Fi network or getting a GPS signal, a link to those settings is included in the warning box so you don't have to remember where to go to access them.
Entering information on the SPV is a little fiddly if you use the small on-screen keyboard, although speed increases with practice. Much more useful are the Letter Recogniser and Transcriber functions. These turn single characters or whole joined up words into text for quicker entry and easily handled even web addresses without too many mistakes. That comes in handy for the mobile versions of Excel, PowerPoint and Word which are included as standard. There's also a Zip program so you can access office documents sent through your email or cut down on your bill when sending documents from the SPV.
Email can once again be accessed through a POP address or by using a push service. Businesses using the Orange Mail ES server next to their own mail software can send push email to the device, or consumers can buy the service as an extra. A big benefit these days - just ask Nationwide following its £1m fine for mislaying customer records - is that sensitive data can be encrypted and deleted remotely by your IT department if the device is lost.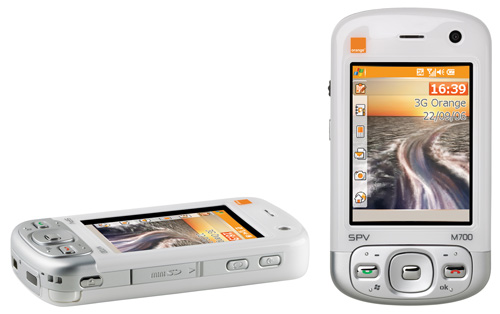 Email can be shared between PC and the PDA using Active Sync. This offers the usual functions such as syncing contacts, software programs or files. Since this is an SPV - standing for sound, pictures and video - files are also synced and copied across from Windows Media Player 10. Music and video files can be sent to a card in the Mini SD slot, so the main phone memory isn't overloaded.
The camera function adds another reason to make the M700 the only device you take out with you. That's because when you turn it on its side it has the feel of a standard digital camera. The large 2.8in screen and two-megapixel camera haven't changed since the previous model. However, the screen that displays the image now shows a number of quick-access picture options. These include items such as picture quality, flash settings and self timer, which appear without making the camera view seem cluttered.
Verdict
There's almost not a bad word to say about the SPV M700. Its 400MHz processor and 128MB SDRAM are sufficient to handle the phone's capabilities. Connecting to Wi-Fi network is an absolute doddle, and the M700 is quad-band phone so you don't suddenly disappear when you travel around the globe. In fact, apart from a slow GPS start-up, we only have one other moan.
In our opinion it's about time the games package got an overhaul, with Bubbles and Solitaire still the only free options. When are we going to see Windows classics such as Minesweeper included as standard? Or better still a multi-player version of Hearts that matches the desktop's internet version?