Original URL: http://www.theregister.co.uk/2007/04/02/ten_reasons_to_update_to_vista/
Ten Reasons why you should upgrade to Windows Vista
In case you need persuading...
Posted in The Channel, 2nd April 2007 07:02 GMT
Love it or hate it, you can't ignore Windows Vista. Fans of Apple's Mac OS X will tell you that all of the good bits of Vista have been blagged from the Tribe of Jobs but the fact remains that the vast majority of us use Windows XP so the question is simple, why the hell should we make the switch from Windows XP to Windows Vista? We've got ten solid reasons why you should.
1. Safer than houses
By default, Windows XP is open to the world. Every user has complete control over the guts of Windows and you only have to open a dodgy web page to find that your PC is infected with malware. Microsoft, Symantec, ZoneAlarm and other security vendors have their work cut out plugging the various holes, but Vista changes all that. This time access is locked down tightly from the start, and while it can get annoying, the User Account Control feature will prevent software from running or making any changes unless you give it specific permission to do so. It's easy to suffer from UAC fatigue where you authorise every pop-up without reading it properly, but despite that it's clear that Microsoft has taken a major step in the right direction.
2. Aero-batics
A new version of Windows wouldn't be complete without a major serving of eye candy, and Aero is that sugary delight. Aero uses graphics hardware to add translucent borders to your windows, which is nice, while Aero Flip stands all of your open windows up in an angled line and lets you quickly scroll through them to the one you want, using your wheel mouse.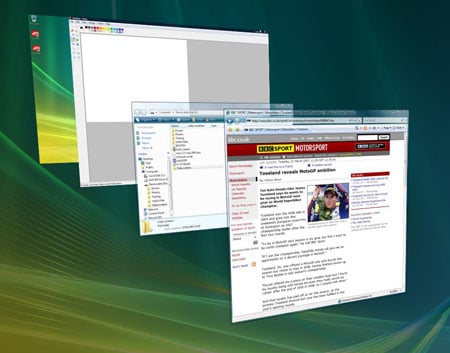 The third part of Aero is the taskbar. As you roll the pointer over the minimised icons on the taskbar, thumbnails of the contents of each window pop up in order that you can track down the window that you're after, quickly and easily. Perhaps Windows Vienna should be called 'Tiles' rather than 'Windows' when it's released in 2011.
3. The bundled apps got better
Just like every version of Windows in history, Vista includes a number of bundled applications. Windows Movie Maker 6 has a smart new interface and, more importantly, it supports the new HDV high-def video format.
On the games front, you get tarted up versions of FreeCell and Minesweeper and in addition there's Chess Titans and Mahjong Titans. They're both good games that look smart and play impressively well - I struggle to beat Chess on level three. Out of nine.
4. Xbox Live now equals Vista Live
Xbox Live, the multiplayer gaming system, has been expanded to include Windows Vista so you can join in the on-line fun and frag your friends. That's right, it's one great big happy Microsoft gaming family. Get ready for some cross-platform Halo 2 multiplayer action.
5. Halo 2. Halo 2. Halo 2
Halo was an enormously successful game when it finally shipped for the PC, and Halo 2 sold by the truckload in its Xbox 360 incarnation. It's coming to the PC too, but you won't be able to play it on your Windows XP PC when it is released on 18 May because it will only run with Windows Vista.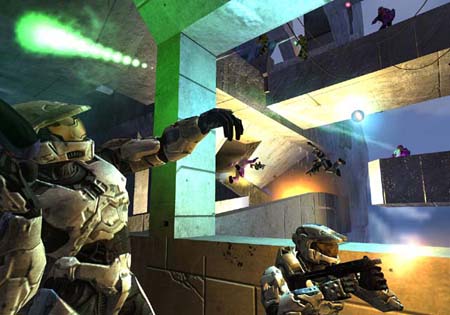 Other developers may be unwilling to ignore all the Vista refuseniks out there but the Halo series is published by Microsoft and it's using the game as a great big stick to steer not only its own customers but hopefully all those pesky Play Station 3 and Nintendo Wii reprobates.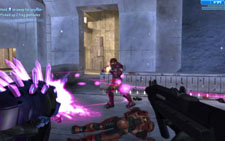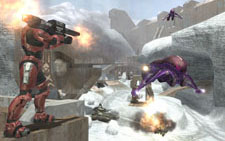 If you expect anything to change with Halo 3 you've got another thing coming. PC users had better get used to the fact that Halo = Vista.
6. DirectX 10
If you want to get the most out of your GeForce 8800 or Radeon X2900 by playing DirectX 10 games such as Unreal Tournament 2007 and Crysis then you're going to need Windows Vista because, apparently, DirectX 10 isn't compatible with Windows XP. Or it's too much work to port it across. Or something.
Realistically, the developers of top-line games aren't going to ignore the massive installed base of XP users but if you want to get the full effects, it's time for a new operating system. No way is this blackmail on Microsoft's part, it's a technical issue. Honest.
7. Click... and it's there
The WinFS relational database file system may have famously been ditched during the development of Windows Vista but in its place is a search facility that works much like Google Desktop - and oh so fast. Vista indexes the contents of your PC continuously. When you run a search on indexed content - and the parameters can be tightly specified - the results come back almost instantly.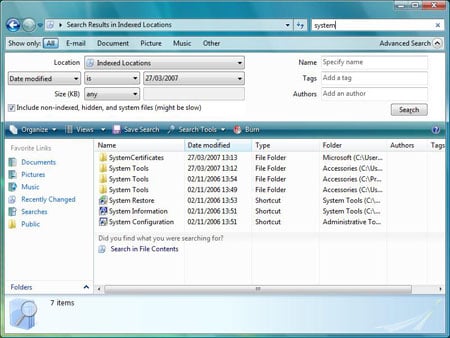 8. Windows Firewall: looking outward, looking inward
The firewall in XP monitored incoming traffic for nasties but we all know that's only half the battle. You also need to monitor outward bound traffic to make sure that any software that's reporting back to servers on the internet has your approval to do so. Updaters and the like are fine but Trojans and keyloggers are very bad news and need to be nipped in the bud. Vista's new firewall in Vista does just that. Bye-bye, Zone Alarm.
9. SideShow laptops and exotic motherboards
OK, so it's not so much a reason to upgrade to Vista as to completely update your hardware, but Microsoft's new OS for once has a good reason to do so, and not just the usual raised memory and hard drive capacity requirements. Vista adds support for a secondary screen called SideShow so you can check your email or look up an address without turning on your laptop or PC. Realistically, this is an acknowledgement that every version of Windows takes an age to load up so Microsoft has cheated by adding an embedded OS that syncs with Vista to keep your data files all shipshape and Bristol fashion.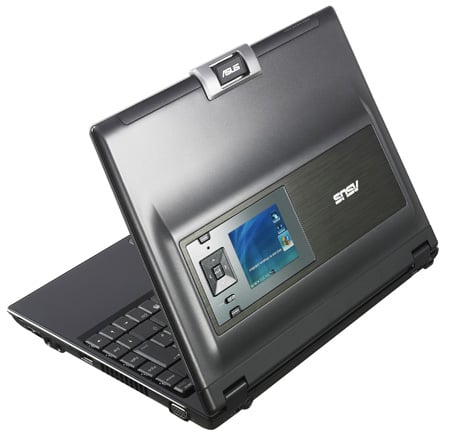 10. It's inevitable
Windows XP will be slowly strangled so you might as well get with the mission. Over time, Microsoft kills off support for old versions of the OS, and XP will prove no exception. And no doubt MS will also add killer features that are only available for Vista. You can expect this push to start with Service Packe 1, due later this year, and during 2008 and 2009 Windows XP will look as limp as a boiled lettuce until you finally give in to the pressure and buy a new Vista PC or laptop.