Original URL: http://www.theregister.co.uk/2007/04/02/review_sapphire_x1950_gt/
Sapphire Radeon X1950 GT-based graphics card
Cheaper than the X1950 Pro - but potentially as powerful?
Posted in The Channel, 2nd April 2007 10:52 GMT
Review AMD launched the ATI Radeon X1950 Pro at the end of 2006, pitching it as a cut-down version of the X1950 XTX. It's now come up with a cheaper version, the X1950 GT, taking the technology below - well, just - the £100 mark.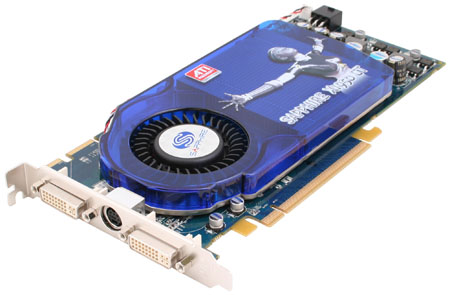 The Pro uses 12 of the 16 pixel processing pipelines - all in groups of four 'quads' - available in the XTX. The X1950 family has three shaders per pipeline so the XTX has 48 shaders and 16 texture units, while the Pro has 36 shaders and 12 texture units. The Pro's core and memory clock speeds were reduced from the heady 650MHz/2000MHz of the XTX to 575MHz/1400MHz.
The Pro also gained an interesting new feature in the shape of internal CrossFire connectors that look very similar to the SLI connectors that Nvidia has used from day one. The only difference is that SLI has one bridge while CrossFire 2 has two of them so every graphics card can be supplied with a single bridge and when you buy a second card you automatically have the two cards and two bridges that you require for dual-card gaming power.
The GT uses the same 80nm RV570 graphics chip that was used in the Pro except - so it too has 12 pipelines - that it has been clocked down to a core speed of 500MHz. Its memory that runs at a true 600MHz for an effective speed of 1200MHz.
The GT is $20 cheaper than the Pro. As the Pro sells for around £109 over here, this means that we get the GT with 256MB of DDR 3 memory for £99.
Put all these numbers together and you quickly see you're getting about 85 per cent of the performance of the Pro for about 90 per cent of the cost, which sounds like a reasonable proposition, so let's see how the GT performs, using a Sapphire X1950 GT as our sample of the class.
We used an oddball test platform comprising an Intel D975XBX motherboard with a Pentium D processor running at 3.46GHz. It has two cores with Hyper-threading to give four virtual cores but it's a toasty beast that draws over 100W. In addition, we used 2GB of PC2-6400 Kingston Hyper X memory and a WD150 Raptor hard drive. We ran Windows XP Pro SP2 with Catalyst 7.2 drivers.
Let's take a quick look at the Sapphire package. Naturally, the GT has dual DVI outputs as well as s-video so you get two DVI-to-VGA adaptors, an s-video extension cable, an s-video-to-composite adaptor, a composite cable and an s-video-to-component adaptor cable. The GT requires a single six-pin PCI Express power connector and Sapphire includes an adaptor so you can employ a regular four-pin Molex connector, just in case your power supply doesn't have a suitable connector.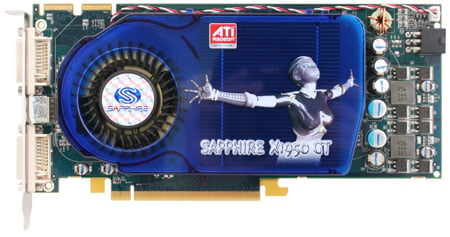 In addition to the driver CD you get PowerDVD 6 and Just Cause which looks as though it might be based on Revolution.
Testing started badly.
The single-slot Sapphire GT roared into life and once the Catalyst drivers had installed the fan continued to roar. We used Riva Tuner to check what was going on and found that the fan was spinning at 81 per cent of maximum speed. We manually adjusted the speed to 50 per cent and found that the GT didn't go over 50°C even when it was working hard. Dropping the fan speed further, to 40 per cent, raised the temperature by five degrees.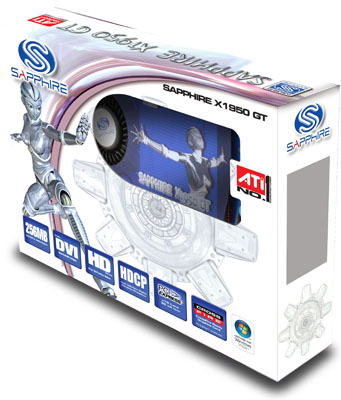 We put in a call to Sapphire and were told that our samples must have a development BIOS so a quick email later and we had an updated BIOS which took seconds to install and all was well. Suddenly, the graphics card was quieter than the processor cooler, which is how we like things to be.
Testing a single GT gave respectable figures in all departments, although performance started to suffer when we enabled 4x anti-aliasing. Performance is about 20 per cent lower than the Pro so naturally enough our thoughts turned to overclocking, especially when we read claims that the GT can be made to run as faster than a Pro, getting up to a core speed of 608MHz and 1486MHz memory.
We installed ATITool 0.27 Beta 1 and tried to raise the core and memory clocks and immediately caused the PC to restart, not once but several times. The moral of this tale is that the 1950 GT is not a Pro in a different box, but is instead a chip that has failed to make the grade as a Pro. If you get lucky then all well and good but don't go banking on an easy overclock.
3DMark06 1.1 Benchmark Results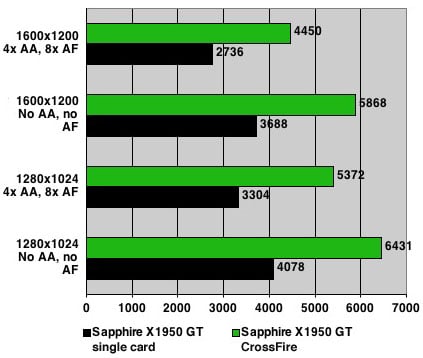 Bigger bars are better
Far Cry 1.4 Benchmark Results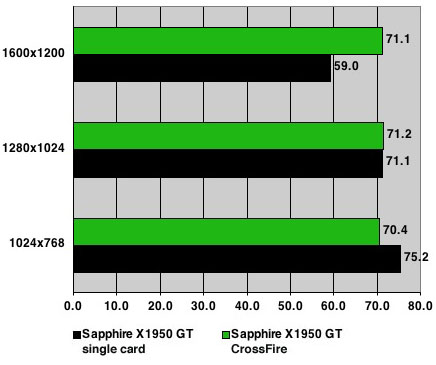 Bigger bars are better
We fell back on Plan B and installed a second GT in CrossFire mode, which worked flawlessly. As ever some games and benchmarks respond to the second graphics card while others show no benefit. 3DMark06 jumped by a healthy margin, Far Cry didn't change at all, FEAR: Extraction Point gained about 25 per cent and Half Life 2 edged up by a moderate amount.
FEAR: Extraction Point Benchmark Results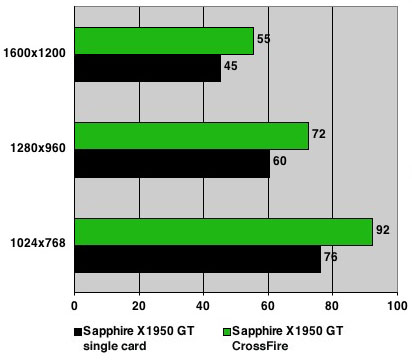 Bigger bars are better
Half-life 2: Lost Coast Benchmark Results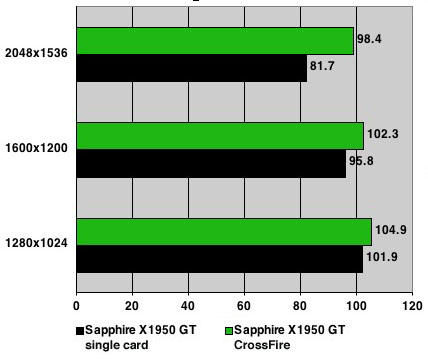 Bigger bars are better
We were impressed by the results but we'd expect something good from £200 of graphics card, whether it comes in one card or two. The upshot is that that we can consign the original Master/Slave CrossFire arrangement to history, along with the wretched external cables. Internal CrossFire is the only type to go for, and anyone who is interested in a budget graphics card should strongly consider the X1950 GT. The Pro is better and barely more expensive but if you're on a tight budget this £99 wonder may do the trick.
Verdict
We all know that the days of Radeon X1950 are numbered as the X2000 series is just around the corner, but never mind that. The £99 GT delivers the goods and deserves a place on your short list for a gaming or Vista-inspired graphics upgrade.