Original URL: https://www.theregister.co.uk/2007/04/02/new_orleans_demolished/
Google demolishes New Orleans - again
Swift Google Earth update restores post-Katrina images
Posted in Science, 2nd April 2007 18:07 GMT
Google has moved with something approaching lightning speed to replace images of New Orleans on Google Earth which had apparently airbrushed the effects of hurricane Katrina from history.
The good burghers of the Big Easy were none too happy with a recent Google Earth and Google Maps update replacing previous candid images of the city's destruction.
Back in 2005, two alternative views of the city were available: pre- and post-apocalypse, as demonstrated below with grabs of the Galvez Street Wharf (left) and Lower 9th Ward (right):
Last week, however, these options had disappeared, and Google was offering a rather more happy picture: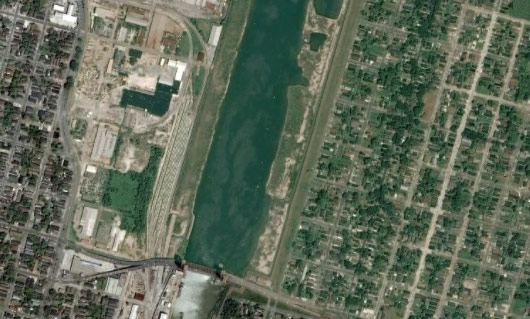 This piece of apparent skullduggery prompted Ruston Henry, president of the economic development association in the city's Lower 9th Ward, to decry: "Come on. Just put in big bold this: 'Google, don't pull the wool over the world's eyes. Let the truth shine'."
Henry added: "Is Google part of the conspiracy? Why these images of pre-Katrina? Seems mighty curious."
The politicos pretty quickly jumped on the conspiracy theory bandwagon, with Republican congressman Brad Miller, chairman of a House of Representatives science oversight subcommittee, issuing a letter last Friday "demanding an explanation for the changes from CEO Eric Schmidt".
Miller's communications director Luann Canipe told CNET: "The congressman's concern is that it was fundamentally dishonest. Certainly the most basic question is, did someone ask you to change the maps and if so who was it?"
Not the powers that be in New Orleans, according to Ceeon Quiett, spokeswoman for Mayor Ray Nagin. She said last week "that as far as she was aware, the city did not request the map change", adding: "My first reaction was, that's a bit problematic."
Well, the rumpus evidently rattled Google, since it yesterday updated the New Orleans imagery to more adequately reflect the current state of play. Here's the same area around the Galvez Street Wharf as currently available (click here for the same on Google Maps):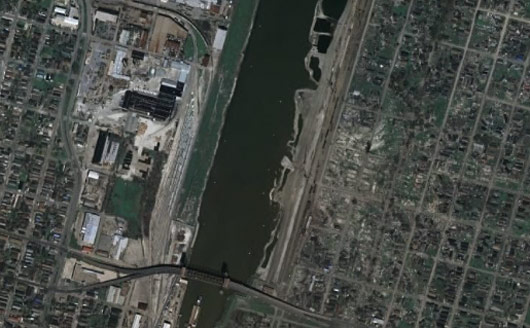 A Google blog post offers the following explanation for the kerfuffle:
In 2005, shortly after Hurricane Katrina hit New Orleans and the Gulf Coast, a very motivated group of volunteers at Google worked with NOAA, NASA, and others to post updated imagery of the affected areas in Google Maps and Google Earth as quickly as possible. This data served as a useful reference for many people -- from those interested in understanding what had happened, to friends and families checking on the status of loved ones and property, to rescuers and relief workers. Shortly after the event, we received a voicemail thanking us for the role Google Earth played in guiding rescuers to stranded victims.

Several months later, in September 2006, the storm imagery was replaced with pre-Katrina aerial photography of much higher resolution as part of a regular series of global data enhancements. We continued to make available the Katrina imagery, and associated overlays such as damage assessments and Red Cross shelters, on a dedicated site (earth.google.com/katrina.html). Our goal throughout has been to produce a global earth database of the best quality -- accounting for timeliness, resolution, cloud cover, light conditions, and color balancing.

Given that the changes that affected New Orleans happened many months ago, we were a bit surprised by some of these recent comments. Nevertheless, we recognize the increasingly important role that imagery is coming to play in the public discourse, and so we're happy to say that we have been able to expedite the processing of recent (2006) aerial photography for the Gulf Coast area (already in process for an upcoming release) that is equal in resolution to the data it is replacing. That new data was published in Google Earth and Google Maps on Sunday evening.
Well, the result is pretty graphic. Here's a randomly-picked detail of the Lower 9th Ward, of which Ruston Henry said: "Everything is missing. The people are missing. Nobody is there."