Original URL: https://www.theregister.co.uk/2007/03/30/group_test_gps/
Show me the way to go home: GPS on test
Ten gadgets to get you from A to B
Posted in Science, 30th March 2007 12:05 GMT
Group Test Gone are the days of thumbing through your dog-eared 1988 AA route map while trying to navigate the fast lane of the M25 in search of your pal's new London pad. For now is the time of satellite navigation.
Over the past three years, the market has been flooded with a vast array of navigation units employing the Global Positioning System (GPS) technology to get you from A to B as quickly and - hopefully - as safely as possible. And if you want to know which is best for your needs, this little lot should hold the answer...
Magellan CrossoverGPS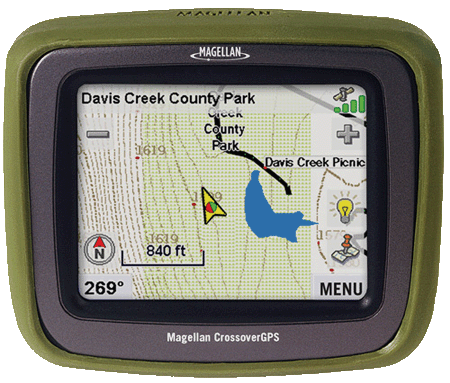 Satellite navigation and outdoor gadget specialist Magellan has finally followed the obvious route and launched the CrossoverGPS, a go anywhere at any time navigation unit that laughs in the rain-sodden face of the great British weather. The rugged, yet sleek and pocket-sized Crossover means you won't get lost whether you're travelling by car, boat or foot. Weighing in at a middling 235g, the Crossover is IPX-4 waterproof with a battery life of around eight hours and a clear and bright 3.5in touchscreen with good on-screen graphics.
Pre-loaded with street maps for Great Britain and Ireland you can upload the whole of Europe via an optional SD card for driving with street-by-street visual and voice guidance, live traffic reports, multi-destination routing and SmartDetour, which automatically routes you around slow motorway traffic. There are millions of points of interest (POIs) to keep you entertained, with interactive icons for instant routing to where you want to go. There's a decent music player and photo viewer too.
The Crossover's unique selling point, though, is its versatility. Alongside the street and topographic maps is a boating guide offering latitude and longitude co-ordinates, with the relevant nautical mode switching the read-out to nautical miles and knots. Magellan has also thrown in a compass and altimeter for any less conventional route you may choose to take - colloquially known as 'the shortcut'.
Magellan CrossoverGPS
---
Best for outdoors
Magellan takes the satnav mantra of 'go anywhere' to the limit with this all-terrain, all-weather wonder
TomTom One Europe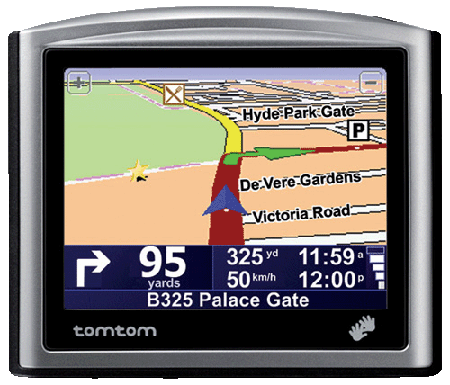 TomTom has really hit the proverbial satnav nail on the head with its range of simple to use and good looking - if a little bland - GPS units, but for the average commuter operating on a budget there's nothing better than the TomTom One Europe.
At just 174g it's feather light and easily small enough to slip in the pocket - skinny jeans notwithstanding. The One Europe - there's a non-Euro map version available for a few quid less - holds a puny 32MB of on-board memory, but uses an SD card to store its bountiful maps. There are no buttons beyond the power key, the TomTom relying instead on that very good 3.5in touchscreen for all your menu navigation needs.
The interface is clean and easy to use, the screen not too sensitive, and the maps clear, concise and easy to refer to while driving. Bluetooth 2.0 is included for hands-free phone calls, and there are thousands of POIs for instantly finding petrol stations, banks and other essentials. The budget price does show up with a lack of text-to-speech functionality, so it's basic voice instructions rather than road names read out to you. Also missing is any media playback paraphernalia, but that's probably a boon considering the less than ample two-ish hour battery life. And in all honesty, do we really need any of these extras anyway?
In use the One Europe was almost faultless, picking up the satellite signal quickly, giving with clear and concise directions, and performing pretty speedy route recalculations in the face of nasty traffic or an unexpected diversion. Great mapping, insultingly easy to use interface and a price that can't be beaten. Budget satnav doesn't get any better.
TomTom One Europe
---
Best for budget
Superb price, superb functionality, superb looks. So, superb then
Navigon TS 7000T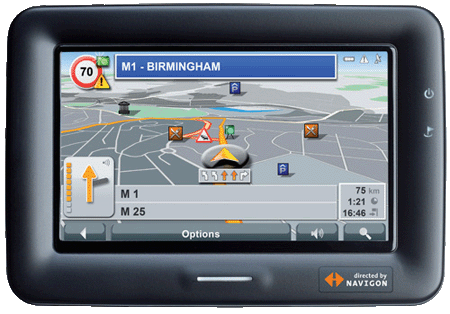 Navigon's TS 7000T looks more like a small LCD TV than a satnav unit thanks to its expansive 4.3in, 16:9 touchscreen display and a skinny, sleek black surround with minimal detailing. Built into the svelte livery is a very capable satnav system that comes pre-loaded with a 2GB memory card stuffed to the hilt with mapping for 37 European countries - so pretty much all of them then. And thanks to that huge display and Navigon's traditionally easy-to-read map layouts, breezing across the continent becomes a headache-free experience bar the dodgy Euro driving ethic, that is.
Alongside traditional route direction the Navigon also features an "economic route" function that uses local knowledge-esque information to navigate through towns and cities and at the other end of the scale a "scenic route" option for those in no particular hurry.
Using the particularly clever MobileNavigator 6 software, the Navigon features the likes of lane assist and POI technology alongside GATSO detection for keeping that accelerator foot under control as you race towards the Autobahns of Germany. It also has TMC traffic jam avoidance so you won't have to slow down too much when you get there.
What we really like about the 7000T though is the country-specific info it automatically volunteers as you traverse from border to border on your epic road trip. Freewheel from France into Italy, and the 7000T will immediately recognise the difference in road laws, letting you know the likes of speed limits, drink-drive regulations, traffic rules and any other salient information that'll help keep you on the road and out of jail. Which is always handy. Looks great, works brilliantly.
Navigon TS 7000T
---
Best for driving overseas
Feeling adventurous? Then let the 7000T navigate you from country to country in safety
Mio Technology H610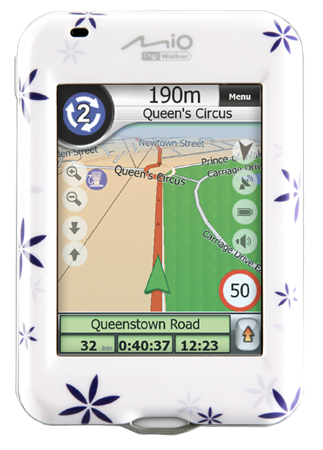 Mio's H610 looks to take satellite navigation out of the car and into handbags across the nation, because it's aimed directly at girls. And although we can feel the icy breeze of techno-loving feminists huffing across the nation, the H610 is actually a very tidy unit. Suitably diminutive - so it'll fit in the Prada bag, sweedie, darling - the Mio features a 2.7in touchscreen framed by a series of "feminine" interchangeable surrounds - two come supplied - and the kind of pick-up-and-go simplicity any technophobe female will love.
Behind that flashy façade sit maps for 24 European countries with 1.8m POIs supplied by Tele Atlas, 1GB of memory with an SD slot for expandable media so you - OK, she - can take advantage of the in-built MP3 player and picture viewer. The mapping software features seven-digit postcode search and is simple enough to use, though that screen is a little small to be ultra-clear when driving. It even uses a male voice to keep the ladies company. There's no traffic update info, though, so getting stuck in a jam is as likely as ever.
Alongside the standard mapping gubbins, Mio has opted to include Outlook syncing, digital compass, various games and its WorldMate software, which offers weather info, currency conversion, measurements, dialling codes and, most importantly, clothing size conversions "to facilitate more effective shopping abroad". Like they need any help...
The Mio is a well thought out and easy-to-use GPS unit that, although catering to serious stereotype in places, should fit nicely into the life of any upwardly mobile modern woman. Who likes shopping.
Mio Technology H610
---
Best for your missus
Make sure your gal never gets lost again with the first satnav system specifically for her
Sony NV-U51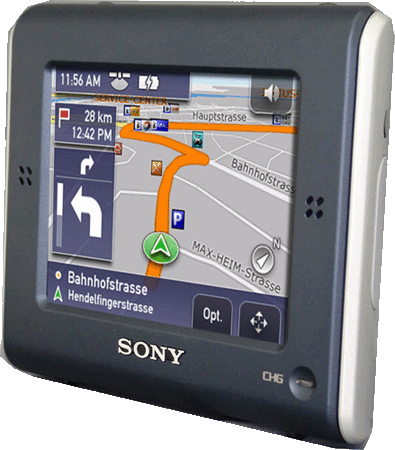 Sony's entry-level navigation effort is a net little device that offers far more functionality than its diminutive price tag would suggest. The World War II submarine-sounding U51 is the first Sony satnav to use the company's new Gesture Command technology, a method of inputting your route that Sony claims is easier and safer than trying to navigate menu systems and type addresses while traversing busy roundabouts at high speeds - though aren't you supposed to enter your destination before you start your journey?
Despite its none too imposing size, the Sony is a chunky piece of kit weighing in at 280g and accompanied by a screen-mount cradle that looks like it was designed by JCB - it's absolutely enormous. The anti-glare and anti-fingerprint 3.5in touchscreen is very good though, as you would perhaps expect from Sony, and it's through this that you get to experience Gesture Command.
This new technology essentially lets you draw a line or shape or scribble a command like 'get me home' on the U51's screen with your finger, which the system then interprets as directions to your destination - and that's it. Sounds odd, but in practise it's intriguing yet simple to use. Alongside traditional journey planning, you can use it for one-touch functions like returning home or heading to a specific POI.
The U51's menus are easy to navigate and the maps are intuitive, although we sometimes found the huge amount of on-screen information detracted from actually seeing our intended route. All standard functions are in attendance - 2D and 3D maps for the UK and Ireland, voice guidance and speed camera locator, with a month's free updates - but there's no MP3 player or Bluetooth.
Sony NV-U51
---
Best for technology
Sony's clever little box gives other satnav systems the finger - literally
Navman N60i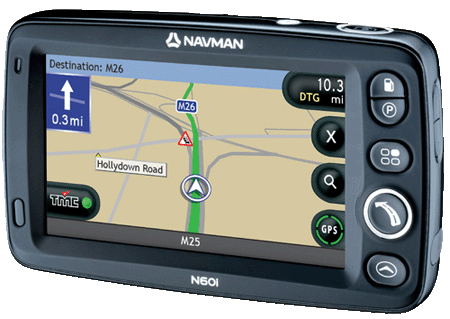 The satnav equivalent of the state of Texas: everything is bigger and better with Navman's top-of-the-range N60i, a monstrous unit that packs pretty much every conceivable feature into its gargantuan frame.
Touting a superb TV-esque 4.3in touchscreen and weighing in at 240g, the N60i still manages to looks sleek and stylish dressed in an all-black frame with a simple run of chunky direct-access buttons along the right. Maps for 21 European countries are available through the 2GB of built-in Flash memory, and they're among the best we've seen in terms of layout, graphics and pure uncluttered usability.
As a navigation aid, the N60i is almost unrivalled, with a blindingly simple and clever menu system, one-touch access to the most commonly used functions, and a supremely quick start up and route builder. In use it was simply faultless.
But it's with the add-on features that the Navman really excels. None is essential, admittedly, but for gadget lovers it's an irresistible lure. Navpix is Navman's trick card - a built-in 1.3-megapixel camera means you can take a picture of a certain location and the N60i will store its GPS co-ordinates. You can then navigate back to it using the picture at a later date. Gimmicky maybe, but it's a fun feature nonetheless.
Elsewhere, there's the T1 traffic pack for constant traffic updates, a speed camera locator, lots of POIs alongside an import facility for adding your own, full eight-digit postcode search, voice guidance and plenty of fine-tuning options. But there's no Bluetooth or MP3 player. As pure satnav goes, the N60i is as good as it gets, but it comes with a hefty price tag.
Navman N60i
---
Best for money being no object
Novel features and an unrivalled navigational system - but it comes at a hefty cost
Garmin NüVI 670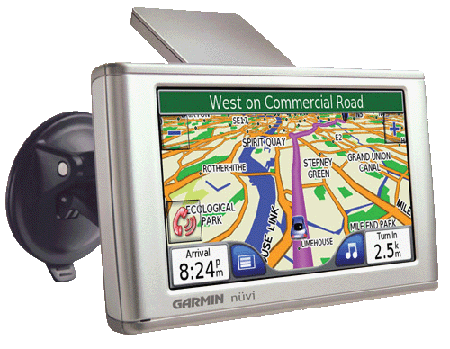 Garmin's new 670 is touted as the complete navigation gadget and features a number of cool new additions alongside a plethora of non-navigation functions. Garmin has opted for the larger and thus easier to use while driving daylight-readable 4.3in-wide touchscreen, and the 670 comes pre-loaded with maps for the 30 European countries, North America, Canada and Puerto Rico.
The shiny silver 670 houses 1.25GB of in-built Flash memory, which can be easily expanded via the SD card slot should you wish to fill it up with music or pictures to take advantage of its MP3 and audiobook player and JPEG photo viewer functions. Bluetooth is present for hands-free phone calls, but it's the FM transmitter that really grabs the attention. In car, this means you can play the text-to-speech voice guidance, MP3s and phone calls via your car's own speaker system, making for infinitely better sound quality all round.
There's an enormous POI database; FM TMC traffic receiver with instant re-routing for traffic jams, road works and weather related problems; 2D and 3D maps; currency and measurement converters; world clock; calculator; and simple software downloads for the likes of language and travel guides should you find yourself on a road trip through... er... Puerto Rico.
Garmin has a fine heritage in GPS navigation systems and the top-of-the-line 670 lives up to that reputation in every way. Alongside the well-versed and intuitive maps and menus lies a fully featured multimedia system designed to keep you entertained and in control no matter where you are in the world. Comprehensive barely covers it.
Garmin NüVI 670
---
Best for convergence
Expensive but all-encompassing satnav and multimedia crossover gadget
TomTom Go 910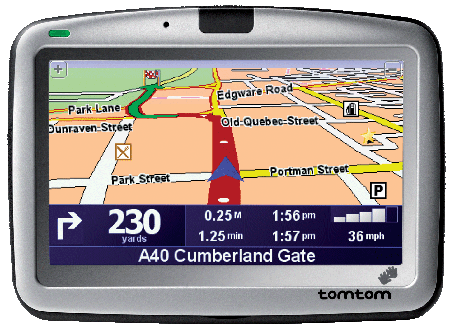 Looking to expand on its already supreme range of satnav systems, TomTom has included a huge 20GB memory in its Go 910. If you've already glanced over the TomTom One Europe review earlier in this group test, you'll know that the company's menu system, map graphics and screen layout is second to none, and with the new improved wide 4in touchscreen, things only look better on the 910. Obscure viewing angles, bright sunlight - nothing seemed to hinder our viewing experience.
Maps for 19 European countries (though not Ireland) are included alongside North America and Canada, and account for 8GB of that 20GB memory. A quick bit of maths reveals that leaves a meaty 12GB space for your MP3s and piccies, easily accessible via the excellent TomTom Home software. You can also buy an audio cable to hook it up to your car stereo for music playback either from the hard drive or via your iPod, which you can then control via the TomTom's touchscreen - something you'll need to do if you intend to take use of the MP3 feature as the 910's own speaker is unsurprisingly tinny and won't do your impeccable music taste any justice.
The ubiquitous satnav must-haves are all accounted for too: Bluetooth, probably the best text-to-speech system currently available, remote control and TomTom's excellent Plus service, which brings you real-time traffic information - a free one-month trial is bundled - speed camera alerts and real-time five-day weather reports.
But above and beyond all the features and design genius, it is still the simple act of navigating from A to B with the minimum of hassle that the Go 910 excels at, and excel it does. Superb.
Best for home and business
TomTom Go 910
---
Best for everything
The best of everything satnav has to offer easily accessed at a price that won't break the bank
Fujitsu-Siemens Pocket Loox N100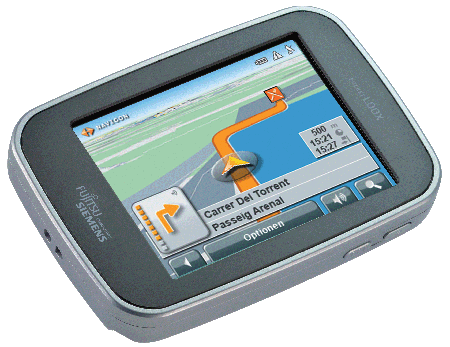 The Pocket Loox is a crossover PDA and satnav device that's been called the PNA answer to the iPod - and a brief perusal of its silky curves and shiny silver and white livery should immediately tell you why.
The smallest and lightest PNA on the market - a floaty-light 110g - the N100 is smaller than many mobile phones but certainly isn't feature light. As a PDA it's missing some hardcore business apps, instead offering basic games, clock and calculator, but as a satnav it's got everything you expect and need.
The brilliant 2.8in touchscreen is as bright and clear as any GPS unit on the market and opens up a menu system that's as easy and intuitive to navigate through as the pack-leading TomTom's. You're even provided with a decent stylus to prevent a fingerprint-riddled screen.
Maps for the UK, France and Nordic nations are supplied via the 1GB Mini SD card with more on the enclosed DVD - an impressive 37 countries in all - and are effortlessly smooth in real-time 2D or 3D with surprisingly loud voice guidance that increases in volume as you accelerate - nice touch. The unit lists thousands of POIs, and provides auto-rerouting and lane assist. The only thing we really missed was a speed camera database and traffic updates, for which you'll need to buy a TMC aerial.
While The N100 can take a little while to locate a satellite from the off - five minutes tops - once up and running it is uniformly quick and accurate, and amazingly easy to use even with that slightly smaller screen. Throw in an excellent music player, as Fujitsu-Siemens has, and you've got a great looking love child of iPod and satnav - brains and beauty in one slight package.
Fujitsu-Siemens Pocket Loox N100
---
Best for style
Tiny, capable and beautiful - it's the Kylie Minogue of the satnav world, but with a better singing voice
Road Angel Navigator 6000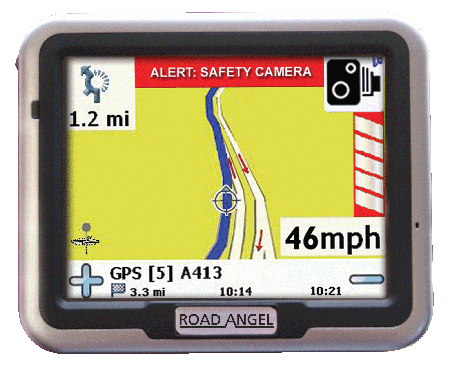 The Road Angel Navigator 6000 is two units rolled into one miraculously slight satnav system. Alongside the standard GPS, the Navigator has incorporated the best bits from its dedicated speed camera and blackspot database units - use them both simultaneously or disable the GPS leaving only the speed cam detector active if you already know where you're going.
The unit itself is pretty titchy though quite thick and sports a 3.5in touchscreen, which was adequate if a little dull and grainy in comparison to some. The menu system, however, is simply confusing, suffering from the need to press too many keys to actually do anything - not driver-friendly at all. The UK maps themselves are clear enough though and offer all the salient features like 2D and 3D mapping, seven-digit postcode search, voice guidance, auto-rerouting (though this was by no means snappy in its decision making) and, of course, speed camera alerts.
In use as a pure GPS device the Road Angel performs but isn't in the same league as some rival priced systems, with slower response times, flawed route planning and a not-so-great screen. But then there's its ace card: the speed camera detector, which Road Angel has poured all its considerable experience into.
Approach a speed camera (including common mobile cam locations), accident blackspot, school, congestion charge zone and even unprotected railway crossing and it'll beep and flash at you like the world's going to end, with none other than the dulcet tones of Tiff Needell informing you of the fast-approaching obstacle. Whether that's a good or bad thing is personal choice.
As an alert system it's second to none, but coupled to a mediocre satnav we'd rather take our chances elsewhere.
Road Angel Navigator 6000
---
Best for speed freaks
Only boy racers need apply.
Verdict
Ten very different and very capable satellite navigation solutions guaranteed to stop you getting lost in the backwaters of beyond ever again. But for us, there are a couple of standouts: the two TomToms that bracket the market in terms of price, each offering a brilliantly intuitive UI with great mapping and faultless performance. Also deserving a hearty pat on the back is the Fujitsu-Siemens Pocket Loox N100, a device that takes the modern fascination with aesthetics and mixes it with great functionality and multi-tasking ease of use to huge success.