Original URL: https://www.theregister.co.uk/2007/03/30/google_rebuuilds_new_orleans/
Google rebuilds New Orleans
Hurricane? What hurricane?
Posted in Bootnotes, 30th March 2007 09:41 GMT
Google has casued a bit of a kerfuffle down in New Orleans by apparently rebuilding the city overnight and removing post-Katrina satellite images from both Google Maps and Google Earth, according to an Associated Press report.
Some locals are none too happy about the miraculous transformation, as an "incredulous" Ruston Henry, president of the economic development association in the city's Lower 9th Ward, explained: "Come on. Just put in big bold this: 'Google, don't pull the wool over the world's eyes. Let the truth shine'."
Henry said of the Lower 9th Ward, now visible in all its undamaged glory: "Everything is missing. The people are missing. Nobody is there."
By coincidence, The Register grabbed some images of part of the Lower 9th back in 2005 when Google Maps offered a Katrina image option. A wide view of the city either showed it before...
...or after:
And here's the effects of Katrina on Galvez Street Wharf (to the left) with the Lower 9th Ward to the right:
Here, however, is the same view as currently offered on Google Earth (click here to view on Google Maps):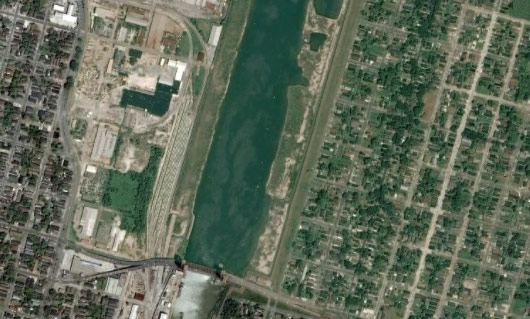 Ceeon Quiett, spokeswoman for Mayor Ray Nagin, said that as far as she was aware, "the city did not request the map change". She said: "My first reaction was, that's a bit problematic."
Ruston Henry went further, demanding: "Is Google part of the conspiracy? Why these images of pre-Katrina? Seems mighty curious."
Chikai Ohazama, a Google product manager for satellite imagery, admitted he didn't know when the new images were uploaded and stressed he hadn't been asked "personally" to make the change. He added that "the maps now available are the best the company can offer", and explained that Google used "numerous factors" to decide what's selected for the databases - "everything from resolution, to quality, to when the actual imagery was acquired".
One local offered a plausible explanation for the transformation. Fisherman Pete Gerica, who said he'd used Google images of his flooded waterside homestead "in his arguments with insurance adjusters", offered: "I think a lot of stuff they're doing right now is smoke and mirrors because tourism is so off. It might be somebody's weird spin on things looking better." ®