Original URL: http://www.theregister.co.uk/2007/03/28/review_hannspree_hannslouge/
HANNspree HANNSlounge designer LCD TV
Style over substance?
Posted in Personal Tech, 28th March 2007 11:39 GMT
Review Ever felt that boring old black and silver just wasn't you? When you go telly shopping are you uninspired by the me-too-ness of the models on offer? Want something in your lounge that makes a statement? Then Taiwanese manufacturer HANNspree could have just the model for you.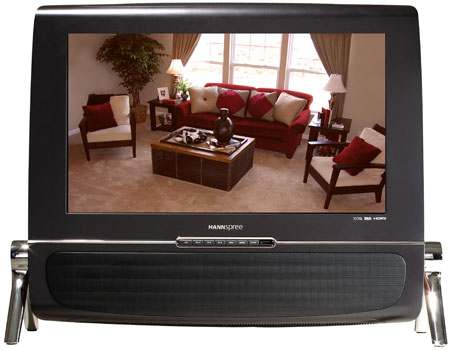 The HANNSlounge is actually one of its more sedate designs - it comes from a company that makes TVs shaped like fire engines and fruit. Seriously.
According to the blurb, the HANNSlounge is inspired by the classic designs of the 1950s, and combines both retro and modern in one single unit. The front is finished in "leather effect" plastic - although it looks more like plain old matt black plastic.
Round the back there's an imitation walnut wood effect, which seems a bit of a waste - after all, when was the last time you looked round the back of your telly except when you bought something that needed to be plugged into it? Finishing the set off is the "aluminium alloy, deer-horn shaped stand" that keeps it propped upright, although you'd be forgiven for thinking it looked like it tilts forwards and back on these inverted metallic antlers.
The design is certainly distinctive - whether it's to your taste or not is another matter. It's not that it's ugly, per se, it's just that it's not drop dead gorgeous either. It doesn't have the sleek lines of say a Sharp or a Sony, but then HANNspree has chosen a different direction to almost every other TV designer on the planet. Whether you think that's a good thing or not is up to you. The design also makes it quite big for a 26in model, measuring 79 x 62 x 24cm.
The screen stretches to 26in, although there are 32in and 37in models available in the range. The native resolution of the panel is 1,366 x 768, providing sufficient pixels for 720p content, but short of the 1080 standard which requires 1,920 x 1,080 of 'em. It will accept a 1080i signal and downscale it though so you can still display it, although obviously at a lower resolution.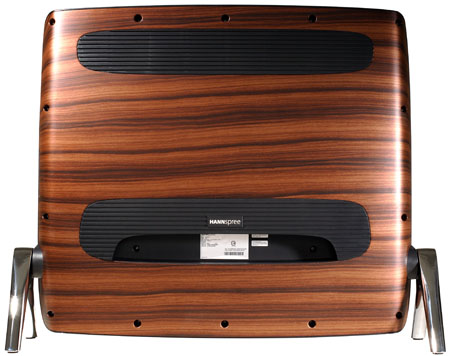 On a 26in set, you're unlikely to notice the difference of the higher resolution standard unless you sit extremely close to your TV, and possibly not even then.
The HANNSlounge has the standard array of inputs - with a couple of Scart sockets, s-sideo and composite-video. For HD there's both component-video and HDMI - although there's only one of each. While this is fine for now, given the lack of HD sources available, it could be a limiting in the future. An extra HD input would have been welcome to avoid having to resort to expensive switch boxes or manual intervention. There's also a VGA input, so you can hook up a PC directly.
The connectors are also a little difficult to get to, as they're all positioned vertically behind a lift-up flap at the back - making it hard to locate the correct connector and see which way round the plug should go. The flap is also reluctant to stay open - falling down at the most inconvenient moment and generally getting in the way.
Internally, HANNspree has only included an analogue tuner, so you're limited to picking up the five terrestrial channels - you'll need to team it up with an external set top box if you want to enjoy the channel choice offered by digital.
The screen has an 85° viewing angle in each direction, a decent response rate of 8ms but only a 600:1 contrast ratio.
When it comes to performance, the HANNSlounge provides a reasonable display. Using the built-in analogue tuner was, as you'd expect, disappointing - but switch to a decent source such as DVD and the results are much more pleasing. Colour reproduction was reasonably accurate and with satisfactory darks and lights.
Switching to an HD source, the difference was noticeably crisper although there was a slight halo effect which no amount of tinkering with the controls could rectify.
Hooking the screen up to a PC via the VGA input produced a solid image with no problems viewing the edges of the image. However, the display seemed to appear better when set to 1,280 x 768 rather than the native resolution of 1,366 x 768.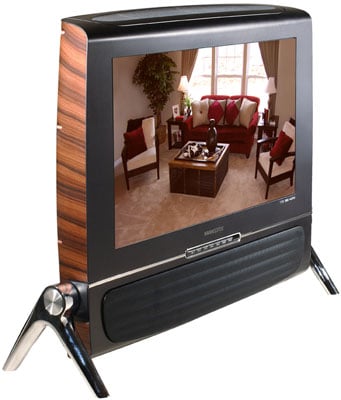 The HANNSlounge also features the ability to display two inputs side by side in 4:3 format at the same time - a nifty trick, although it's usefulness is probably limited in real life.
The remote control is sensibly laid out with easy to read labels. The buttons themselves are made of curved, clear plastic which slightly magnifies the text when read through them.
Those worried about their carbon footprint will be unhappy to learn that to power switch on the front only puts the unit into standby. To fully sever it from the mains supply you need to reach around the back, under the aforementioned flap that covers the connectors and hit the rocker switch by the power cable - an activity you're unlikely to want to repeat several times on a daily basis.
With an RRP of £679 the HANNSlounge is a little pricey for a 26in LCD TV. However, it's available for nearly half that online - I've seen it for around £380 - making it much more reasonable.
Verdict
If you want to standout from the crowd and don't want a boring standard-look TV, then HANNspree certainly has something more distinctive to offer. The design is quirky and definitely won't appeal to everyone, but it will get you noticed. But the lack of internal digital tuner is a disappointment and HANNspree has also been a little stingy with the connection options.