Original URL: https://www.theregister.co.uk/2007/03/26/griffin_updates_itrip/
iTrip updated for second-gen iPod Nano
Posted in Personal Tech, 26th March 2007 10:57 GMT
The latest incarnation of accessory maker Griffin Technology's iPod-friendly FM radio transmitter, iTrip, is now available to buy. The new model is designed to work with the second-generation iPod Nano.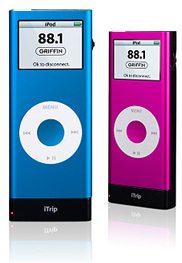 The iTrip clips on the bottom and back of the diminutive DAP, flush with the iPod's all-metal casing. The transmitter's broadcast frequency is selected using the player's own screen and controls. The iTrip automatically adjusts the iPod's playback volume to prevent level clipping.
There's even a mini USB port on board to allow the iPod to be charged while the iTrip's in place.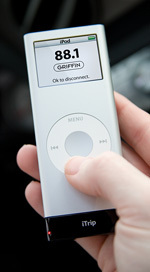 The iTrip for 2G iPod Nano costs £34 over here and $50 in the US. It's available from most reputable iPod accessory outlets.