Original URL: https://www.theregister.co.uk/2007/03/23/review_sony_playstation_3/
Sony PlayStation 3
It's arrived. Finally. Was it worth the wait?
Posted in Personal Tech, 23rd March 2007 14:43 GMT
2007's Top Products No one could have missed the recent mass of media attention surrounding the impending UK, European and Australian launch of Sony's PlayStation 3. And after months of prolonged waiting, it has arrived. We conduct an in-depth review of this eagerly-awaited games console and discover what all the fuss was about.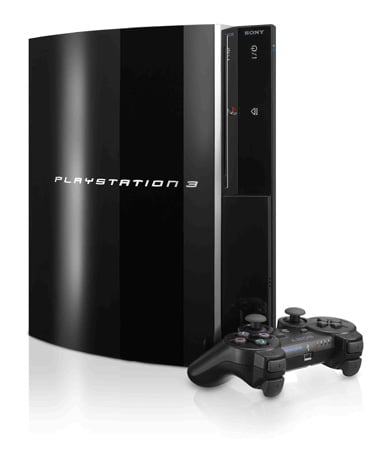 The newest addition to the games console arena is a no-nonsense piece of hardware: big, black and looking like it means business. The PS3 weighs in at a whopping 5kg - substantially heavier than either the Xbox 360 or the Wii, which respectively register 3.5kg and 3.1kg on the scales. The rounded edges and polished surfaces give it a sleek and stylish appearance - a world away from the look of the ageing, angular PS2.
The new machine feels sturdy and well-built, yet at the same time like it deserves to be treated with the upmost care. Maybe it's the luxurious-looking shiny black casing with the silver highlights. Or maybe it's the thought of having just spent £425 on the thing. Either way, the PS3 is a product you immediately want to treasure.
Like its predecessor, the PS3 can placed horizontally or on its side, its slot-loading optical drive easily accessible in both orientations. A lift-up cover discreetly hides the memory-card slots, which include Compact Flash, SD and Memory Stick Duo. Four easily accessible USB ports sit under the main body of the console to connect controllers for charging. The primary power switch, slots for the AC cord, and the AV and HDMI ports used to connect the PS3 to a TV, are situated at the back of the unit.
Two variations have been promised: a 20GB model and 60GB version, though only the 60GB machine is available in Europe. One of the biggest features to draw attention to the PS3 is the inclusion of a Blu-ray Disc next-gen DVD player, allowing it to be fully utilised for the home cinema experience - though you'll need to use the HDMI port to make the most of it.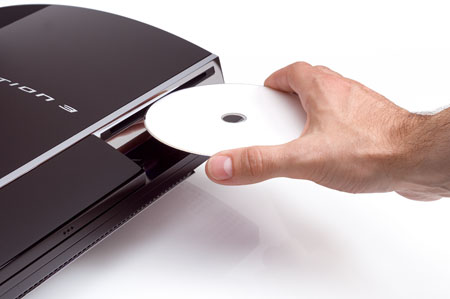 Inside, at the heart of the PS3, is the IBM co-designed Cell processor, running at around 3.2GHz. The Nvidia RSX graphics chip runs at 550MHz. A Wi-fi wireless network link is only available on the 60GB version, enabling not only internet access and on-line gaming but also allows a PSP to be connected to the device. There's a wired Ethernet port too.
So much for the spec sheet - what actually comes in the box when you part with 425 of your hard-earned pounds? The console comes with one wireless control pad and a USB cable to charge it up first. You also get a mains cable, AV connection lead and an Ethernet cable. Annoyingly, an HDMI cable is not supplied, so high definition games can't be enjoyed on an HD TV unless you remember to pick one up for around £18 more.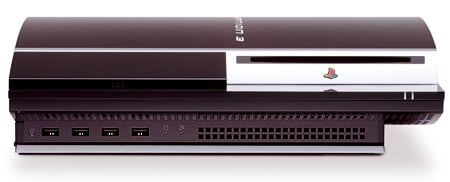 The older PS2 controllers won't work with the new console, so unless you purchase another additional control pad - another £35 each - two-player games aren't an option. Another irritation is that additional control pads don't come with their own USB power charger cables, so if you want to charge more than one controller at once, you'll have to pony up another £10. But if you've got a PDA, digital camera, media player or some other USB-connected gadget, there's a good possibility you'll have a spare cable lying around the house: the PS3 USB Power Link cord is just a standard mini-USB cable.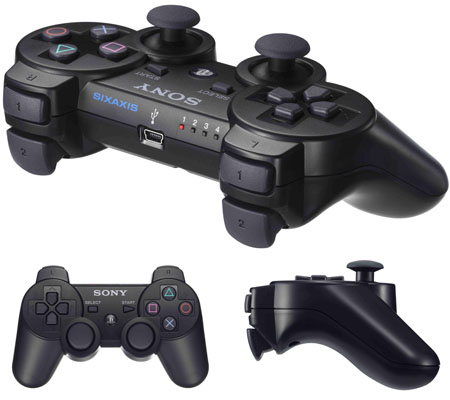 The control pads must be paired up with the console in a similar fashion to pairing a Bluetooth headset with a mobile phone. It's a painless process and any control pads can be paired with any console, so you can still bring your pad over to a pal's house, for instance. Once paired with the console, the controller is assigned an ID number, which appears on four LEDs on the front of the Sixaxis. A maximum of seven controllers can be linked to any one console. However, there are only four LED port indicators on the controller. For numbers five to seven, add the numbers of the indicators shown: four and one, four and two, etc.

The controller closely resembles the old dual-shock PS2 controller, but it has motion sensors on board rather than the vibration system. This enables it to be used as a much more intuitive way to control equipment, such as swords or rackets. Depending on the game, the motion-sensing system allows users to control the on-screen action as an extension of their bodies in a similar way to the Wii wireless controller, though Sony hasn't gone quite as far as Nintendo in encouraging you to wave the thing around with abandon.
Once everything is connected, the initial setup is then reasonably straightforward: you set the time and date, and enter a user name using a letter and number scroll navigation menu. Powering up without a game inserted brings up a user interface based on the one found on the PSP – Sony calls it the Cross Media Bar. This is where all the options are to be found including display, sound, security and so on.

No re-start is necessary when a game is inserted - simply scroll through the top row of options, select the GAME icon and the inserted DVD will show up. Select this and press X and the game will begin.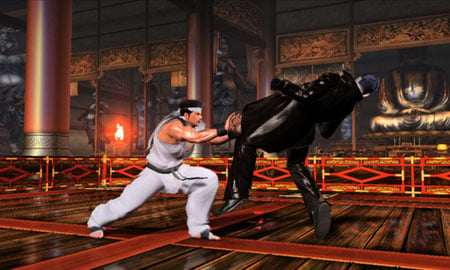 Virtua Fighter 5
The first two games we tried were newly available native PS3 titles called Resistance: Fall of Man and Virtua Fighter 5, and immediately the difference in the new improved PS3 control pad was obvious. The L2 and R2 buttons are angled ever so slightly and feel almost spring-loaded, allowing a more gentle touch to be used - even in the most perilous close-quarters battle situation.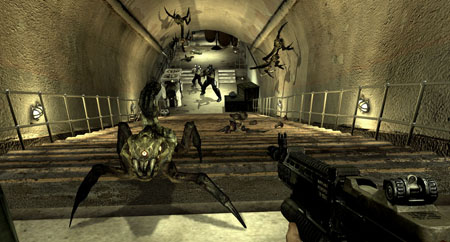 Resistance: Fall of man
Incidentally, the PS3 makes hardly any noise and doesn't feel at all hot – even after a 12-hour gaming marathon.
However, there are some issues with backwards compatibility. Most games will work, and a full list of them can be found here. However, to even get to this stage, you have to update your PS3 system software, as quietly mentioned on an un-important looking piece of A5-sized yellow paper to be found floating in the console documentation.
Improvements to the PS3 software that allows it to play old games is coming with version 1.6 of the console's firmware, due to be released very shortly. Firmware 1.6 not only provides a higher level of PS2 and PSone game compatibility, but also includes support for the Folding@Home protein processing client, background downloading of content from the PlayStation Store, support for Bluetooth keyboards and mice, and adds an on-screen pop-up QWERTY keyboard.
We didn't have a Blu-Ray Disc handy to try the PS3's HD movie playback facilities. Playing a regular DVD, however, is exactly the same as it was on the PS2: simply scroll along the menu system, select the disc icon under the Video drop-down heading and press X. Couldn't be simpler.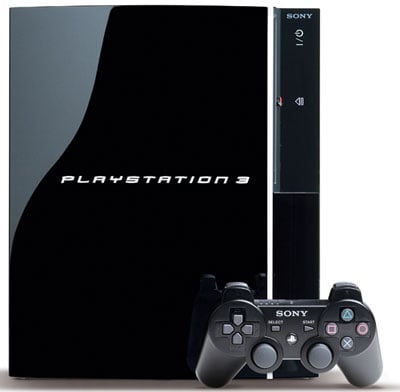 The same applies to accessing the PS3 online service, which offers news, reviews and even an online store. Just hook up the Ethernet cable to your router and away you go. Typing in search parameters can be a little tricky using the control pad to select letters and numbers. For those who so desire a keyboard accessory is available.
For those who have invested in a big-screen plasma or LCD TV with a HDMI connection, this is definitely the way to go. We hooked our unit to an Evesham ALQEMI32SX 32in LCD and were rewarded with a razor-sharp resolution. You can see virtually every blade of grass, bead of sweat and piece of shrapnel flying about in the heat of battle.
Verdict
With a 60GB hard drive supported by one of the best graphics processors ever put into a games console, the battle with the Xbox 360 and Wii for domination of the living room has begun. Although some, it seems, have other plans for their PS3...