Original URL: https://www.theregister.co.uk/2007/03/21/samsung_extends_magic_metal_phone_line/
Samsung conjures up Gold, Brown Magic phones
Posted in Personal Tech, 21st March 2007 10:59 GMT
Metal phones are all the rage - at least in South Korea, where local handset maker Samsung this week introduced a freash pair of alloy-clad phones into its Magic family. Joining the Magic Silver: Magic Gold and Magic... er... Brown.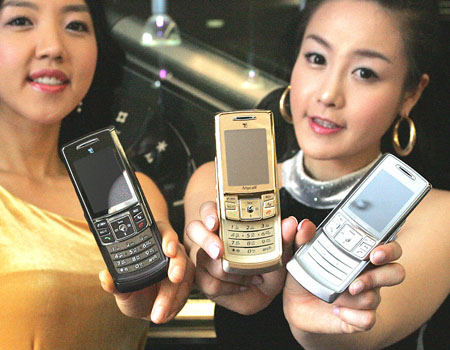 Samsung's Magic models - and... er... some handsets...
Any metallurgists out there able to identify the mysterious metal known only as Brown? Or maybe Samsung's referring to Gordon Brown, the UK's very own 'iron chancellor'?
Whatever, the 1.4cm-thick slider-phone trio all sport two-megapixel cameras, digital satellite TV receivers, Bluetooth and all the other features you'd expect from a modern mid-range handset.
That said, the Magic models are priced at a premium: KRW600,000 ($637/£325/€479), local news sites say.