Original URL: https://www.theregister.co.uk/2007/03/21/net_neutrality_a_monkey_hangers_guide/
A monkey hanger's guide to Net Neutrality
El Reg goes Westminster
Posted in Networks, 21st March 2007 14:14 GMT
Yesterday, Westminster eForum staged the first debate in the UK on "Net Neutrality" - chaired by former DTI minister Alun Michael and Shadow DTI Charles Hendry. El Reg gave a brief presentation. Here it is, with selected highlights, and a collection of external links for further reading.
Good morning. For seven years, until last year, I reported from Silicon Valley - I've reported on this issue on both sides of the Atlantic.
It's one of the strangest, and perhaps the most interesting, stories I've encountered in 15 years of technology journalism.
I write for The Register, which is a successful British internet business, with four million readers and over 30 staff. Because we're a pure internet business, and a pure content business, the fears of "Neutrality" campaigners affect us more than anyone else. We have no print publications or conferencing franchise to fall back on. Our bits must get through!
So vertical integration abuse - discrimination and pricing - affect our bottom line. But are these fears rational?
I searched long and hard for a historical precedent to "Net Neutrality".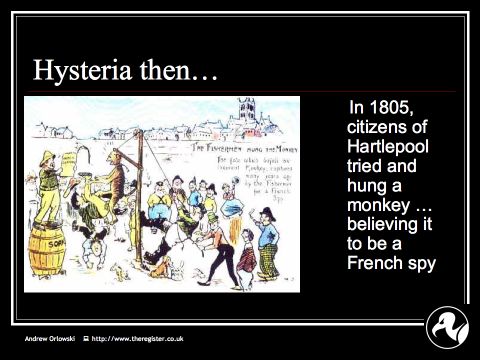 During the Napoleonic Wars, 1805, legend has it that citizens of Hartlepool tried and hung a monkey … believing it to be a French spy.
Last year, the US Congress almost "hung the monkey", too.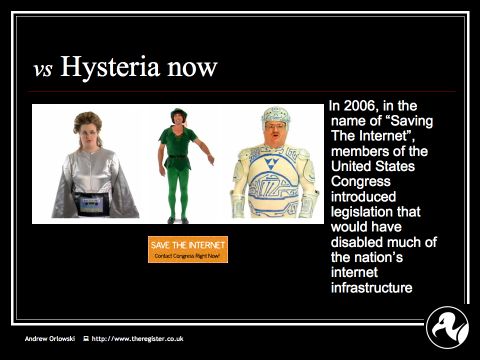 In the name of "Saving The Internet", members of Congress tabled legislation that would have disabled much of the nation's internet infrastructure.
How did this happen? I'll try and explain.
Descriptions of the internet reflect all kind of fears and utopian fantasies - and take many shapes. You can play this game too.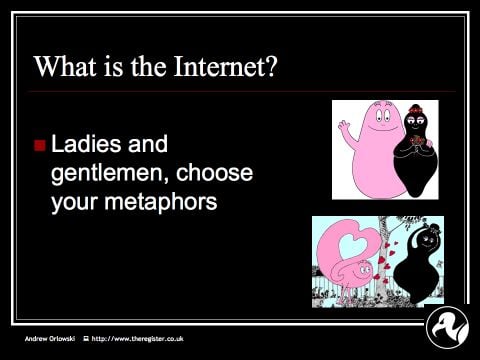 However, when we need to draw inferences, for the purposes of public policy, or to write laws or regulations, we need to be precise with our metaphors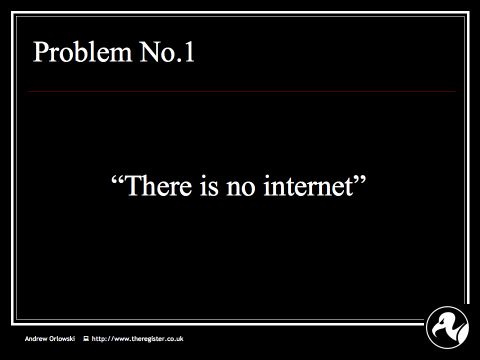 The first thing to remember is that there is no ONE internet.
That's because the internet is a way of getting lots of very different networks to talk to each other.
In effect, the internet is thousands and thousands of private agreements.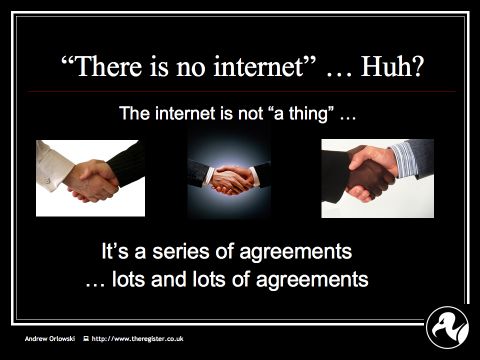 And this diversity has a local flavour. It reflects market dynamics today - very specific to the UK.
It reflects our own unique history of innovation, deployment, and regulation. And, of course, it reflects local needs: what do we want from computer networks?
So our networks reflect heterogeneity and diversity.
"Neutrality" became a hot topic in the United States last year, because AT&T and Verizon are deploying high speed networks for delivering a TV competitor to cable. They needed to enhance the network, because today's internet doesn't do what they want. The "agreements" aren't sophisticated enough to guarantee good video across network boundaries.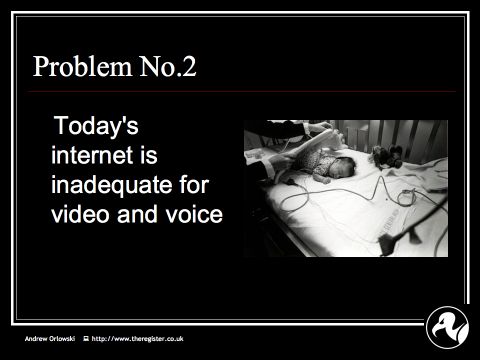 New applications, such as Bittorrent and Joost, abuse the "Honour box", where everyone agrees to play nicely.
But it isn't just about TV. New applications such as real time video monitoring in healthcare can't be done reliably as they should, because of the problems with today's internet.
Neutrality is emotive, but unfortunately the voice of technical experts hasn't been heard - until recently.
Where are the experts - the people who built the net?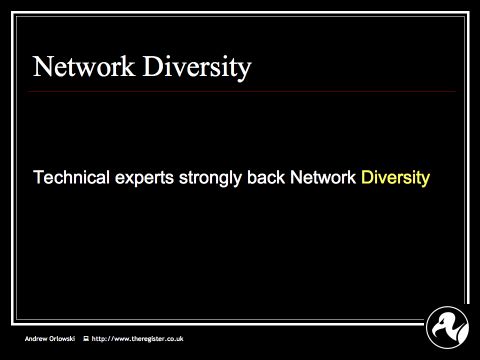 "I am totally opposed to mandating that nothing interesting can happen inside the net", says Dr Robert Kahn, justifiably described as the "Father of the Internet". He was the director of the team at DARPA that developed what became the internet.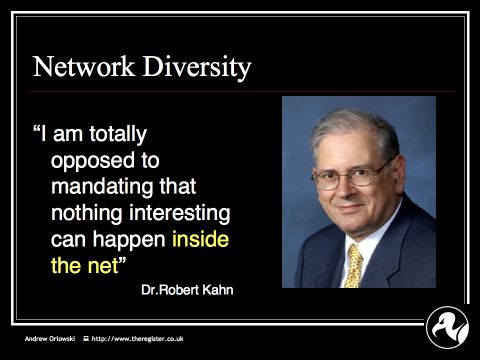 Kahn also reminds us we're at the first stages of technical innovation with packet networks.
Kahn also said, in this exchange: "You want to incentivise people to innovate, and they're going to innovate on their own nets or a few other nets..."
This is what the UK's most experienced internet engineer and academic thinks.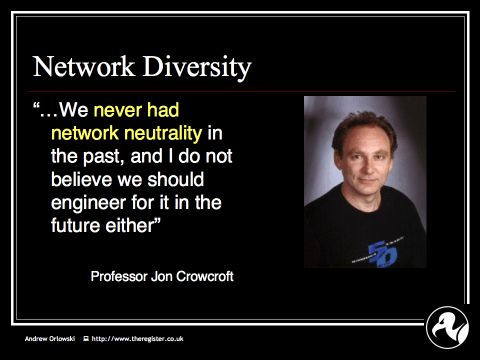 Jon Crowcroft is the Marconi Professor of Communications Systems in the Computer Lab, at the University of Cambridge, has served on the Internet Architecture Board, and has been involved in packet networking research since 1981.
"We never had network neutrality in the past, and I do not believe we should engineer for it in the future either".
Crowcroft also described the Net Neutral campaigners as "basically Flat Earthers, Intelligent Designers, and generally B-Arkers".
Telecomms analyst Martin Geddes also gets to the core of the problem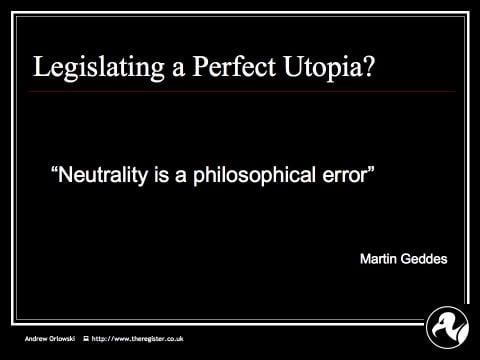 <p"[The internet] is not sacred, an object of worship," he says. "We can think of better Internetwork architectures..."
"Neutrality is a sign of healthy supply competition and sophisticated ways of demand expression. It's an output, not an input... File 'Net Neutrality' along with the Tooth Fairy, Leprechauns, and the Loch Ness Monster.
"Neutrality is a philosophical error", he says.
Now, I don't know how much philosophy you need to know before you can see a problem with mandating characteristics that don't belong to a thing that doesn't exist!
Fortunately, there are other legislative levers to ensure the outcomes we want: like competition legislation.
Given these problems, how could so many people get it so wrong? Why did they think the internet as we know it was about to disappear?
How could so many people get it so wrong?
As Ofcom correctly recognises, there are very different market conditions here in the UK to the United States. The concerns expressed in "Save The Internet" were based on experience of local cable monopolies, and a confused and contradictory history of regulation.
But "Save The Internet" wouldn't have reached Congress without several local factors, too.
The campaign reflects three unique things - which make it so interesting for me.
It reflects popular disillusionment with American institutions: the regulator, the Federal Communications Commission, was not felt to be trusted.
Paranoia and conspiracy theories play a large part in the American political dynamic, as Richard Hofstader recognised in his Harpers essay in 1964, entitled The Paranoid Style In American Politics.
Conspiracy theories have always thrived in digital culture too - the internet is full of them.
But while the good people of Hartlepool 200 years ago may be forgiven for not knowing what a Frenchman looked like - through lack of information - these conspiracy theories flourish because of a a super-abundance of information.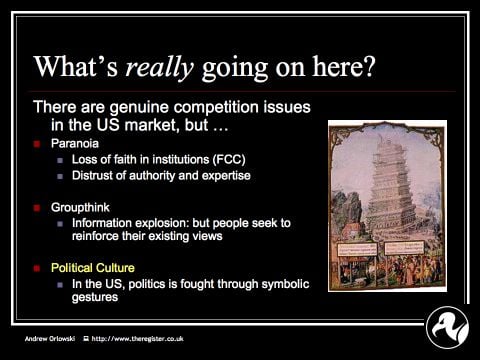 In the internet age, people turn to a narrowing spectrum of information sources to reinforce their views.
This leads to problems.
American politics is fought throught symbolic gestures: prayer in schools, for example, or the display of the Ten Commandments in public buildings.
"Net Neutrality" became one of these symbolic gestures - a proxy war for progressive activists who had lost faith in the Department of Justice's Anti-trust Department, and the ability of the FCC to regulate effectively.
Paranoia and Groupthink did the rest.
It's a pity we don't look at some of the real, and profound problems with our computer networks.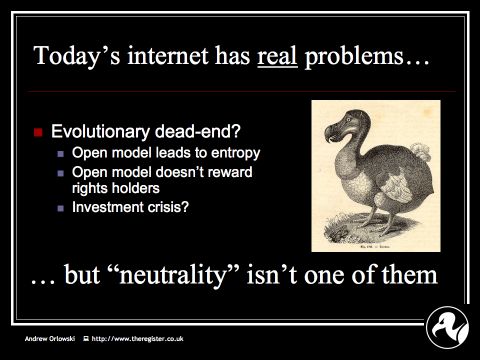 There are several of these.
With no "internet" and a network of networks, work to fix video and voice is slow.
The author of End-to-End Arguments in System Design David Clark, now believes: "We are at an inflection point, a revolution point - we might just be at the point where the utility of the internet stalls - and perhaps turns downward."
Most of the bandwidth laid lies unused - because it's not economically viable to use it.
An internet that fails to raise revenues necessary for continued investment will die - another model will take its place.
All of these concern me much more than "Neutrality".
Thank you for your time. ®
Further Reading
Crowcroft
Kahn
Bennett
Geddes
Farber, Faulhaber, Katz & Yoo
By this author: