Original URL: https://www.theregister.co.uk/2007/03/14/titanic_lake/
Cassini spies titanic lake on Titan
Bigger than Lake Superior
Posted in Science, 14th March 2007 08:49 GMT
NASA's Cassini spacecraft has revealed giant lakes on Saturn's moon Titan, one of which - at 39,000 square miles - is bigger than Lake Superior.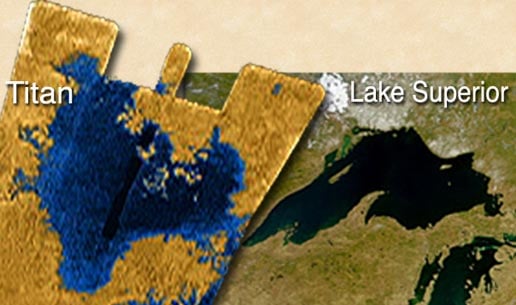 The features were captured by Cassini's radar near Titan's north pole. Although scientists can't be certain they're actually liquid-filled, "their dark appearance in radar that indicates smoothness and their other properties point to the presence of liquids", as the NASA press release explains.
If that's so, then the lakes' contents are likely to be a mixture of ethanes and methane "given the conditions on Titan and the abundance of methane and ethane gases and clouds in Titan's atmosphere".
Dr Jonathan Lunine, Cassini interdisciplinary scientist at the University of Arizona, said: "We've long hypothesized about oceans on Titan and now with multiple instruments we have a first indication of seas that dwarf the lakes seen previously."
Cassini scientists are now planning a May flypast aimed at confirming the titanic Lake Superior is indeed filled with liquid. ®