Original URL: https://www.theregister.co.uk/2007/03/14/review_sony_vaio_vgn-ux1xn/
Sony Vaio VGN-UX1XN ultra-mobile PC
Think of the smallest laptop you've ever seen, and this will be smaller
Posted in Personal Tech, 14th March 2007 12:00 GMT
Review The Sony UX1XN is quite possibly one of the smallest laptops ever. Think of the smallest laptop you've ever seen, and this will be smaller. Probably. Everything about it is dinky - it's barely bigger than a thick-ish paperback book, yet it packs a full Vista-touting PC inside its diddy dimensions.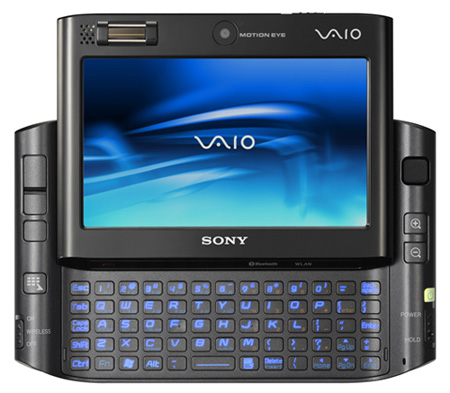 Sony's UX series has been around in Japan for some time, only available on these shores via unofficial import. The UX1XN - UX1 for short - is the first model to be officially supported over here and it's fully kitted out with Windows Vista Business too. All in a machine that measures just 15 x 9.5 x 3.5cm and weighs a mere 500g.
While you'd expect a machine this size to make a compromise here or there, Vista capability isn't one of the corners that has been cut. The Intel GMA 950 graphics chip has enough grunt to run Vista's whizzy Aero interface, so you get the full Vista experience despite its small size.
Vista pegs its Windows Experience Index score at 2.7, with the 3D graphics holding it back - the overall score is determined by the lowest component score. Across the categories it gets 2.9 for processor, 4.3 for memory, 3.2 for graphics, 2.7 for gaming graphics and 5.2 for hard disk.
While the scores aren't huge - they are impressive given the UX1's small size. Running it through PCMark05 it only managed to pull in a score of 1636, which is pretty low.
The Intel Core Solo U1500 processor, running at 1.33GHz, is nothing special and 1GB of DDR 2 memory is fairly standard. Where Sony has pulled out the stops, however, is with the hard drive. At first glance 32GB seems a bit measly, but this isn't any old 32GB model - it's a Flash drive. This has two advantages: it's faster than a standard drive and it's also more durable since there are no moving parts. While you should still treat UX1 carefully, it's going to be more resilient to the odd bump or two than a device with a traditional spinning hard drive.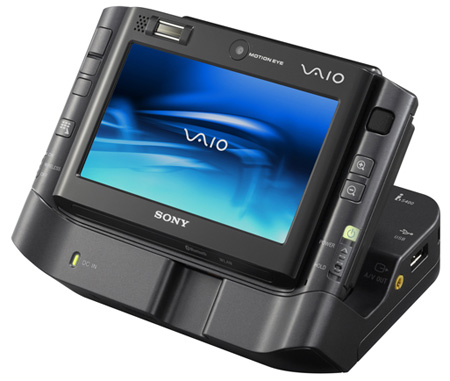 Sony has included a recovery partition, so you can easily restore the OS but it does take up 6.5GB - leaving you with only just under 24GB for storage. There's a utility included to burn this data to DVD - although you'll obviously need an external DVD writer; even Sony's extremely talented engineers couldn't squeeze one inside the UX1 - so if you know what you're doing you could reclaim the additional space.
The 4.5in screen while by no means huge fills a large proportion of the front of the unit. There's a joystick mouse in the top right-hand corner, with buttons to zoom the display below and an on/off/hold switch. Over on the other side are left and right mouse buttons, a button that takes the place of the middle mouse button, a quick menu button, and a wireless on/off switch.
The joystick can also be pressed in to make a selection, which can take a bit of getting used to but once you've mastered it it's quicker than constantly reaching for the left mouse click. If you hold down the middle mouse button, you can use the joystick as a kind of 3D scroll wheel so you can move quickly round large documents and web pages.
The screen is touch-sensitive too - there's a stylus hidden in the back or you can just prod at it with your fingers. For text input, you can either use the included Tablet PC handwriting recognition or there's a full keyboard underneath the display - just slide the screen upwards to reveal it.
The keyboard is only really good for thumb typing, but the two bulges at the back of the unit make for a comfortable grip while you're bashing away. It's not suitable for more than the odd note or web address, though. The keys are barely raised and aren't domed, so finding the right one can sometimes be a challenge and mistypes are something you're going to have to get used to. The keys do illuminate in blue when you press them, though, which can make it easier to locate the one you're looking for.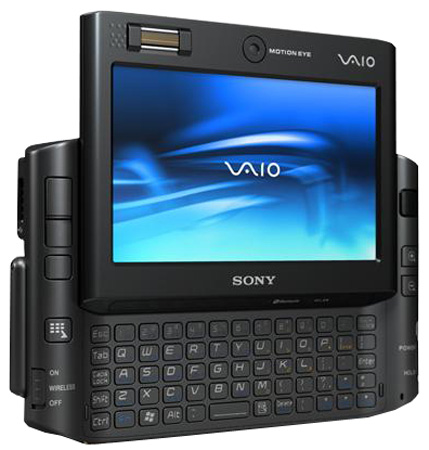 Sony has done its best to fit a usable keyboard into such a small space, but ultimately it's just not big enough for prolonged use. The screen, to some degree, also suffers from the same problem. It would be hard to include anything larger, without increasing the overall size of the unit, but it feels a bit too cramped.
The resolution stretches to an impressive widescreen 1,024 x 600 so you'll need good eyesight if you want a UX1. You can zoom in, but then you'll need to scroll around the screen, which isn't an ideal solution. While the width is adequate, the limited height is a little restrictive. Vista just simply wasn't designed to run in such constrained headroom - you can't display all the Start menu items, for example, and OK buttons are frequently below the task bar on many system dialogs.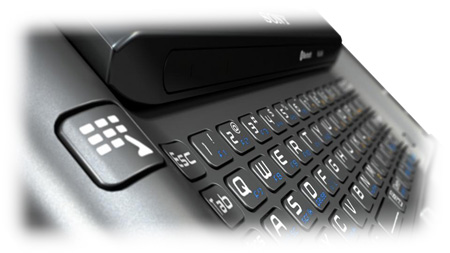 The battery life is also a little disappointing at a quoted 160 minutes, for what is essentially a machine you're likely to carry around with you all day. The UX1 also features two cameras - a 0.3-megapixel model in the top of the screen and a 1.3-megapixel job on the back), fingerprint reader, CompactFlash card slot, Memory Stick slot, Bluetooth 2.0, 802.11b/g Wi-Fi, one USB port, headphone and microphone sockets, and docking station connector. The supplied docking station adds an additional three USB ports, four-pin Firewire, Ethernet, VGA and TV out.
Verdict
There's no denying the UX1 is an impressive feat of engineering, packing a full Vista PC into such a small space. However, its main limitation is its physical size, restricting its usability. It's great to use on the go, but you'll probably want something else as well for more prolonged use. As it costs the best part of £2,000, it's a luxury only the particularly well off are likely to be able to afford.