Original URL: https://www.theregister.co.uk/2007/03/14/grim_reaper/
House hunting? Beware the Grim Reaper
Death stalks UK property website
Posted in Bootnotes, 14th March 2007 08:45 GMT
Anyone who's ever sold a house knows there are a few tricks designed to entice buyers to part with their cash. For one, first appearences count, so move that dismantled Ford Cortina from the front garden. Second up, most buying decisions are made by women*, so make sure the kitchen and bathroom are 100 per cent. Thirdly, work to create a homely atmosphere - the smell of freshly baked bread is reckoned to do the trick.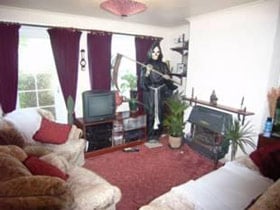 There are few absolute no-nos, too. The smell of animals is reckoned to be a turn-off for potential buyers, as are strong colours and quirky individual modifications, such as converting your flat into the Starship Enterprise. Accordingly, we think the sellers of one Bedfordshire desres (seen here) might want to rethink just what kind of welcome they're offering to visitors.
Yes indeed, we can image the conversation: "Well, the curtains are lovely, and I do like a real coal-effect fire, but I'm not sure granny will be too happy settling down with a nice cup of tea to watch Richard & Judy with the Grim Reaper impatiently tapping his foot in the corner. Would you be willing to negotiate on price?" ®
And before you cry foul...
*I can back up this assertion with personal experience. A few years back, me and the missus were looking at a few properties. One highly-desirable terrace property at a knock-down price was rejected due to the colour of the bathroom suite (avocado, for the record), while a dingy flat in an area closely resembling Beirut, but considerably more dangerous, was voted dream home on account of an admittedly impressive beech kitchen worktop.
In the end, a United Nations peacekeeping force moved in and we were able to negotiate a compromise: stay where we were and never, ever go househunting again.
Bootnote
Thanks to Duncan Reid for the tip-off.