Original URL: https://www.theregister.co.uk/2007/03/09/hauppauge_wintv_nova-td/
Hauppauge WinTV Nova-TD USB TV tuner
Digital telly on the move
Posted in Personal Tech, 9th March 2007 14:20 GMT
Review Digital TV isn't that easy to pick up on the go, but Hauppauge's Nova-TD has a trick up its sleeve to improve reception. It crams two tuners into its USB-connected casing and can draw on the inputs from both to create a better signal.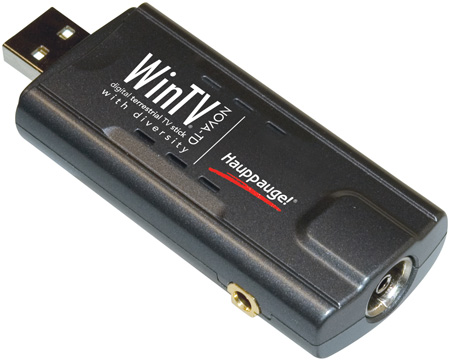 If your coverage is fine, however, you can just use it as a twin-tuner, and as it's compatible with Microsoft's Windows XP Media Center PVR software, you can record two programmes at once or watch live TV while another show is taping. The hardware bears a striking resemblance to the Elgato EyeTV Diversity, which offers near identical functionality for the Mac, reviewed last year.
The Nova-TD is a relatively small USB stick, measuring 8 x 3.1 x 1.5cm - making it look like a slightly oversized memory key. On one end there's a USB connector and on the other a standard aerial socket. The second aerial connector is located on the side and takes a small 4mm plug - an adaptor for connecting a normal aerial to this socket is supplied. Over the other side of the unit is an infrared receiver for the supplied remote control. There are two stick antennas included: one with a standard aerial connector and the other with a smaller plug to match the side socket. Finally, there's a short (approximately 30cm) USB extension cable, allowing you to position the unit in line of sight of the remote control if your USB ports are round the back of your machine.
Support for XP is included in the box, with Vista-compatible software just a download away. The supplied WinTV2000 application provides access to channels, but the Nova-TD is also compatible with Microsoft's Windows Media Center software, available as a separate version of XP and included in both Vista Home Premium and Ultimate.
The WinTV2000 application does the job, but it feels a little basic. After you've installed the hardware it will prompt you to scan for channels - which takes five to ten minutes to complete. Somewhat annoyingly it lists the channels in the order it found them, rather than their Freeview channel numbers - so I got ITV1, ITV2, ITV3 and CITV as the first four channels, with BBC 1 and 2 relegated to further down the list. You can swap the channels around manually, but with around 70 available it will take up time that could otherwise be spent watching Countdown.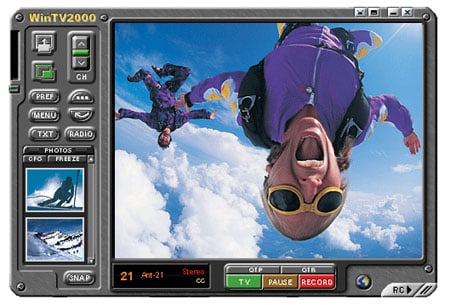 You can use the channel up and down buttons to flick quickly through, or there's a menu option to allow you to jump to a specific channel in a couple of clicks. Channel changes are pretty quick, only taking a couple of seconds in general. The application will display the now and next programme information when you switch channels, so you can quickly see what's on at a glance as you're surfing through.
You can change the size of your viewing window from as small as 320 x 240 pixels right the way up to 800 x 600 - or hit Fullscreen to fill the display entirely.
Hit the record button at the bottom and a window of buttons will float into view so you can capture programmes or playback previous recordings. There's also a one-touch record button that will instantly start recording for 15 minutes. Further clicks of the button will increase record time by 15 minutes for each press.
The software does the job, but if you've got a copy of Windows Media Center at your disposal you're probably better opting for that as it provides a more advanced and better polished experience. You can even use the bundled remote control to navigate your way around Media Center from the comfort of the sofa.
If you're running Vista, though, you may want to hold off for a little while. A bug in the Vista driver code means that attempting to use the Nova-TD in dual-tuner mode won't work. Hauppauge is aware of this issue and is currently working on a fix.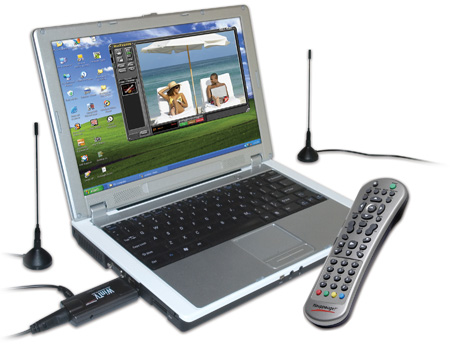 The bundled application for switching between single- and dual-tuner modes, which is currently hidden away on the CD awaiting a manual installation, will also be installed along with the standard applications in the next software release, Hauppauge told me.
Like the EyeTV, the Nova-TD claims to be able to combine both tuners in low signal areas, boosting reception. While it's hard to quantify, using two aerials rather than one did seem to have an effect.
The bundled aerials aren't great for reception, but if you point them in the right direction then you can pick up a reasonable signal for some channels. During testing certain channels were not available whether using one or both aerials, but plugging in the second aerial on a channel with poor reception did result in a more stable image.
For best results, though, you're better off sticking to a roof-mounted aerial or decent indoor antenna. Signal levels in the UK won't be increased significantly until after analogue switch off - currently scheduled for between 2008 and 2012, depending on where you live.
Verdict
The Nova-TD hardware is difficult to fault. It provides two digital tuners in a compact case, making it portable enough to carry around. The ability to combine the two signals could make the difference between a channel being watchable or not, though it doesn't guarantee perfect reception. The asking price of £80 in reasonable, and you might be able to find it for less if you trawl online.
The software, however, is a bit of a let down - it does the job, but it feels basic and a bit clunky. If you've got a copy of Media Center to play with, then you'll find that a much better way to choose your viewing.