Original URL: http://www.theregister.co.uk/2007/03/07/group_test_dect_phones/
Hit the DECT: cordless phones on test
Ten cordless phones for your consideration
Posted in Personal Tech, 7th March 2007 12:44 GMT
Group Test The mobile phone may well be enjoying its time in the limelight, but like reality TV stars and the England cricket team, it probably won't last forever. Especially not when you cast your eye over this little lot, the cream of the DECT cordless-phone crop. Where these handsets are concerned, it is indeed good to talk.
BT Home Hub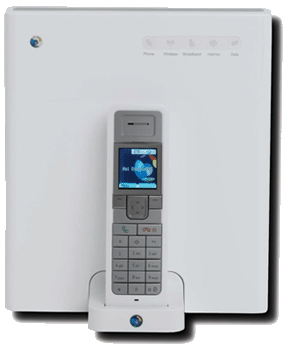 The first thing that strikes you about BT's latest addition to its portfolio is the styling. Separated into two components, the wireless router and the phone, the Hub is encased in a distinctly iPod-esque glossy, plastic and white livery. It's an obvious nod to the style icon, but it does look slick and will sit well in any modern home.
The phone is a good-looking device too, if a little flimsy feeling to the touch, and wears a small 65,536-colour screen and clean layout of silver/grey keys. Features it offers a 50-number call list, 150-entry phonebook (holding home, work and mobile number for each contact) and a 20-number redial list. Mobile phone styled add-ons like polyphonic ringtones, wallpapers, and time and date display are surplus to requirements, but certainly don't detract from the package. The Hub on the other hand is a statement of minimalism. A wireless ADSL 802.11g router with VoIP capability and built-in firewall, its only sign of life are five green lights that flash to show the status of your Wi-Fi connection, calls and the like.
Ease of use is clearly BT's mantra here. Setup is quick and easy: just pair the phone to the router and you're ready to make calls. Sound quality is punchy and clear, and we experienced no distortion at all. Talk to someone else using the Hub and you benefit from BT's touted Hi-Definition sound quality, though we didn't experience that pleasure.
The Hub is designed as much more than a DECT phone, though – BT wants it to be the beating heart of your digital home. It can connect to up to 15 devices wirelessly, and thanks to the pre-configured wireless security you can get up and running on the net via your laptop, for example, immediately and without concern of getting jacked. It's also future proofed to team up with BT's new digital range, BT Fusion and BT Vision.
BT Home Hub
---
| | |
| --- | --- |
| BT brings it all together in one slick package. Fingers crossed it keeps its service up to scratch... | |
Philips VoIP321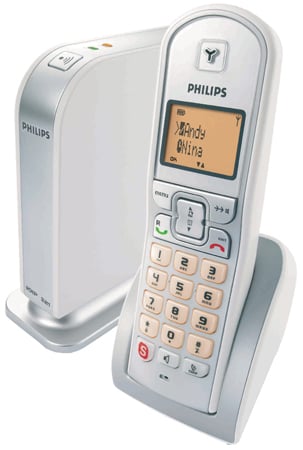 Philips has jumped on the Skype supernova with the VoIP321, a DECT phone that doubles up as VoIP phone too. In a similar move to BT's Hub, the 321 ships as two separate components, the phone/charge dock and the base station. The thinking behind this is that although Skype is a great way to save money on calls, it's not exactly ideal to have to sit in front of your PC to make them.
Philips has made a concerted effort to keep things stylish, and the base station is an unassuming bit of kit that should slip in next to your computer without drawing too much attention. Looks-wise, the phone is typical of Philips' regular DECT handsets barring the inclusion of a big red 'S' for accessing your contacts list and making Skype calls. It's an ergonomic design that fits into your hand and against your face comfortably and offers hands-free facility alongside caller ID, call waiting, message waiting and call transfer. There's a 20-missed and 10-received call log, 50-entry phonebook and a range of polyphonic ringtones and ring profiles to help distinguish between landline and Skype calls. Nice touch.
Call quality is excellent, as you'd expect from a company with Philips' heritage, and ease of use is a boon too. Plug the base into your phone socket and the 321 functions as a normal wireless DECT phone, but connect it to your PC via USB and the world of Skype opens up with free calls to your contacts and access to SkypeOut for cheap landline calls via broadband.
There are a couple of niggles though. Namely, your PC has to be on and connected to Skype in order to use the service, and Philips has opted to only support Windows, which will limit some users. But if you can overlook these issues, it's a stylish and solid introduction to Skype.
Philips VoIP321
---
Best for VoIP
Reach for the Skype with this philips DECT/VoIP hybrid
Bang & Olufsen BeoCom 2

Once you've recovered your senses from the fact that you've just shelled out half a grand for a DECT phone, you'll begin to appreciate the finer points of high-end manufacturer Bang & Olufsen's BeoCom 2.
Crafted from a single slither of brushed aluminium and offered in a range of six colour schemes, the unique and accentuated curve design stands it alone in the DECT phone world as a style statement and piece of modern art first and a communications device second. Because, considering the cost, it isn't exactly packed with bells and whistles.
But what it does it does well. Call quality is stunning – completely crystal clear – and thanks to that ergonomic head-shaped design, you'll find yourself ramping up the phone bill fast because this handset's such a pleasure to use. The more you use it the more likely your chums are to see it, which is clearly the main reason for owning such a gadget.
It comes with a 200-entry phonebook that is created as you make and receive calls, and a 24-strong received and made call log, alongside caller ID and other basic functions. You can also operate six BeoComs from one unit if you so desire - though you may have to remortgage for the privilege at a cost of £3,000! - and then use them as an intercom system around the home. The feature Bang & Olufsen seem most excited about though is the BeoCom's unique ringtone, a 'natural and tranquil' sound designed to remove the urgency to answer any time soon. A nice feature – unless you're the one calling. And waiting. And waiting. And waiting.
Bang & Olufsen BeoCom 2
---
Best for indulgence
Is it a banana? Is it a phone? Is it way too expensive? Two out of three's not bad...
BT Calypso 225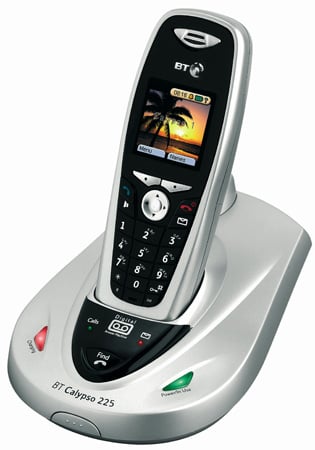 The domination of the mobile phone has taken its toll on DECT's popularity, but companies like BT are responding by transforming the cordless into something not so far removed from its more versatile cousin. The Calypso 225 is the next step in this evolution, featuring the likes of a colour screen, SMS capability and a built-in SIM card reader.
The sunny sounding Calypso is a curious-looking beast that's left the fashion gurus here at Register Hardware in a state of mild confusion, because we just can't decide whether it's a bold style statement in the vein of a 1980s Casio calculator, or a hideous melding of tacky black and silver to be hidden in the under-stairs cupboard.
In use the 225 is adequate if not spectacular thanks to a low hum invading some conversations and a not-quite-crystal call quality. One thing we are in no doubt about, however, is its functionality. Available with up to three extra handsets - marketed as the Quad - it features a plethora of useful add-ons alongside basic functionality like 20 dialled and 50 call log capacity, massive 200-contact memory, eight ringtones and the ubiquitous polyphonic ringer. BT has usefully also thrown conference call facility and answering phone into the mix, which is discreet enough to have little impact on the size and style of the base-station and offers an adequate 20-minute digital recording capacity.
Functionality has also been derived from the mobile world, with the Calypso's distinctly Nokia-esque menu system a cinch to navigate and familiarise yourself with. Just plug it in, slip you mobile's SIM in the dock and you'll be up and running in no time with a full contact list, the ability to send and receive texts, full colour screen with caller ID, wallpapers, clock, alarm and everything else you'd expect from a mobile, sorry DECT phone.
BT Calypso 225
---
Best for mobile-phone lovers
Don't get your hopes up, it's not a revival of the fizzy drinks firm but BT's mobile-style home phone
MagicBox Touch 100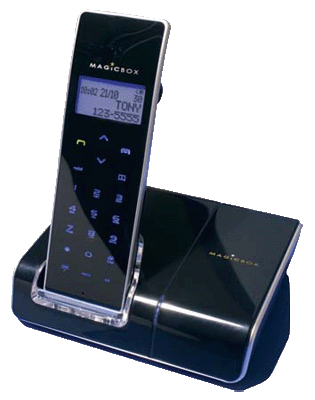 The MagicBox Touch is one of a new wave of DECT phones looking to set itself apart from the pack by offering up a unique design feature. As you can likely guess from the name, this phone features an entirely touch-sensitive fascia in place of the traditional - and, it has to be said, entirely functional - keypad.
MagicBox's biggest success with the Touch is its styling – it's a beautiful bit of kit that's following the en vogue trend of piano-black finish and smooth, curved corners with a nice metallic detail. When inactive, the Touch's keypad is completely invisible, rendering it monolith-esque in looks with nothing but the diminutive two-tone screen and MagicBox logos visible on both the phone and its dock. Though there is an unnervingly bright blue standby light, which may be a little annoying on, say, your bedside table.
Receive a call though, and it's all change as the whole things lights up in a ridiculously pleasing icy blue glow revealing a standard number layout, navigational directions and that slightly underwhelming display. Features include a 60-contact phonebook, 20-number call log, ten polyphonic ringtones and caller ID. There's also intercom and speakerphone functionality.
In use the MagicBox is great to look at and call quality is perfectly decent if a little muffled in comparison to some of the phones on test. But the real issue unfortunately came with the touchscreen. Like most mobiles before it that have opted this route from a purely aesthetic point of view, the simple truth is that a touchscreen is rubbish in comparison to the trad keypad. We found ourselves accidentally cutting people off, upping the speaker volume or pressing random keys with our (admittedly large) ears during calls, or else struggled to hit the right keys in order when dialling numbers, which made using the MagicBox more of a chore than a pleasure.
MagicBox Touch 100
---
Best for novelty
MagicBox gets touchy with its latest DECT phone
Siemens Gigaset SL565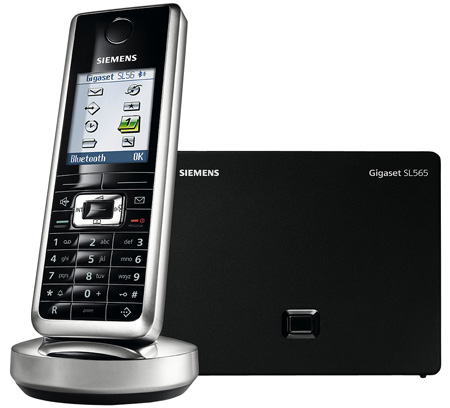 Yet another phone jumping on the 1980s-inspired black and silver style wagon, the SL565 comes complete with organic curves, clean styling and the most mobile-phone esque appearance we've yet encountered. Alongside it sits a secondary all-black unit that houses a digital answer machine with the capacity for 35 minutes of messages – more than adequate for the home.
Although a style statement, we reckon the SL565 is more suited to an office environment thanks to its smorgasbord of features and expandability, with up to six handset able to operate from the one base-station. Of its myriad features, the most prominent is the inclusion of Bluetooth so you can use it with a remote Bluetooth headset leaving your hands free to do whatever they need to, be it washing up or writing reports.
Then there's the SMS texting function, good sized 65,536-colour screen, vibrating alarm, polyphonic ringtones and an expansive 250-entry telephone book holding home, work and mobile number for each contact alongside email address and other info. Heck, you can even pick and choose the language.
It's an awful lot of functionality packed into a DECT phone, but Siemens has wisely opted for a mobile-esque and very user-friendly layout and interface, replete with quick access keys to text, phone book etc. Matched in features by call and build quality, you are paying for the numerous extras, but if you'll use them it's a great phone at a decent price.
Siemens Gigaset SL565
---
Best for home offices
A Gigaset SL455 a day lets you work, rest and play
iDect X1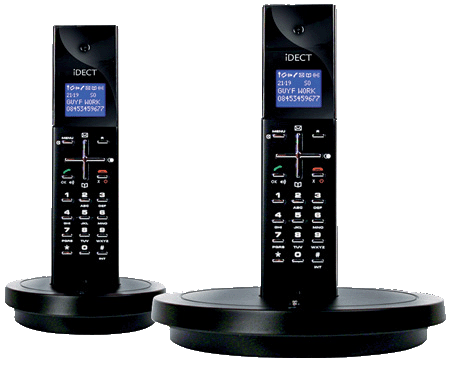 The iDect X1 is one of those very welcome products that completely belies its price with a sleek and sexy design, and enough functionality to make you wonder if the spotty teen who served you in Argos had misread the price when you laid down your £30. But no, it appears that quite simply, the X1 is a bargain.
Black as night and cut using a steel rule, we pulled it from the packaging and were immediately struck by how much smaller it was than we were expecting. Granted, the circular base station is a little too 'dinner plate' for our tastes, but the phone is actually rather lovely. The keypad layout is simple and clean and the big navigational bars are a breeze to use, even for the chunkiest digits.
There's no colour screen, just a two-tone white-on-black display; no polyphonic ringtones but six monophonic alerts; and no text, alarm or fancy Bluetooth apps. But you do get a 50-contact telephone book, 20-call log and 10-number redial, speakerphone, clock, key lock, call transfer, caller ID and iSound – the surprisingly effective technology that makes call quality simply jaw-dropping considering the price.
The X1 lacks many of the features of other DECT phones in this test, but then it comes in at a far more pocket-friendly price. If you're looking for a phone purely and simply to make calls with, in our humble opinion you won't do much better for the price, and likely quite a few pounds more.
iDect X1
---
Best for value
Cheap does not always mean nasty, as the X1 ably demonstrates
Panasonic KX-TCD820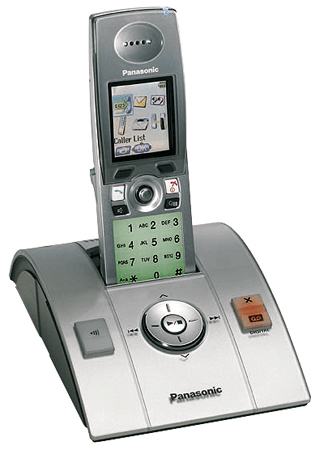 Panasonic's catchily named KX-TCD820 is a quirky looking beast. While Panasonic should be commended for its unique and innovative styling efforts we're not quite sure it's pulled it off here, thanks to a curious mix of angles and curves, metallic silver plastic body, soft backlit green keypad, and a distinctly odd overall design. It may well appeal to the lovers of the modernist movement, but for us trad types it's all a little too severe.
Beyond the funny looks, though, Panasonic has succeeded in crafting an intelligent and simple-to-use DECT phone that echoes well enough the functionality of the common or average mobile. Included in the package we get a decent if not class-leading 15-minute digital answerphone - incorporated into the base unit as per the norm - caller ID, SMS, EMS, 50-number call log, a punchy 1.8in, 65,536-colour screen that was one of the best we tested, intercom functionality, and, handily, an IrDA interface.
The latter enables you to copy data like the phonebook info on your mobile direct to the Panny using infrared – no need for individual inputting of numbers, which is always a pain. And with three 200-name and number phonebooks built in, the TCD820 should be able to handle all your personal and business contacts with room to spare.
The included USB port offers up even more room for updating and customising. Hook it up to a PC and you can download ringtones and images as screensavers or attach them to caller IDs for some serious mobile-style personalisation, plus you can update your contacts direct from Outlook. Call quality is faultless and with five additional handsets able to run from the base-station, versatility is the key word for the very capable KX-TCD820.
Best for home and business
Panasonic KX-TCD820
---
Best for home and work
Versatile if ugly, with a booming voice - the Chris Moyles of the DECT world
Jacob Jensen T-6
Jacob Jensen was the former head of design for the fashionistas at Bang & Olufsen, who's BeoCom 2 is checked out elsewhere in this almighty group test. The T-6 represents Jensen's own stylistic vision and is testimony to his love of form and function in equal measure, but where the BeoCom is all about extravagance and flair, the T-6 is measured, simple and yet still cool in a consciously retro way.
The design and build are unsurprisingly excellent, the plastic and aluminium T-6 sitting comfortably in the hand with its convex back and concave face and those long, thin keys easily accessible yet unobtrusive. There's no colour screen on the T-6, but the phone's black/red LCD and backlit keypad are brilliantly sinister. The wall-mountable base unit also has its own LCD, simplified keypad and speakerphone so you can answer calls without having to lift the handset. Attached to the wall it looks like something far more grandiose and important than a DECT phone, but we figure that was the point.
The weight and strength of design is carried effortlessly into the T-6's call quality, which was without fault, crystal clear and crackle free, even on the one international call we deigned a necessary test. Navigating the menu system was equally successful, but with only a 40-contact telephone book, 30-number call log, message waiting and four quick dial SOS numbers it should be easy. Because when you look at the not inconsiderable price of the T-6, its features list seems to be pretty thin in comparison to, well, every other phone in the test, including the absolute budget models. As a device for calling people and as a style talking point in your home, the T-6 is an elegant if expensive solution, but for anyone with a technology bent, it will leave you cold.
Jacob Jensen T-6
---
Best for style
Step back into the 1970s for a slice of style with a big price
Siemens Gigaset S455 Twin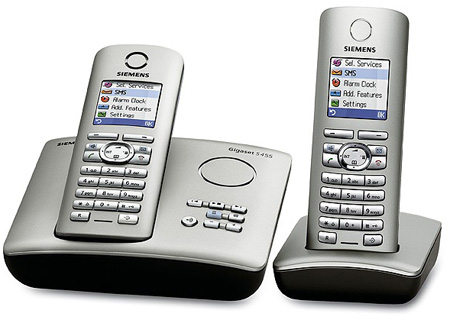 The second entry from Siemens into the test arrives in the sleek and faux-titanium guise of the S455 Twin, a double dose of DECT phone action that has a couple of family friendly features up its sleeve.
That sturdy looking silver grey livery is not purely for looks though, because the S455 is designed to withstand the rigours of modern family living – as in kids chucking it around and generally abusing the heck out of, or the missus taking it into the garden and accidentally burying it under the begonias. In our pizza- and beer-oriented trial of destruction it withstood the best of what we could drunkenly throw at it with aplomb. And still worked afterwards.
Alongside that build quality, the S455 offers up a speakerphone function that easily doubles up as a baby monitor thanks to the secondary handset and base, handy for leaving the sprogs unattended while you service other needs. Family stuff aside, the Siemens features a swathe of ubiquitous add-ons for integrating its functionality as much as possible into your main-use mobile phone. Colour display, SMS, SIM card reader for transferring contact info to and from your mobile, 35-minute answerphone, caller ID, and mobile-style layout and menu all add to the appeal, while a 150-contact telephone book should take care of most of your friends and family. Unless you're Hugh Heffner, of course, in which case you've probably got the Bang & Olufsen anyway, so no problemo.
Call-wise the S455 proved problem free – a decent if not outstanding example of a modern DECT phone designed specifically for the family household.
Siemens Gigaset S455 Twin
---
Best for families
Toughen up people, it's the hard man of the DECT arena
Verdict
A heady cross-section of the world of the DECT phone, we're sure you'll agree, and with it ten shining examples of how and why your mobile shouldn't be the only phone in your life. Huge and varied functionality, specific features designed for the home and family, convergence, and the burgeoning growth of VoIP enabling cheaper to free phone calls are all good reasons to update your DECT and bring home communication into the 21st Century.
And the best of the lot, the apple of The Register's eye, the cream of the crop, the crème de la crème, the top of the heap is... the iDect X1. Quite simply all the required features are here at a very reasonable price, and one of the most stylish looking too.